Bud Selig looks back on his career, and ahead to a return to Madison, considering it all through "the retrospect of history."
Despite the hurdles, campus dining facilities are incorporating locally grown foods.
Steven Levitan reaches new heights by writing what he knows.
Chancellor Biddy Martin believes that UW-Madison can help Wisconsin on the road to financial stability. The best path, she says, lies in greater flexibility for the university.
Departments
On Campus
Exhibition
Contender
On Alumni
Diversions
Recognition
Spring 2011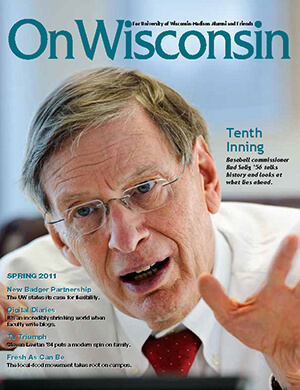 PDF [6.54 MB]
Scene
Tradition
Flashback