Forward March
The UW Band's set list has evolved with the times.
Corey Pompey has a pretty clear goal for the University of Wisconsin Marching Band.
"It's hard to please everybody, but I'm certainly going to try!" he says.
The university named Pompey the Michael E. Leckrone Director of Athletic Bands in 2019, succeeding the legendary Leckrone, who hung up his cap and baton after 50 years at the podium.
Pompey strives to find balance between tradition and innovation, new versus tried-and-true. So when it comes to constructing the band's set list, he turns to trusted sources: staff and students, who have eclectic tastes spanning several decades; his own intuition; and, of course, the fans.
"I can't imagine any other collegiate band playing 'Beer Barrel Polka'!"
"What you hear is not necessarily a reflection of me, but of what the people want to hear and what the students want to play," he explains.
Entertaining music is the UW's house style, after all. Pompey has plenty of examples. "I can't imagine any other collegiate band playing 'Beer Barrel Polka'!" he says. "And what about the theme from [1970s sitcom] Maude at hockey games? That shocked me at first, but it's such a big part of the Kohl Center tradition."
When asked about his favorite band traditions, Pompey responds warmly, as if he's been around for two decades rather than two years. " 'On, Wisconsin'? 'If You Want to Be a Badger'? 'Hot Time'? 'You've Said It All'? 'Varsity'? I love 'em all!"
Military Marches and Operatic Overtures
Given the UW Band's origin as a military outfit, it's no surprise that early set lists included upbeat marches from the likes of John Philip Sousa. (Did you know? Sousa also wrote a tribute to Wisconsin soldiers heading off to war. The 1917 "Wisconsin Forward Forever" remained largely unknown until director Ray Dvorak resurrected it in the 1930s.)
Earlier directors such as Charles Mann and Edson Morphy more commonly conducted sweeping orchestral or piano pieces arranged for band: operas by Wagner and ballets by Schubert, as well as Tchaikovsky's 1812 Solemn Overture (famously reimagined decades later by Mike Leckrone).
Badger Traditions
Before "On, Wisconsin," there was "Hot Time in the Old Town Tonight" (also known as "The Touchdown Song"). Written in 1896, it was adopted as the university's first fight song in 1899.
Still used to ignite crowds before football, basketball, and hockey contests, "Hot Time" was replaced by "On, Wisconsin" just a decade later after the marching band performed it at a football game against Minnesota on November 13, 1909.
On the 100th anniversary of "On, Wisconsin," Mike Leckrone told the Associated Press: "One of the things that makes it so extremely popular — the first four notes are so recognizable it almost makes a statement from the first time you hear it. It says everything in the first four notes."
Of course, if "On, Wisconsin" is the song to fire up fans, "Varsity" is the tradition that makes them cry. In 1898, a young UW School of Music instructor arranged music and words to an old Latin hymn. In 1934, Dvorak introduced the arm wave after seeing Pennsylvania fans wave their caps after a loss.
It takes slightly more coordination to execute the motions on another century-old Game Day favorite. In 1919, a Scandinavian studies professor wrote "Badger Ballad" — known today as "If You Want to Be a Badger" — and although the lyrics have been modernized, the sentiment remains.
As happens with every genre of music, some onetime marching band classics have faded from memory. See if you recall any of these old favorites:
"My Heart Is in Madison"
"Pioneers of Wisconsin"
"Dear Old Wisconsin Days"
"Our Dear Old Alma Mater"
The Leckrone Era
The marching band may have started playing at Camp Randall in 1894, but many credit Mike Leckrone with creating today's Game Day atmosphere.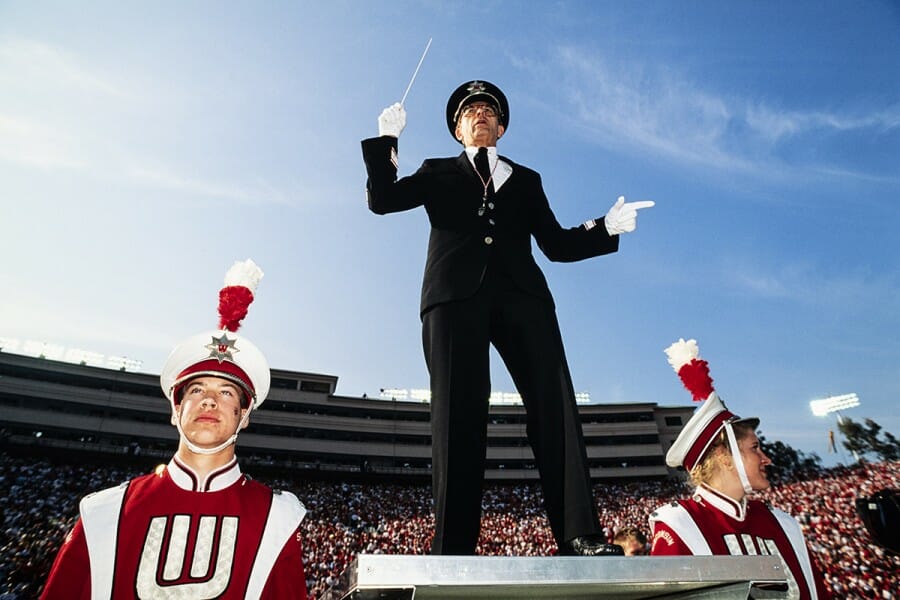 Under his leadership came the Badger Bash and Fifth Quarter, with favorites like "Chicken Dance," "Space Badgers," and "Hey! Baby." He transformed a beer jingle into an in-demand polka during the 1972–73 hockey season with "You've Said It All." Leckrone's spectacular Varsity Band Spring Concerts grew from a few hundred fans to 25,000. The set list at his first spring concert in 1975 included themes like "Field House Favorites" and "Coliseum Classics"; his final show in 2019 included numbers from Jesus Christ Superstar, The Music Man, and Jersey Boys. In between, the UW Marching Band and UW Varsity Band have played everything from Les Misérables and "Long Tall Sally" to Las Vegas show tunes and the I Love Lucy theme.
"Most of my audience are football, basketball, and hockey fans," Leckrone told the Capital Times. "But they really love quality. So I try to introduce them to the local musical talent we have right here in Madison."
Together Again
With the pandemic, the band of roughly 300 members has not been together as a group since March 2020. It's been difficult for Pompey, his staff, and his students.
"I'm looking forward to a fall that I recognize and a fully realized spring concert," he says. "I look forward to when we can just all get back together to play music again." In the meantime, here are Pompey's criteria for a stellar set list. For a song to make the cut, it has to be:
Tuneful. It needs a hook, a chorus fans will recognize, and "a melody you can hang your hat on."
Varied. "The goal is that at some point in the fall, every song will touch someone in a certain way."
Timeless. An example of a popular addition to the repertoire is the theme song to the hit TV show Friends (written by Songwriters Hall of Fame inductee Allee Willis '69). "It has an enduring quality that most people at Camp Randall recognize and enjoy 25 years later," Pompey says.
Know this, Marching Band friends. When it's time to return, we'll be there for you! •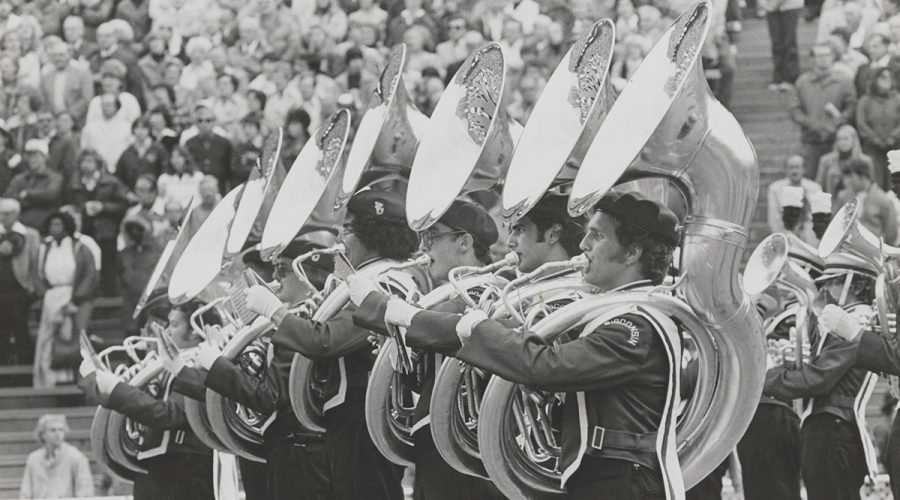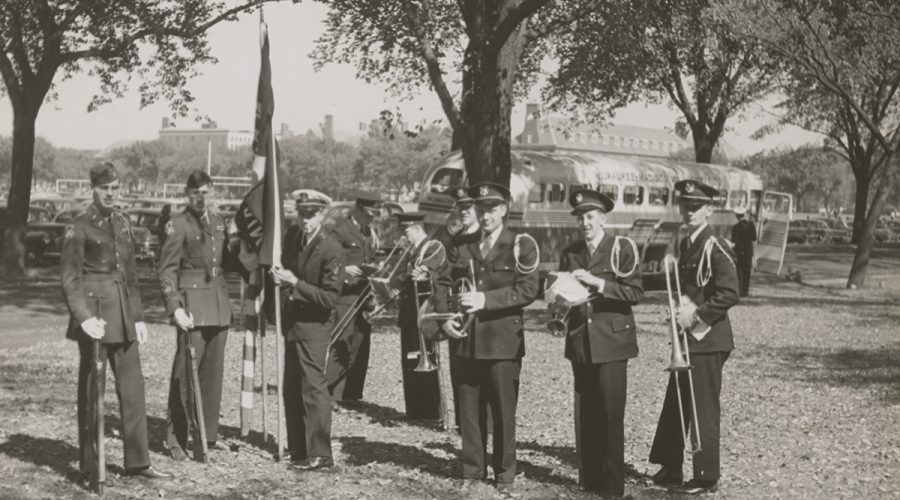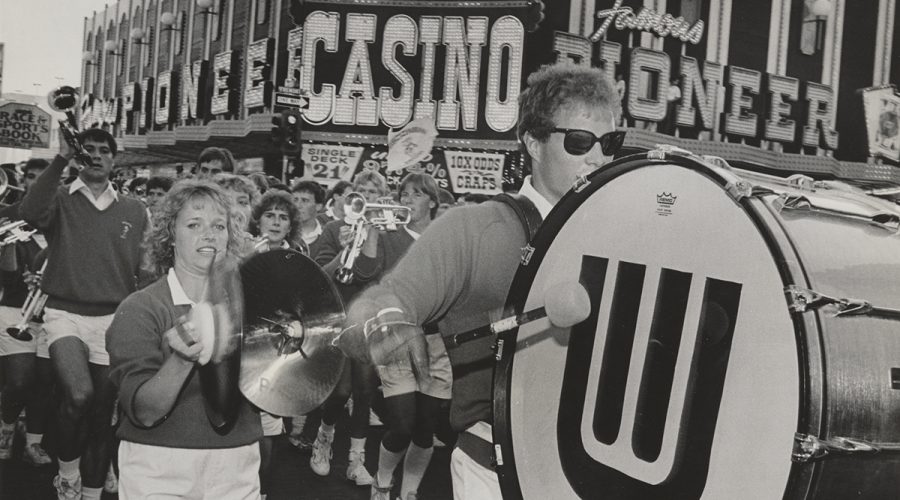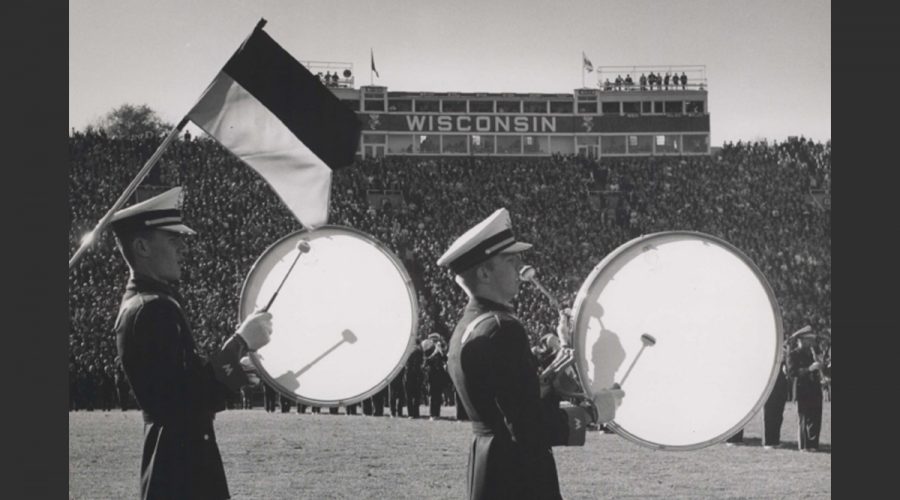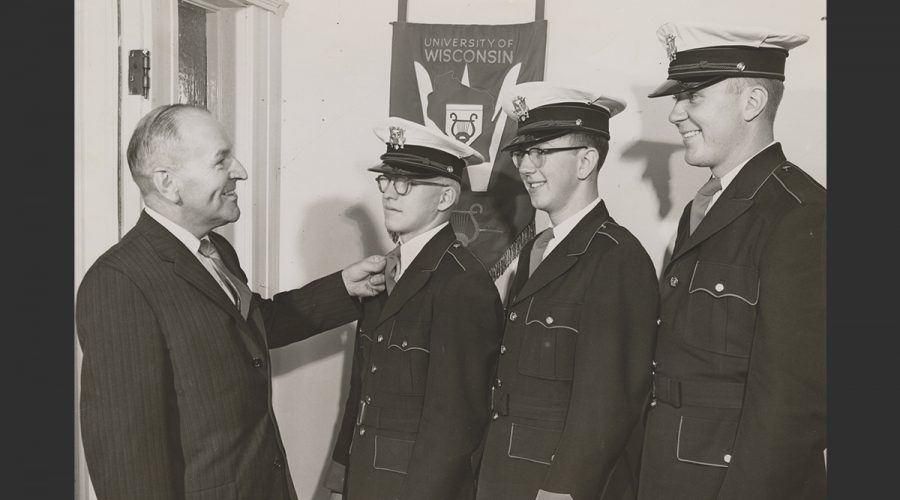 Madison writer Wendy Hathaway '04 knows all the choreography to "If You Want to Be a Badger," 75 percent of the time.
Published in the Fall 2021 issue