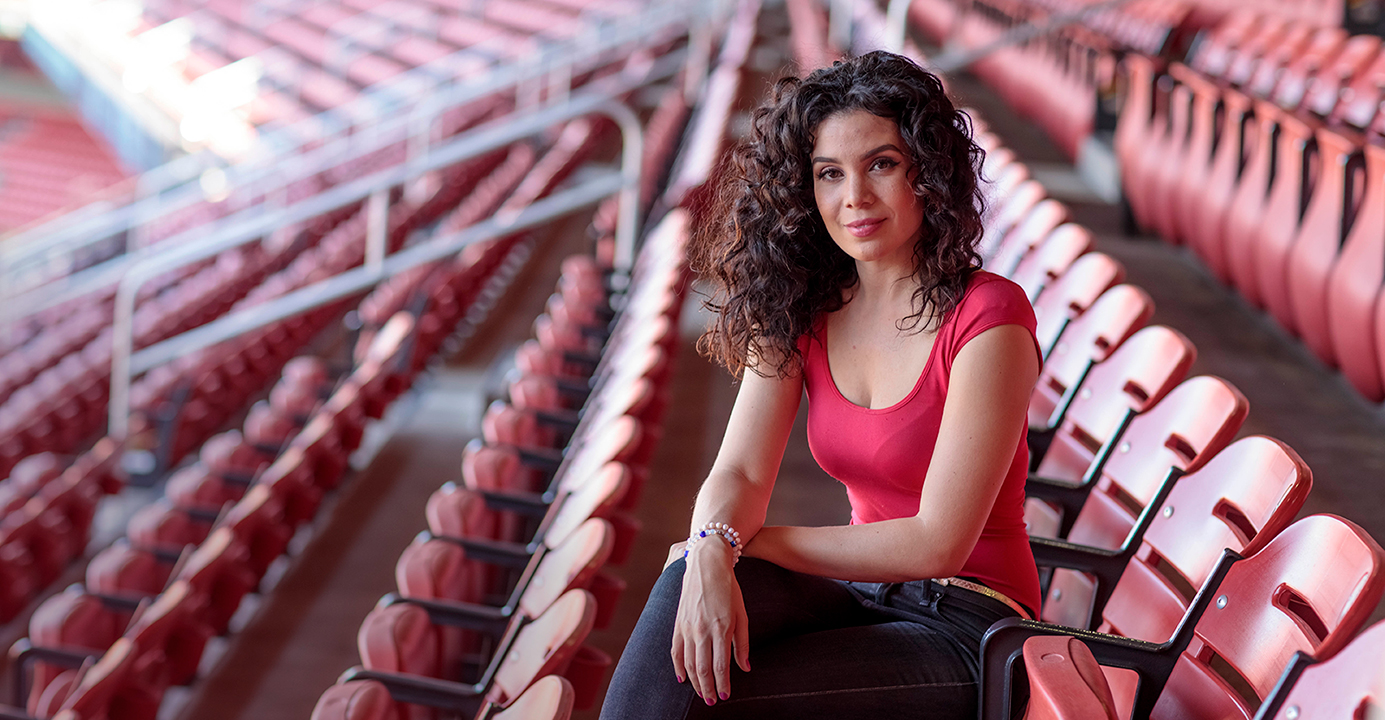 The Voice
Major League Baseball translator Alexandra Noboa-Chehade '09 is an MVP for her team's Spanish speakers.
A scrum of reporters crowds around Carlos Martinez, the staff ace and $51 million man in the St. Louis Cardinals' pitching rotation. Today's game against the Milwaukee Brewers was his sixth start of the 2017 season, but only his first win. As the reporters launch their questions, they direct them not at Martinez, but at the woman standing at his side: Alexandra Noboa-Chehade '09, the Cardinals' Spanish translator and international communications specialist.
Had Martinez been working on his sinking fastball? How did the movement of his sinker during his warmup set his game plan for the night? Noboa-Chehade translates each question into Spanish and listens intently as Martinez responds in the rapid-fire style of Spanish spoken in his native Dominican Republic. Noboa-Chehade doesn't look at Martinez's face. Instead, she gazes down or into the distance as she focuses on his every word, nodding repeatedly in affirmation and encouragement before giving the English translation.
The last question brings a quick smile to her face: "How much has he been waiting for a night like tonight?" As she shares Martinez's response, the words that Noboa-Chehade speaks could easily be her own story: "I have been working really hard. I always had faith in myself and my team. I knew it would come eventually, but I really worked hard for this, so it feels great."
She graduated from UW–Madison with a bachelor's degree in Latin American studies, political science, and Spanish literature — hardly the credentials a ball team would look for. But her upbringing in a Spanish-speaking family with a father obsessed with baseball — as well as her subsequent bilingual media training and experience — made her the right person, with the right skills, at the right time when Major League Baseball mandated last year that all teams with Spanish-speaking players hire full-time translators.
"Many people only wish they could do this," Noboa-Chehade says, as she pulls open the doors to the Cardinals' locker room and strolls in before another early season game. Songs from AC/DC and the Scorpions are blasting on the sound system. A couple of players chat at their lockers. Martinez — today's starting pitcher and her main translation "client" — strolls through the locker room, but makes no eye contact with Noboa-Chehade or anyone. "No one talks to the starting pitcher," she says. "That's the rule."
Noboa-Chehade is one of five women working as major-league translators. Her presence in the locker room is a given now that she has been on the job for a year, but that wasn't the case at first. "There was that initial feeling of intimidation, walking into a clubhouse with 20-plus men and being the only woman," she says. "I had to remind myself, 'Yes, I have the qualifications and the skills to be here.' "
"Code switch" is the current buzzword for her skill, the ability to fluently switch between languages within a single conversation. Noboa-Chehade performs nimbly for the Cardinals' 162 regular-season games, plus spring training, public appearances, and (fingers crossed) the post season. "You eat, sleep, and dream baseball," she says. The truth, however, is that Noboa-Chehade was code switching long before the term was coined.
Born in Puerto Rico to a Dominican father and Colombian mother, she was not even a year old when her family moved to Middleton, Wisconsin, so that her mother, Nayla Chehade MA'90, PhD'99, could pursue her PhD in Spanish literature at the UW. Outside their front door, it was an English-speaking world; but at home, her parents spoke to her and her older sister, Nadia Noboa-Chehade '03, JD'09, only in Spanish. "I remember coming home and wanting to speak English, and my parents wouldn't let me or respond to any of my questions," she says. "When we would travel to Colombia for the summer and then come back to Wisconsin, I would forget English. I'd sometimes make words up. I grew up with this duality, living this double life."
To tweak a famous line from the movie Field of Dreams, one constant amid the dueling languages in Noboa-Chehade's childhood was béisbol. Her father, Diogenes "John" Noboa, had been a promising player in his youth in the Dominican Republic and continued to play in recreational leagues in Middleton. The family's TV was constantly tuned to baseball games.
"We didn't so much follow teams as players," Noboa-Chehade recalls. Pedro Martinez on the Red Sox. Sammy Sosa on the Cubs. They were definitely not Cardinals fans. "They beat everybody — they were too good," she says with a laugh. The family's favorite player was, well, family: cousin Junior Noboa, a utility player who spent eight seasons in the majors.
When it came time for her to choose a college, Noboa-Chehade admits that, as a local, she initially resisted attending the UW. But she came into her own identity during her time on campus. As a freshman, she joined Lambda Theta Alpha (LTA), a Latina sorority that her sister had helped to form a few years earlier. "Through LTA, I was able to bring cultural awareness to campus and be a part of a bigger movement that empowers Latinas in higher education," she says.
That year she also took professor Francisco Scarano's class on Latin American history. "I found it so interesting, to understand where I am from," she says. "He inspired me and added so much to who I am today, to be bilingual and bicultural and to gain so much knowledge about both cultures."
After graduation, Noboa-Chehade struggled for a year to find her path: she tried acting and modeling in Los Angeles and translated for social service agencies that served children and families in Madison. Then she firmly set her sights on a career in broadcast communications. She took a public speaking course in Colombia to polish her broadcast Spanish, then moved to Miami to complete a master's degree in Spanish-language journalism and multimedia at Florida International University. "It was in Miami that I came to appreciate my UW–Madison education," she says. "Compared with my fellow grad students, I realized how well formed I was in terms of my study habits and my level of accountability."
In Miami, she connected with her family's favorite player, Junior Noboa, now an executive with the Arizona Diamondbacks. "He became a mentor for me," she says. He encouraged her to consider baseball as an outlet for her skills. When she called home to tell her parents she'd landed a job as a social media reporter for MLB.com, her father was thrilled.
For two years at MLB.com, Noboa-Chehade coordinated the Spanish-language Facebook and Twitter feeds for several East Coast teams. "You have 140 characters in English, but Spanish is so much longer when it's written out, so that job made me a concise writer and thorough reporter," she says. She relished the work trips to the World Series and All-Star Game, but MLB.com's large-scale operations and the isolation of working from home weren't the best fit for her outgoing personality.
"I wanted something smaller; I wanted to be with one club," she says. When the Twitter announcement for the league-wide Spanish translator mandate crossed her desk, she saw her opening. "The fact that I am a native speaker was a big advantage," she says. "I am able to understand the players' culture and where they are coming from."
That mutual understanding is greatly appreciated by the Cardinals' players. "She has helped us tremendously since she came," says Aledmys Diaz, the Cardinals' Cuban shortstop. "When we don't understand the question, she helps us to elaborate more when it comes to our response. Especially now that there are young Latino players coming up, the work she is doing is fundamental."
While Noboa-Chehade never has to make translation trips to the pitching mound — manager Mike Matheny is fluent in Spanish — the Cardinals call on her language and broadcast skills in many other ways. Behind the scenes, she helps players with everyday issues such as tax forms, housing deposits, travel arrangements, and ticket requests. For the Cardinals' weekly TV show, she's recording a series highlighting all the diverse backgrounds — Korean, African American, Hawaiian, and more — represented on the team.
During games, as the crowd cheers and the wave ripples around the stadium, she follows the action — especially Martinez's performance — from the surprisingly quiet press box with her communications staff colleagues. With each major play, she updates the Cardinals' Spanish-language Twitter and Facebook feeds, which she launched last year. "Our Spanish-speaking players have such a passionate following," she says. "Any time I want to do an interview for our Spanish-speaking fans, the players always say, 'I am so there — I'll do it.' "
And when the players need her translation skills — signaled by a quick shout of "Ale" or a subtle nod — she is right there, at their sides. "What I most love about having Alexandra as my translator is that when I make a mistake in the interviews or I didn't have a good game, she always helps me show my best side," Martinez says. "She makes the interviews fun and helps me keep my cool. She truly helps me as a person on and off the field."
Kristin Baird Rattini is a veteran freelance writer in the Saint Louis area, but her allegiance remains with her hometown Chicago Cubs.
Published in the Fall 2017 issue