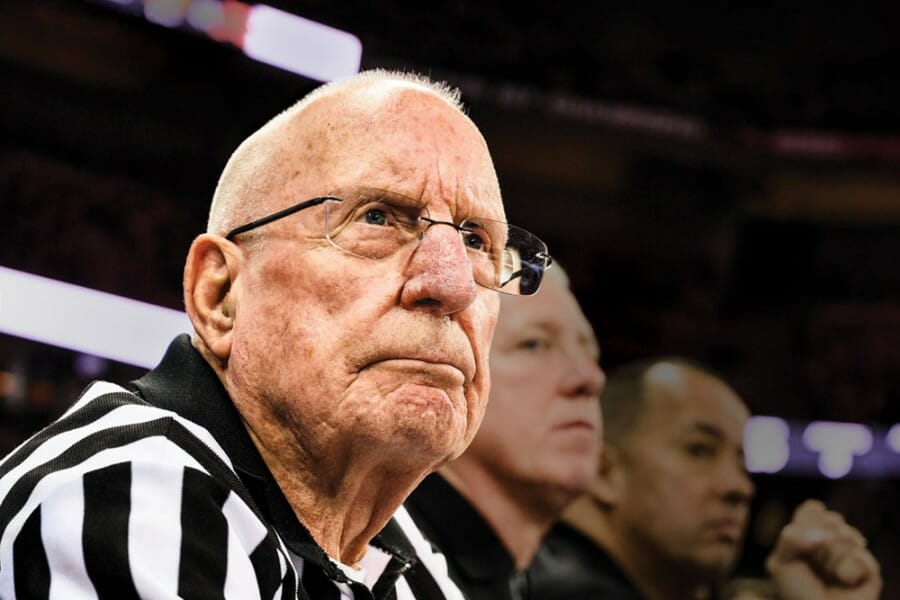 At a Badger men's basketball game, you'll find Otto Puls '55 on the court — but not shooting hoops. Instead, he'll be wearing stripes on the sidelines, tallying points as the team's official scorekeeper — a post he's held for 55 years. Puls, a retired pharmacist and lieutenant colonel in the United States Army, played baseball for the UW and had a brief minor-league stint with the Baltimore Orioles. He has officiated basketball and Big Ten football, including two Rose Bowls, and he's a member of several Halls of Fame, including the Wisconsin Football Coaches Association and the Wisconsin Basketball Coaches Association.
How did you get started with scorekeeping?
John Erickson, the ex-coach, came to me one day and said, "You know, I need [an] official scorer, I need a timer, and I need somebody to put the score up on the board." That was when we were at the [UW] Field House, and that's all there was. … It was just three [of us] to begin with.
What does scorekeeping entail?
I keep track of fouls, players playing, [and] how many points they score, and I don't have anything to do with how often they shoot, or whether they have an error, or anything else. That's all the stat people. At halftime, and then at the end of the game, all of the people in the stats crew bring a sheet over to me, and I have to okay that sheet. … It becomes more complicated than it used to be — all you did was the scoreboard, you wrote it down, and you were God. That was it. Nobody else was going to argue with you.
You're also the team's equipment manager and referee at practices. What is it like for you to work with the players?
I treat [the players] the same way I do [my own kids]. They appreciate me more after they leave. They see me every day here at practice. Sometimes they get mad at me, but when they leave they really appreciate what I've done and what I'm trying to do. When I call a foul, it isn't because I [want] to — it's because of the fact that you did something wrong. That's what they think is nice about it — they really thought that I was honest with them.
How did officiating at the Rose Bowl compare to scorekeeping at a Final Four tournament?
The Final Four was more fun. There was less pressure on me. My family had said the same, too, that you don't go to the Final Four very often, and boy, when you go, you better enjoy it, and boy, those two years (2014 and 2015) were just heaven.
What's kept you going through it all?
The love of sports. I'm a sports nut.
You must be!
I do not remember the last time I missed a [Badger men's basketball] home game. … And I'll bet you, if they look in the archives, I don't even know who I replaced back in '64. I don't think there's anybody in the administration that has been here that long, so they can't help me. And I'm not here for stats, you know. In fact, I think [that's] pretty neat, if you're going to write that down.
Interview has been edited and condensed.
Published in the Spring 2019 issue