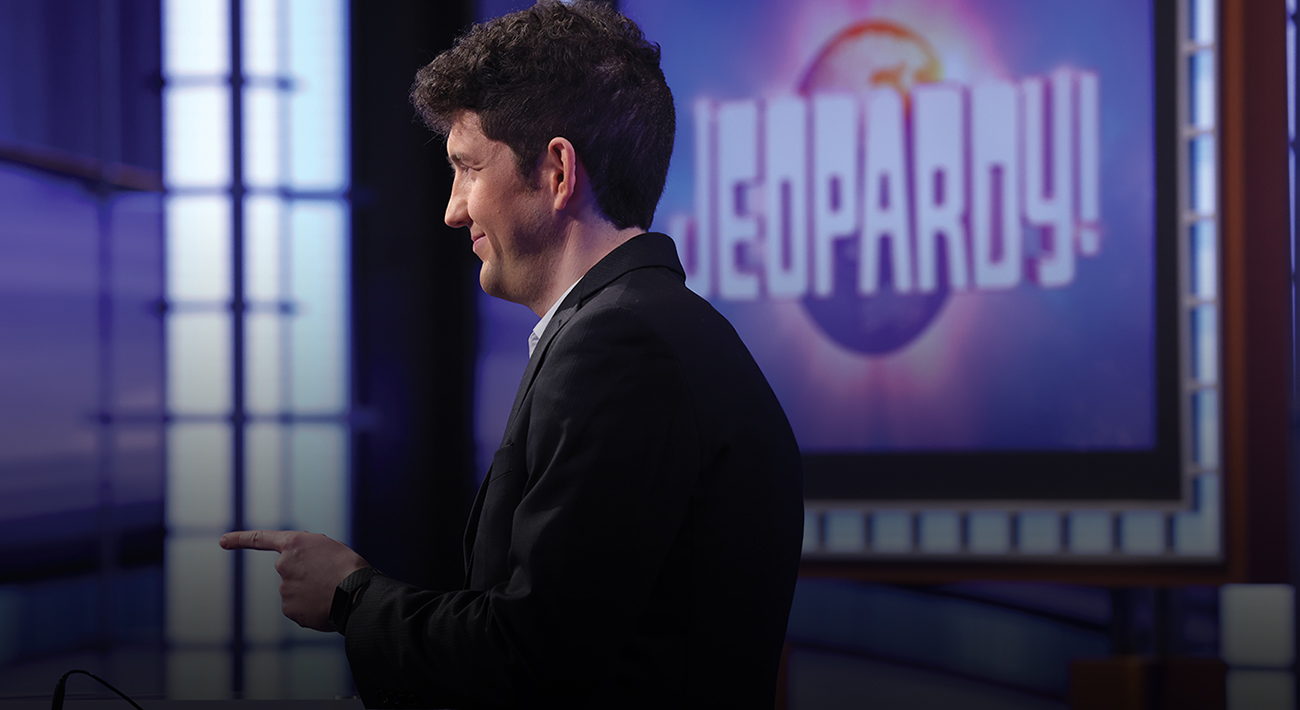 The Answer Man
Matt Amodio MS'17 became a legendary Jeopardy! winner with a unique style of play.
Are You as Smart as Matt Amodio?
The trivia star correctly answered 29 of 39 Final Jeopardy clues, including these. 
1970s Movie Scenes
Writer Dan O'Bannon based a scene in this film on his own Crohn's disease, which felt like things inside him fighting to get out
19th-Century American Women
Two of the three women depicted on the first statue of real women in Central Park, unveiled in August 2020
19th-Century U.S. Politics
Named after a U.K. political party that helped depose a king, the U.S. Whig Party was formed to oppose this man
Landmarks
Ninety-six miles in total during its three-decade existence, the most well-known part of this was about the same length as an Olympic marathon
Rock Legends
A new studio album in 2020 gave him a top-five album in six consecutive decades, his first in 1975
Children's Literature
A 2000 Library of Congress exhibit called this 1900 work "America's greatest and best-loved homegrown fairytale"
Renaissance Men
Ten years before a more famous work, he wrote in 1503 that the way to deal with rebels is to placate them or eliminate them
Popular Phrases
This phrase relating nutrition and health was popularized by fruit scientist J. T. Stinson at the 1904 St. Louis World's Fair
Winter Olympic Sports
The official Olympic website says this event "has its roots in survival skills" practiced in the snowy forests of Scandinavia
10. The Southern Hemisphere
British zoologist George Shaw looked for stitches when he first saw this mammal in 1799, thinking he was being tricked
ANSWERS
1: Alien. 2: Sojourner Truth, Susan B. Anthony, Elizabeth Cady Stanton. 3: Andrew Jackson. 4: The Berlin Wall. 5: Bruce Springsteen. 6: The Wizard of Oz. 7: Niccolò Machiavelli. 8: An apple a day keeps the doctor away. 9: Biathlon. 10: Duck-billed platypus.
On August 3, Matt Amodio MS'17, a PhD student from New Haven, Connecticut, won his 10th consecutive game of Jeopardy!, becoming the 10th player to reach that milestone on the TV quiz show. By the Final Jeopardy round, his score of $36,000 nearly quadrupled his opponents'. The win itself wasn't particularly memorable — Amodio would go on to win a remarkable 38 games, many of them with even higher earnings.
But the game proved to be a turning point: not for Matt Amodio, skilled trivia contestant, but for Matt Amodio, Jeopardy! star.
Late in the Double Jeopardy round, guest host David Faber read a $400 clue: "This evil necromancer is 'The Lord of the Rings.' "
Amodio's expressionless face lit up.
"What's Sauron?" he answered with a wide smile and slight inflection.
"I love Lord of the Rings," he says now. "I hadn't done a lot of smiling on camera, because I was so focused on playing the game as well as possible. That was one of the first moments where I thought, 'Oh, yeah, I forgot I'm allowed to smile while I'm playing the game, too.' It was entirely genuine, and it loosened me up quite a bit."
The answer revealed an introverted but playful personality that America came to admire. Amodio started to wear his emotions — doubt, surprise, amusement, joy — on his face. As a competitor, he showed you can be relentlessly kind and cutthroat. His humble, aw-shucks demeanor complemented his brilliant gameplay.
Amodio was so obsessed with gaining an edge that he answered every clue with what — what is Sauron, instead of the grammatically correct who — so he wouldn't have to think too hard about phrasing Jeopardy! answers in the iconic question format. The syntactic simplification scandalized Jeopardy! diehards early on. But eventually, Amodio's signature style won over just about everyone.
Although his run ended in October, Amodio still has plenty to smile about these days. His 38-game winning streak was the second-longest in Jeopardy! history, behind only Ken Jennings's run of 74. (Contestant Amy Schneider has since surpassed Amodio's streak.) His earnings — $1,518,601 — rank among the top 10 across all American game shows. Even the curmudgeonly CNBC host Jim Cramer called him "an American hero," telling Amodio, "This is the first time my kids have ever watched the show, because they love you so much."
Along the way, fans dubbed his legendary run the Amodio Rodeo. Where did that thrilling Jeopardy! ride start? The correct response: What's Madison?
Admitting What You Don't Know
Jeopardy! was ambient noise in the Amodio household in Medina, Ohio, just outside of Cleveland. Amodio's parents turned on the show every evening at dinnertime.
"I remember watching Ken Jennings's streak when I was a kid," says Amodio, now 31. "That was the first time that I saw Jeopardy! as a sport. I was looking at statistics and seeing him in the record books, and it just reminded me of the way I was interacting with baseball and my Cleveland Indians."
His love of statistics prompted him to pursue a math degree from Ohio State University. He worked as a consultant and data scientist for IBM and an IT company after graduation, but he soon became bored. "I did not care for the lack of freedom and the kind of mundane intellectual work that was in front of me," he says. With a bit of industry experience, Amodio applied to master's programs in computer science.
"I had never taken a computer science course in my life, and nonetheless, Wisconsin admitted me into their program," he says, laughing.
At the UW, Amodio spun a web of cross-disciplinary research: machine learning and neural networks with Professor Thomas Reps in the Department of Computer Sciences; computational biology with Professor Colin Dewey in the School of Medicine and Public Health; and advertising analytics with Professor Neeraj Arora in the Wisconsin School of Business. His doctoral work today at Yale University builds on much of that foundation.
"He was very good at talking with me about the things he didn't understand," Dewey says. "A good sign of a good graduate student is that they're willing to admit what they don't know."
The same skill has served Amodio well in the trivia world. He'll sit at a computer for hours and read through a nesting doll of Wikipedia entries, seeking to fill gaps of knowledge. Reading with curiosity, he suggests, is the great equalizer.
"You have to start to be interested in the things that you don't naturally like," Amodio says. "If you're a big baseball fan, you probably already know just about all you need to know about baseball for trivia. But if you know very little about boxing, like I did, then that's what you need to read about."
Amodio considers pop culture his primary weak spot, so to prepare for Jeopardy!, he spent weeks bingeing on award-winning films and TV shows.
While working on his master's degree at the UW, Amodio applied to Jeopardy! for the first time. His father was planning to take the precursory online test and encouraged him to do the same. Amodio scored highly enough to earn an in-person audition, but he never received a callback — a rejection process that some Jeopardy! contestants endure for years before getting cast on the show.
"They say after 18 months, if you haven't heard anything, you have to start all over," he says. "Then I started all over, and, that time, I got on to the show."
The Likeliest Ways of Winning
With predictable modesty, Amodio insists that winning multiple games of Jeopardy! in a row is a miracle. After all, there is a degree of luck to each game: the types of categories, the quality of opponents, the hidden Daily Doubles that allow score-boosting wagers.
But Amodio's strategy — guided by his academic background — sought to minimize luck and maximize probability at every step.
"We're really in the midst of the Moneyball [analytics] era of Jeopardy!, and I think Matt Amodio is in so many ways the perfect example of it," says Claire McNear, author of Answers in the Form of Questions: A Definitive History and Insider's Guide to Jeopardy! "In the past, a contestant might study an encyclopedia or an almanac or maybe watch a few episodes with a pen in hand. But today's players really dig into the statistics and probabilities, and they try to pull some numerical certainties out of the game that has nearly 40 years of data to offer from its modern iteration.
"Yes, there is luck and chance in Jeopardy!," McNear continues. "But there are also ways to sort of hack that system and look at what the likeliest ways of winning are."
Probability is why in the first round, with lower stakes and only one Daily Double, Amodio played most aggressively. While many players try to find a foothold by starting with the lowest-value clues or staying in a comfortable category, Amodio blitzed through the highest-value clues and worked his way up the board to the lowest. That allowed him to quickly accumulate money before finding the Daily Double and wagering it all. And since Daily Doubles typically lurk among the highest-value clues, Amodio found nearly three-quarters of them during his run. Amassing large leads early on allowed him to play from ahead more conservatively in the second round.
"He was incorporating parts of what we've seen other players do, but he obviously did it better than just about anybody has," says McNear, who also covers Jeopardy! for the entertainment website The Ringer.
Amodio's analytical gameplay has been compared to that of James Holzhauer, who won 32 games in 2019, though Holzhauer's overall wagering was more aggressive.
"He came in with a professional gambler's mentality, and I came in with an academic probability mentality," Amodio says. "And in the end, that's very similar with just some minor differences on the edge."
As a competitor, Amodio showed you can be relentlessly kind and cutthroat.
When to Buzz In
Like the Jeopardy! greats before him, Amodio also had to master the physical side of the game: the all-important buzzer.
"It's one of the really perplexing things about Jeopardy!," says McNear, "because there is a staff member sitting just offstage who literally flips a physical switch in front of him at the end of the reading of each clue, and that activates these lights that you can't see on TV that tell the players they can now buzz in."
Some players stare at the lights; others try to time the host's cadence. "There's really no feedback mechanism other than did you win control or not?" Amodio says. Still, he beat his two opponents to the buzzer more than half the time. His secret? Being willing to buzz in before knowing the answer — a strategy that sounds like a no-brainer, until you remember that every gaffe is viewed by 10 million people on national TV.
Amodio employed a two-step strategy: "recognition and cognition." He'd skim the clue, and if it seemed even faintly familiar, he'd buzz in. Then he'd try to recall the answer. (The strategy only works when you know pretty much everything.) The process often played out on Amodio's face, with puzzled and then pleasantly surprised expressions. He correctly answered 92 percent of the 1,400-plus clues for which he buzzed in, according to The Jeopardy! Fan website.
In short, he dominated: 32 of Amodio's 38 wins qualified as "runaway," meaning he had more than doubled the score of his opponents by the Final Jeopardy question.
"It has long been thought among Jeopardy! fans that no one will ever come close to Ken Jennings's record of 74 wins in a row," McNear says. "But [Amodio] was one of the first players who made it seem like the right player could get up there and — with a little bit of luck, but also a whole lot of talent — actually do it."
Losing with Grace
Amodio served as an anchor for Jeopardy! during the most turbulent year in its history. Since longtime host Alex Trebek died in November 2020, the show has cycled through guest replacements. Amodio played with six, ranging from sports broadcaster Joe Buck to actress Mayim Bialik. He also played briefly with Mike Richards, who resigned as the new permanent host after reporting by McNear raised questions on the search process and revealed offensive comments from Richards's podcast and allegations of workplace misconduct.
Trebek famously wished for the contestants, not the host, to be the real stars of Jeopardy! From July through October of 2021, Amodio made good on that wish.
"For Jeopardy! fans, there was sort of this feeling not only of excitement, but of relief, that the focus was back on the contestants and back on the game," McNear says.
There is little shame in Amodio's eventual loss: his opponent, Jonathan Fisher, went on to become the 11th player to win 10 or more consecutive games. "The biggest thing is that I lost the momentum on the buzzer," Amodio says.
Amodio served as an anchor for Jeopardy! during the most turbulent year in its history.
After the loss, he turned to Fisher and told him, "Well deserved. Excellent." It was a familiar show of grace.
"I felt pretty bad throughout my whole run that all the talk was about me," Amodio says. "I wanted to keep the camera on him as much as possible so he could savor the joy of the win."
Amodio is finishing the final year of his doctoral program and is hoping to stay in academia as a tenure-track professor. He thinks back fondly on his formative years in Madison.
"I met a lot of friends and colleagues that really shaped me into a better researcher, a better academic, and a better person," he says.
And his $1.5 million prize? He plans to invest it all.
"I'm a boring person," he says, laughing.
Luckily for fans, he won't be away from the game for long: he's slated to return for the Jeopardy! Tournament of Champions in November. Until then, Amodio is reflecting on the personal growth he experienced on the show.
"I hate the life lesson that if you don't have a lot of self-confidence, all you have to do is become nationally famous for being smart, and then you're going to be a little more confident," he says. "I hope the lesson from this is that even if you aren't that self-confident, you're probably really good at things, and you're just not giving yourself enough credit." •
A senior writer for On Wisconsin. Who is Preston Schmitt '14?
Published in the Spring 2022 issue