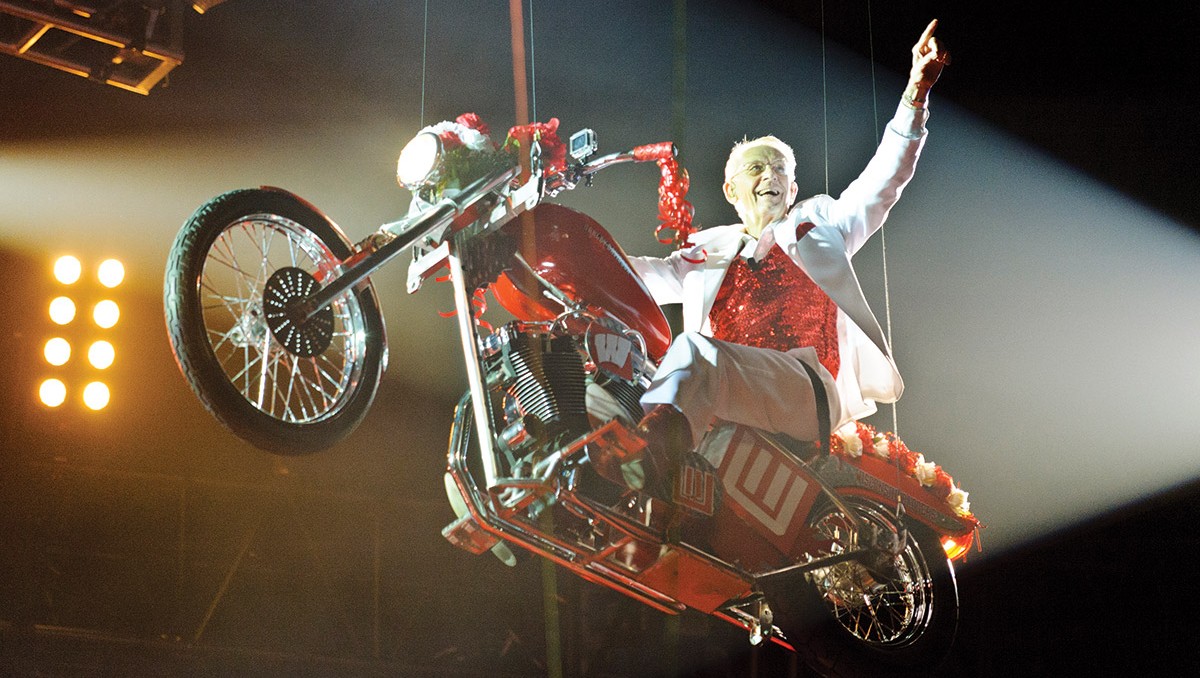 Stop at the Top
For Badger fans, when you say Mike Leckrone, you've said it all.
As he had done at the end of countless UW Marching Band practices, director Mike Leckrone stood on top of a ladder on a hot, sunny August afternoon. The band's veterans, along with rookies who had just won a coveted spot, crowded around to listen.
It had been a year since Leckrone had lost his wife of 62 years, Phyllis. Seven months before that, he had undergone heart surgery. Today, he would tell the band of the decision he had shared with only a few senior university officials: he was ending his remarkable half-century reign. He would lead them through one more football season, followed by hockey and basketball and the spring concert.
In this moment, Leckrone told his musicians what he expected of them.
"You must maintain the traditions, the intensity, the desire, and everything that everybody for the last 50 years has brought to this group," he said. "I would be sorely disappointed if I see that doesn't happen, because it's in your hands to do that."
Later that day as the news quickly spread, alumni band members began posting decades-old photos of themselves in their band uniforms on Facebook with the hashtag #IMarchedforMike. In September, the annual alumni band day — when former members march during the football pregame and halftime shows — drew record numbers. So many people wanted to play under Leckrone's direction for one last time that organizers had difficulty creating a routine that would fit more than 500 people on the field, all wearing red T-shirts emblazoned with his name.
"Any one of us whose paths have crossed Mike's feel that … he deeply touched us and continues to do so," Sarah Halstead '87, a cymbal player who spent four years in the band, said shortly before the alumni band took the field. "We're here to honor him and, in some way, say, 'Thank you.' We've heard so many times from him — 'Just one more time.' And this really is the last time."
It may seem strange to think now, but Leckrone could have spent decades performing the University of Minnesota fight song.
Every Badger fan who has attended a home basketball, football, or hockey game since 1969 knows the man wielding the baton — a beloved, charismatic musical leader who exhorts crowds to shout, "When you say Wis-con-sin, you've said it all!" So it's hard to picture Leckrone leading a stadium full of Gopher fans through their signature chant of "M-I-N-N-E-S-O-T-A."
But in 1968, seeking a step up from his job as marching band director at Butler University, Leckrone looked to the Big Ten and applied for openings at Minnesota and Wisconsin. Both schools turned him down.
A year later, the UW called and asked if he was still interested. Leckrone said yes, even though it did not have the makings of a dream gig. At that point, the band had cycled through three different directors in as many years. And in the last 20 games, the football team had logged 19 losses and one tie (see page 13). The band's ranks had dwindled — from around 130 participants to just 96 — and they frequently played to partially empty stands. It was also the height of the antiwar protest era on campus.
"It wasn't really politically correct to put on a uniform and march around campus in those days," says Leckrone, 82, an Indiana native and the son of a marching band director.
Unimpressed with the band's lack of energy, Leckrone changed its marching style. He made the switch to a high step, which requires a musician's knee to hesitate while lifted at 90 degrees, which he calls "stop at the top." Leckrone stressed pride in the band and worked on small details like the snap of the "horns up" movement. Gradually, more students joined and, by his third year, the band began to transform into a cohesive unit.
Initially there was some resistance, recalls Ray Luick '73, the band's drum major when Leckrone took over. Luick played tuba his freshman year in 1968 before serving as drum major for the next three seasons.
"He had such a clear idea of what he wanted to do and we didn't have a clue. Here's a guy whose lifelong ambition was to be a Big Ten band director, and we were just part of the group he inherited," says Luick, who returns each year with his drum major baton to lead the alumni band.
Fifty years after watching Leckrone take over the band, Luick is not surprised to see the director in charge this long.
"He has never lost the enthusiasm or the realization that this is just a lot of fun for a lot of people," Luick says. "I think that recognition of how all these insane pieces fit together is very important to him and allowed him not to see this as 50 years of work but a continuation of something he enjoys doing."
When he was hired, Leckrone figured he would transition to an administrative role in the School of Music within 10 years. But he enjoyed the marching band so much that, within a few years, he put aside thoughts of taking off the black uniform he wore for football games.
He says he's lucky Minnesota turned him down. With a smile, Leckrone explains that Wisconsin has a much better fight song.
"Part of that is the cleverness [songwriter William] Purdy used in the song. That first four-note interchange — da, da, da, dum — you can turn it into all sorts of musical ideas. It doesn't sound forced. It has a flow to it," he says.
It has been decades since Leckrone struggled to find enough players to fill the band's ranks. About 300 students make up the current band; 230 march at halftime. Others, usually freshmen, serve as alternates ready to step in for an injured player.
To his musicians, Leckrone is more than a band director — he's a mentor and coach who instills the necessity of hard work and having fun. And as the fortunes of Badger sports teams have soared and sunk over the years, there's always been one constant: the appeal of the band.
"Mike is without question one of the most beloved figures in the history of UW–Madison. He has made a significant impact on campus, in Madison, throughout the state, and beyond," says UW Athletic Director Barry Alvarez. "When we speak with officials from bowl games each year, I tell them that Wisconsin will bring the whole package — team, fans, and band. Mike's leadership of the band has certainly been an important part of that package for our school for many, many years."
Although it might look seamless to fans at Camp Randall, each band performance at home games represents much thought, planning, and practice. Leckrone is one of the few — if not the only — college marching band director to continue to arrange all the band's music as well as write charts for the pregame and halftime shows.
In addition to leading the marching and pep bands at sports events, Leckrone also teaches classes and conducts the symphonic band. A fan of big band music, his jazz and pop music courses are popular because of his encyclopedic knowledge and his infectious excitement for the tunes of Duke Ellington, Count Basie, Benny Goodman, and other early jazz legends. During a lecture on his favorite jazz artist — trumpeter Bix Beiderbecke — Leckrone has been known to dramatically rip open his overshirt to reveal a "Bix Lives!" T-shirt.
"It's pretty amazing to keep up with his schedule. He's a very energetic guy. I hope I have at least a quarter of his energy when I'm his age," says assistant director of bands Darin Olson, who's some 50 years Leckrone's junior.
Leckrone knows the students who crowded around his ladder in August are the last group of young adults he'll lead at the UW. They are the ones who will play his last football games at Camp Randall. They will tell the musicians who join the band next year and the year after that, what it was like to play for a legend.
He reminded them to keep up the intensity — but, most of all, to have fun.
"You have provided me with so many moments of happiness," an emotional Leckrone said during his August address. "I can't even begin to thank you. I will tell you those moments of happiness have gotten me through difficult times. I hope they can do that for you. Live for those moments of happiness."
Then Leckrone climbed down and sang "Varsity" with his band.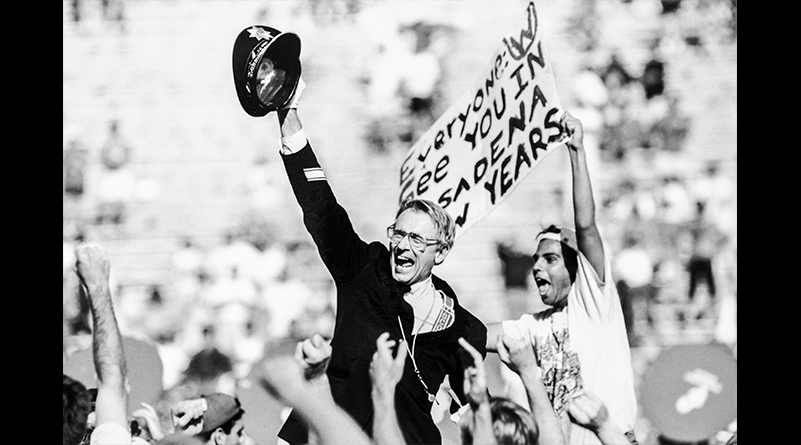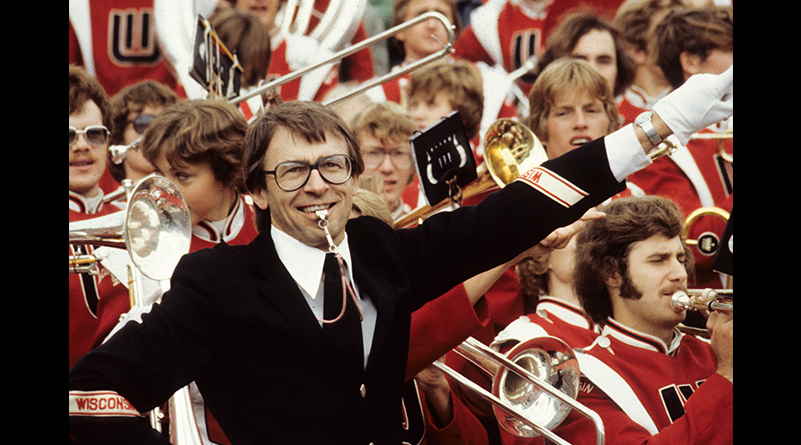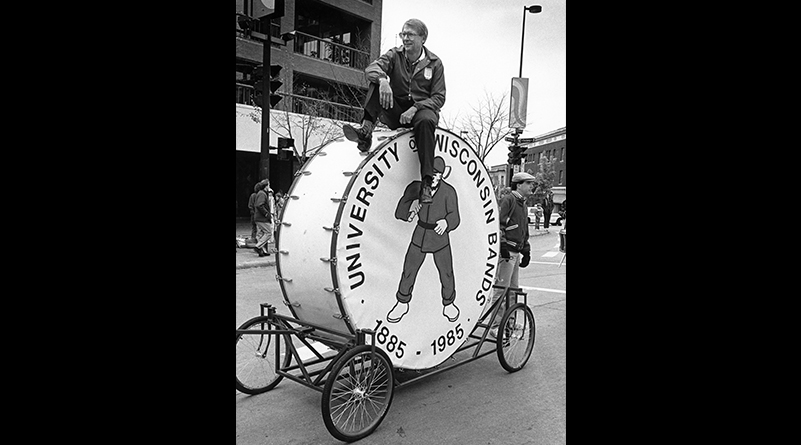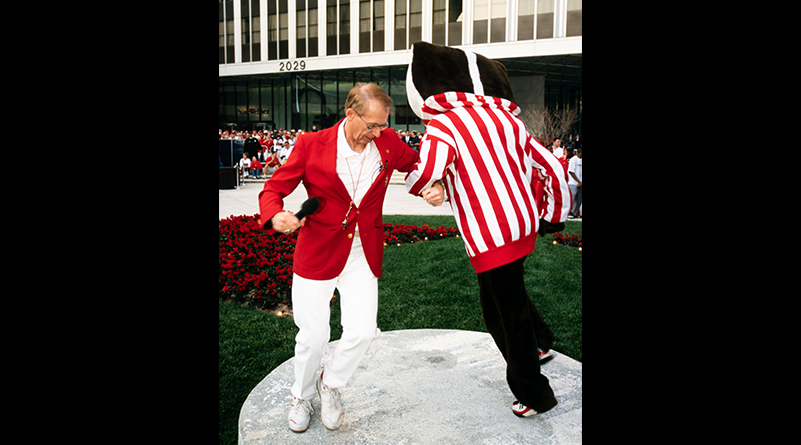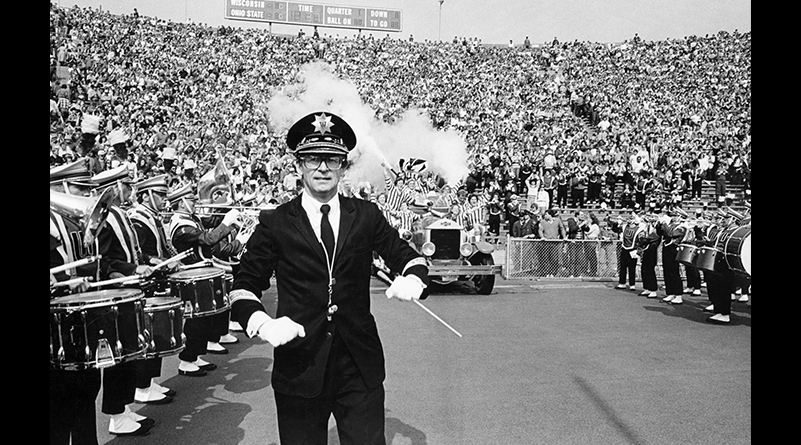 Meg Jones '84 is a reporter for the Milwaukee Journal Sentinel who played drums in the band for four years.
Published in the Winter 2018 issue