Sisterhood, Revisited
Novelist Hanna Halperin MFA'16 lays bare the shared experiences that unite long-divided paths.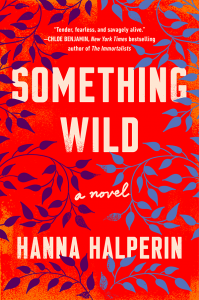 Few places hold as many memories or harbor as many secrets as a childhood home. When Tanya and Nessa Bloom return to theirs, they're met with far more emotions — and even more secrets — than they left there over a decade ago. So begins Hanna Halperin MFA'16's Something Wild.
Upon discovering the brutality their mother endures at the hands of her romantic partner, the sisters grapple with what their reactions to the abuse reveal about themselves, their relationship to each other, and the paths they've taken since living under the same roof. Along the way, they reckon with a shared secret that, unlike a padlocked diary or tattered scrapbook, can't remain buried beneath the clutter of childhood nostalgia.
"At a time when many novels rely on intricate plots or eccentric narrative voices, Something Wild eschews literary pyrotechnics and relies instead on the power of truth," writes the Washington Post's Bethanne Patrick.
The book won the 2021 Edward Lewis Wallant Award for Jewish American fiction and was a finalist for the National Jewish Book Award for debut fiction. "Good books sometimes cut to the bone," says the New York Times Book Review. "This one feels like a scythe."
Halperin teaches fiction workshops and works as a domestic-violence counselor.
Published in the Summer 2022 issue