Play Time
Happy 90th birthday, Memorial Union.
Memorial Union opened its doors for the first time on October 5, 1928, which means that the facility will mark its 90th birthday this fall. The occasion will wrap up 13 months of celebration since the five-year-long Memorial Union Reinvestment — the building's first major renovation — concluded in September 2017. Come to think of it, the Union has been something of a perpetual celebration: nine decades of fun and games. Here's how play has and hasn't changed over the years.
1928
In the Union's opening year, men play cards in Der Rathskeller. It was only men in those days — the Rath wouldn't be open to women until 1941.
1965
In the 1960s, campus had grown increasingly political, and the Union evolved along with the students. Union Director Porter Butts '26 etired in 1968 and was replaced by Ted Crabb '54, who served until 2001. But in Der Rathskeller, students still passed the time with card games.
1944
U.S. Navy sailors mansplain a bowling ball to female students. During World War II, the Union's dining facilities served more than 2,000 military personnel daily. But the drop in male students meant opportunity for women — the Union's first female president, Carolyn Hall Sands '44, was elected in 1943.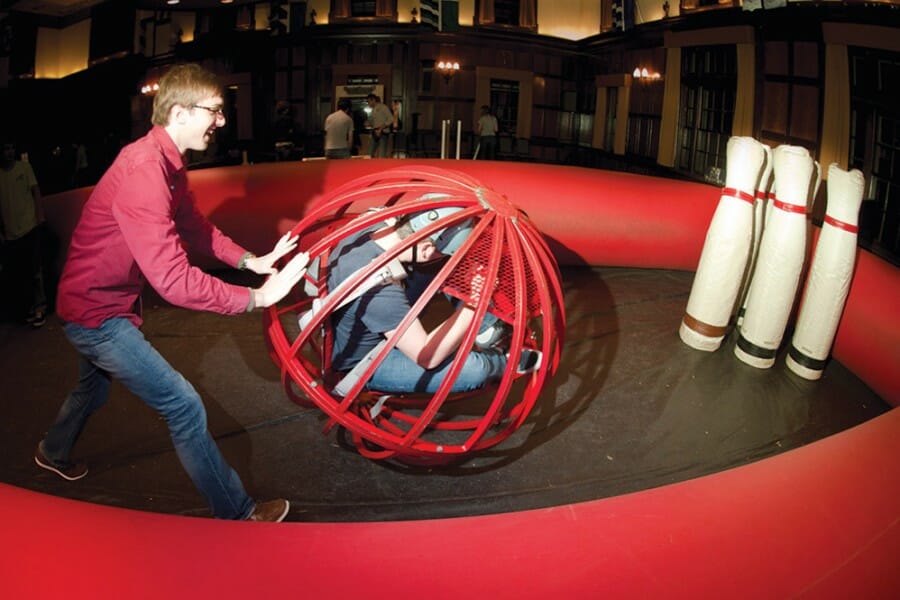 2010
Two students experiment with human bowling in Memorial Union's Tripp Commons. There was no real bowling in Memorial Union when it opened, and there isn't any today. In 1939, eight lanes were added under the theater wing. They closed in 1970, shortly before Union South opened.
1975
Foosball is older than the Union, having been invented in the United Kingdom in 1921. It reached peak popularity in the United States in the 1970s. Shorts were not to be seen in the Union until 1954, however, when a change to the dress code allowed shorts in the cafeteria and Der Rathskeller and on the Terrace.
2009
Students play video games (Super Smash Bros. Brawl) in Der Rathskeller. Video games are a rarity in Memorial Union today. Arcade revenue declined from the 1980s into the 2000s, and the games room closed in 2008.
1936
Pool tournaments were held in the old Billiards Room, which was part of the original Union. A remodel in 1962 turned the Billiards Room into Der Stiftskeller, and the pool tables were moved to the basement. They later came back.
2014
Students play pool in Der Stiftskeller, which was named for a thousand-year-old restaurant in Salzburg, Austria. The murals were added to its walls in 1978.
1980s
Students play chess on the Terrace. The Union first made Terrace chairs available for purchase in 1982, though you can only buy red or white, not the traditional green, yellow, and orange.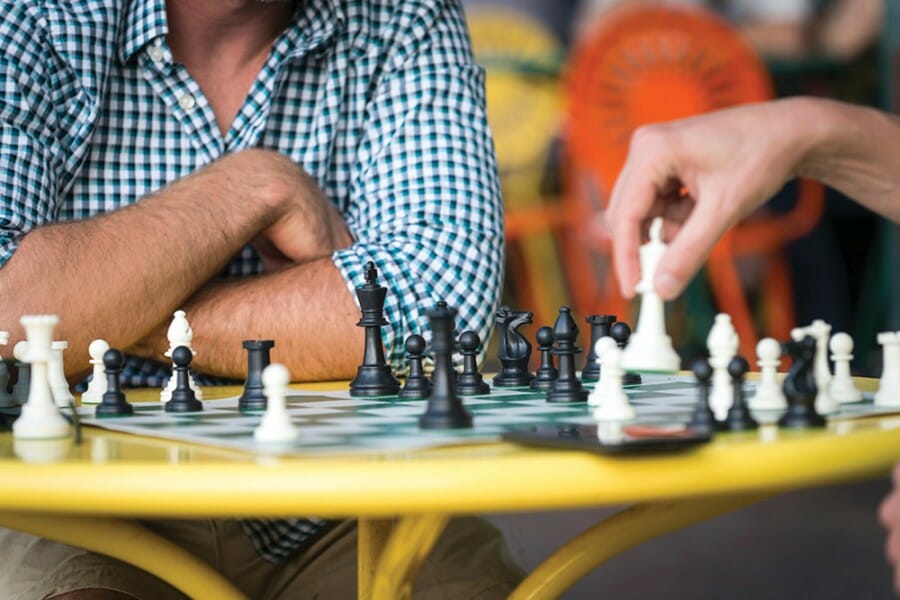 2014
A chess game enlivens an August evening on the Terrace. Some things change very little.