From Stem Cells to Stars
Science borders on science fiction in a collection of prize-winning images.
UW–Madison's annual Cool Science Image Contest, now in its 12th year, "recognizes the technical and creative skills required to capture and create images, videos, and other media that capably reveal something about science or nature while also leaving an impression with their beauty or ability to induce wonder." Last fall, a panel of eight judges from across the arts and sciences selected winners based on the "aesthetic, creative, and scientific qualities" of the entries, which included paintings, textiles, still images, and videos. Winning selections were exhibited at the McPherson Eye Research Institute's Mandelbaum and Albert Family Vision Gallery and online across UW–Madison platforms.
---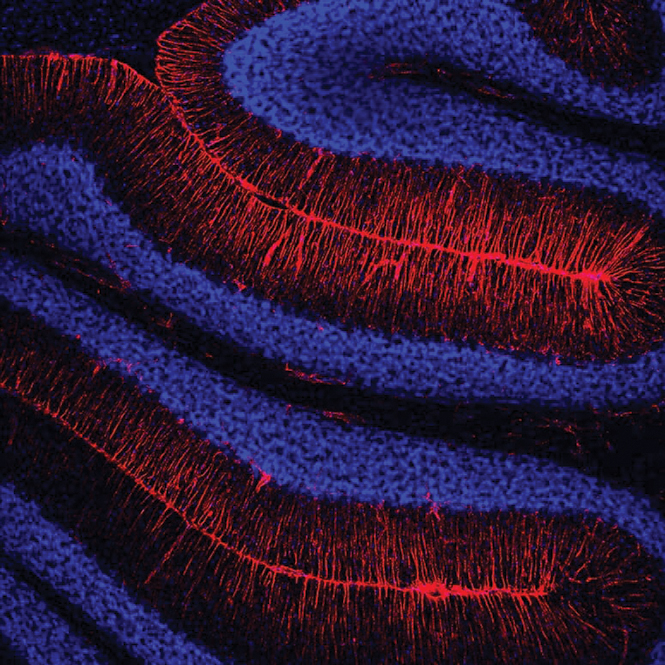 1: Mouse brain cells, Karolina Lungova '21, neuroscience, and Darcie Moore, neuroscience
---
2: Microchip, Benjamin Harpt MA'20, PhDx'24, physics
---
3: Rhesus macaque monkey stem cells, Julia Gambardella PhDx'24, John Maufort '03, PhD'10, and Marina Emborg, the Wisconsin National Primate Research Center
---
4: Mouse leg muscle, Jamie Hibbert, comparative biosciences
---
5: Quadrilateral quilt, Amy Wendt, electrical and computer engineering
---
6: Pseudomonas aeruginosa, William Heelan DPM'21, PhDx'24, Amy Banta PhD'13, and Jason Peters PhD'12, pharmacy, and Ryan Ward MS'21, PhDx'24, genetics
---
7: Milky Way, Yingshun Sun MSx'23, atmospheric and oceanic sciences
---
8: Crystals, Amy Neusaenger MS'24, pharmacy
---
9: Cows, Conor Holohan, animal and dairy sciences
Published in the Spring 2023 issue