Coach of the Year
Greg Gard has overcome adversity to lead Badger men's basketball to new heights.
Greg Gard waited 26 years for his opportunity to lead a college basketball program. When Bo Ryan's longtime assistant became interim head coach of Wisconsin men's basketball in December 2015, he relayed a warning he'd received from several coaches about the transition ahead of him.
"When you slide over those 18 inches [on the bench] … all hell may break loose," Gard half-joked during his introductory press conference.
It's a saying that has proven true several times over during his seven-year tenure as head coach of the Badgers. Adversity has become a fact of life for Gard: his father's death from brain cancer, an unimaginably tragic car accident involving an assistant coach, a confrontation with a rival coach that led to a slap heard 'round the basketball world, a pandemic, and a leaked locker room recording that threatened the program's viability.
It's ironic that drama follows Gard these days. His personality is measured and understated. He prefers a low profile. For more than two decades, he served quietly in the background for Ryan, following his mentor from UW–Platteville to UW–Milwaukee to Madison. Despite opportunities to seize the spotlight elsewhere, Gard stuck around as college basketball's most loyal soldier. Loyalty runs in his DNA. So do his addiction to hard work and his close attention to detail, traits that trace back to his hog-farming childhood in rural Wisconsin.
Through it all, Gard's ever-steady approach has helped the Badgers sustain nearly unmatched success in the NCAA under his leadership: five March Madness appearances, two conference championships, two Big Ten Coach of the Year awards, and a 144–78 record.
"I tell my players, 'If you haven't faced any adversity, you will,' " he says. "You can read all the books you want. You can have the greatest mentors. But the best lessons in life come from experience in adversity."
And in that regard, Gard may be the most experienced coach in college basketball.
Feeling the Pressure
As I sit down with Gard in his Kohl Center office, he points to a large white pillar across from his desk. It's peppered with decals chronicling the program's achievements: a national title, four Final Four appearances, 20 conference championships. It also lists the school's NCAA Tournament bids, with Wisconsin earning a spot 22 out of the last 23 occasions. Something of a perfectionist, Gard admits the missing year — 2018 — still bothers him.
"You talk about pressure on the job? I stare at this every day," he says.
This past year, Big Ten media picked the team to finish 10th in the conference. But the underdog squad led by emerging star Johnny Davis x'24 and fifth-year guard Brad Davison '21, MS'22 scrapped its way to a 25–8 record. They became Big Ten cochampions, earning a No. 3 seed in the NCAA Tournament.
"We've embodied what Wisconsin is — blue collar, hard hat, lunch pail, put your best foot forward," Gard says. "You don't get bonus points for how a victory looks. I always told them, just keep that same fight, that grittiness, that togetherness, that will, that look in your eye. And it will serve them well for the rest of their lives."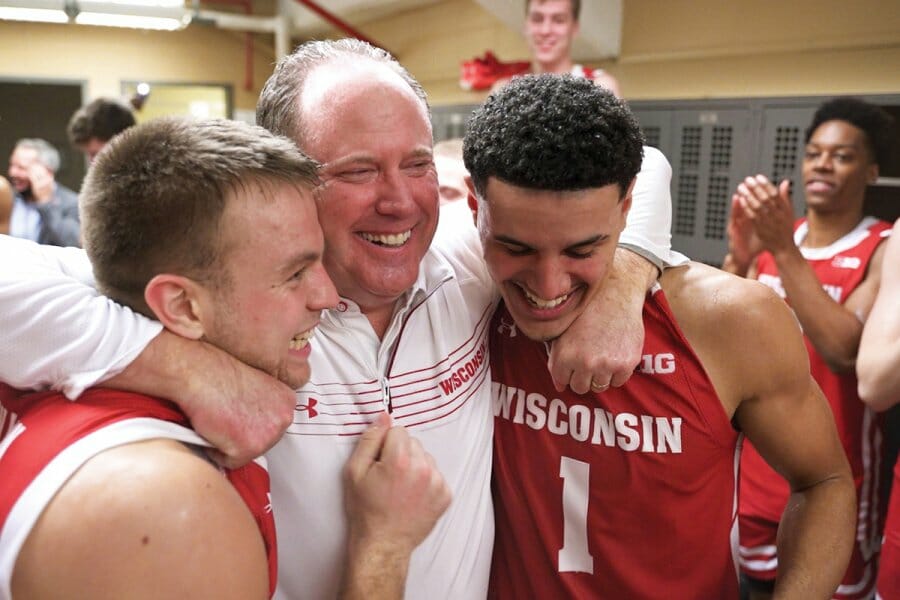 Fans will remember an ugly incident from a February game, when Wisconsin and Michigan came to blows over a late time-out with the game already decided. With 15 seconds left and a 15-point lead, the Badgers' bench players were struggling to break Michigan's full-court press. They had just turned the ball over the previous possession, so Gard took a time-out to realign his untested players and reset the half-court clock. Michigan coach Juwan Howard was visibly upset with the move.
"Those guys deserve to be coached with my same intentions and effort as my starting five do," Gard explains. "He has every right to coach his team. I felt my guys deserved that, too. That means they deserve to get every opportunity to have success. Success was getting the ball across half-court without another turnover."
When Gard approached Howard in the handshake line, Howard pointed at him and said, "I won't forget that." A heated confrontation between coaches and players ensued. Howard swung and hit Wisconsin assistant coach Joe Krabbenhoft '09 in the face, which resulted in a five-game suspension and a $40,000 fine. Gard was fined $10,000 but not suspended.
When I ask Gard whether he's spoken to Howard since, he offers a one-word response: "No."
It's little wonder that Gard's players have bought into his hard-nosed style. Their coach, after all, has become living proof of the power of grit in the face of adversity.
A Maturity beyond His Years
The village of Cobb, Wisconsin, 60 miles west of Madison, has a population of 400. Growing up, Gard and his two younger brothers got their hands dirty at their grandparents' farms, with humbling tasks such as scooping out hog manure from the stalls. Any job not done perfectly had to be repeated. Hard work and attention to detail were simply the ways of life in Cobb.
"You understand what it's like to get up early in the morning before the sun and work until it's dark. And then, hey, guess what, we're doing it again tomorrow," Gard says.
His parents also modeled loyalty. From the age of 18 to her retirement 44 years later, his mother, Connie, served as a secretary at the county high school. His father, Glen, worked for the same agricultural loan company for more than four decades, helping local farmers keep their operations running through increasingly difficult conditions.
It's no coincidence, then, that their son has shown such loyalty to Bo Ryan and the UW. Gard first met Ryan as a college student at UW–Platteville, where he helped to run the coach's summer basketball camps for extra cash. After Gard was cut from the college baseball team as a sophomore, he responded to a local newspaper ad seeking a junior high basketball coach.
"The teaching, the competitive nature of it, all those things came very natural to me," he says.
Before long, Gard was recruited to help coach the varsity teams at Southwestern High School and Platteville High School. Still a college student, Gard made an outsized impression with a maturity beyond his years and a farmer's work ethic. Observing him stay late at camps and take on increasing responsibilities with ease, Ryan asked Gard to join his college coaching staff as a student assistant. When Gard graduated in 1995, Ryan convinced him to stay on at Platteville despite opportunities elsewhere. He would stay with Ryan for 23 years, following him to Milwaukee in 1999 and Madison in 2001.
"His ideology of how to play the game aligned a lot with what I was learning and believed in," Gard says. "He kept things simple, but you had to do it right."
Gard's reputation grew alongside the Badgers' success. After Wisconsin upset previously undefeated Kentucky in the 2015 Final Four, Ryan told the media: "Greg Gard had an incredible scouting report. If he isn't the best assistant in the country, I don't know who is."
Gard had plenty of chances to defect. He went deep into the head coaching interview process with several schools, but it never felt like the right time to leave. When he was recruited by Wayne State College in Nebraska, his now-wife, Michelle, told him: "If you go to Wayne State, you're going alone."
Family — both off the court and on it — always came first.
"Bo told me 100 times when I was working with him at Platteville, 'Make the job you have the best one.' And I've always been able to see the value of that," Gard says.
In July 2015, a few months after the Badgers lost the national championship game to Duke, Ryan announced that he was going to coach one more season and then retire. In his statement, he noted that he was doing so with the explicit "hope that my longtime assistant Greg Gard eventually becomes the head coach at Wisconsin."
But on December 15, with a rebuilding Badgers team scuffling to a 7–5 record, the winningest coach in Wisconsin history decided to step down early and give Gard an extended job audition.
Ryan's reciprocation of loyalty proved to be the ultimate validation for Gard, who'd lived out his favorite coaching and life mantra: Be where your feet are.
"I never worried about being a head coach by 35 or 40," he says. "There were more things to enjoy as part of this journey than worrying about where I wasn't. I tell our players all the time, 'Enjoy your time here in college. If you're thinking about what's next all the time, you're missing the best part.' "
For Gard, the best — and worst — was yet to come.
The Opportunity of a Lifetime
Before his first game as interim head coach against UW–Green Bay, Gard tucked a folded-up piece of paper into the breast pocket of his suit jacket. It was his father's funeral program. Glen Gard, 72, had passed away six weeks earlier from brain cancer.
For six months, Gard had stayed up late poring through treatment literature and had accompanied his father on flights around the country in a desperate search for the best cancer treatments.
Still grieving the loss of his lifelong role model, Gard threw himself into the career opportunity of a lifetime. One of his first official moves as head coach was to fill his own vacancy. He convinced his old colleague Howard Moore '95 to leave a broadcasting gig at the Big Ten Network and join him as an assistant. Moore's familiarity with the program — having played for the Badgers from 1990 to 1995 and served as an assistant from 2005 to 2010 — proved to be a luxury for a midseason hire.
"Tragedy and adversity can either draw you apart or draw you together."
After the Badgers stumbled to a 1–4 conference record, Gard made a key adjustment: getting back to the basics with an inexperienced roster. At practice, he drilled fundamentals. He also reintroduced core tenets of the swing offense, an equal-opportunity system that he and Ryan first perfected at Platteville.
"We gave the guys tracks to play on," Gard says. "It gave them a plan. It gave them some absolutes."
The changes worked, and the team won 11 of its last 13 games. As the No. 7 seed in the NCAA Tournament, the Badgers advanced to the Sweet 16 on a buzzer-beating Bronson Koenig '17 three-pointer that remains one of the most memorable plays in Wisconsin sports history. Gard became the second rookie coach to win the Jim Phelan National Coach of the Year award.
"I've had an extra assistant coach all year — my guardian angel," Gard told USA Today after the season, referring to his father and the funeral program in his jacket pocket.
On March 7, 2016, Gard was named the permanent head coach of the Badgers. For the first time in his career, he received a multiyear contract. He promptly confirmed the wisdom of that decision by leading the Badgers to another Sweet 16 appearance in 2016–17.
But the good times did not roll forever. The 2017–18 team finished 15–18 and missed the NCAA Tournament. The following year, the Badgers bounced back to a 23–11 record but were upset by No. 12 seed Oregon in the first round of the Big Dance.
And in May 2019, tragedy struck the program.
The Worst Day
In the early morning of May 25, 2019, Howard Moore and his family were driving to the Detroit area to visit his in-laws. A wrong-way drunk driver collided with Moore's vehicle at high speed. His nine-year-old daughter, Jaidyn, died at the scene. His wife, Jennifer, was in critical condition and taken off life support at the hospital later that day. Moore suffered severe burns on the left side of his body. His 13-year-old son, Jerell, escaped with minor injuries.
Gard still gets emotional discussing the incident. One of the hardest conversations of his life was telling his children that their friend Jaidyn was gone. He also had to console his players about an unspeakable tragedy.
"We cried together and prayed together," says Davison, who had just finished his sophomore season. "It was a very dark and sad day."
A month later, the situation went from bad to worse when Moore suffered a major heart attack. Still in recovery, he returned to his Madison home this past December from a long-term rehabilitation facility.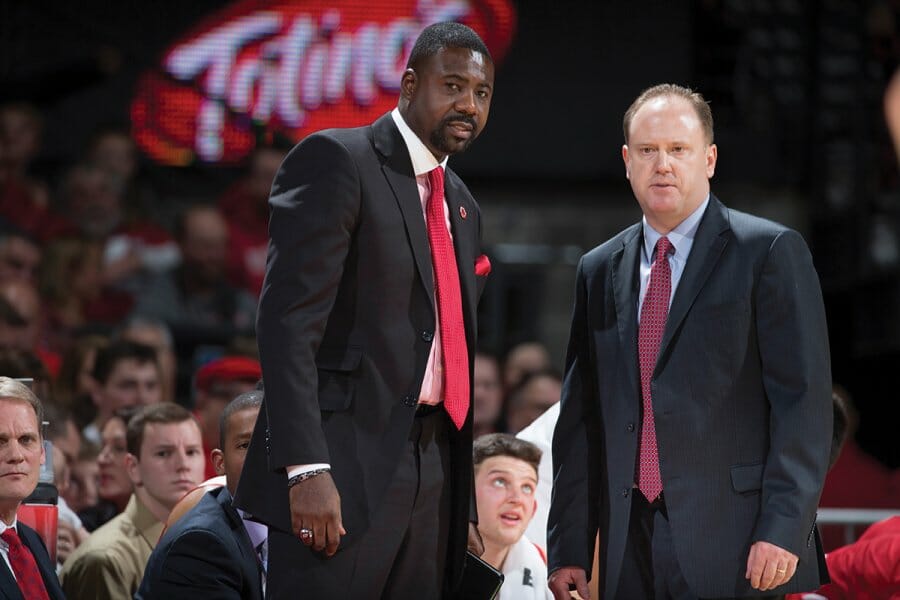 After his father's death, Gard partnered with the Wisconsin Foundation and Alumni Association to launch the Garding Against Cancer fundraising initiative. Since 2016, it's raised more than $6.5 million dollars for cancer research and care in Wisconsin. The initiative became even more personal to Gard when his mother was diagnosed with breast cancer earlier this year.
During our conversation, Gard has his cell phone face up next to him. I notice him tap it periodically, checking notifications with an almost obsessive impulse.
"I tell my players all the time, I have an open-door policy," Gard says. "You can come in here — this door never locks. And my cell phone never shuts off. I had my phone off the night of Howard's accident. And then I vowed, it never goes off. So it's by my bed, on, 24/7."
The 2019–20 Badgers dedicated their season to Coach Moore and welcomed his son as an honorary member of the team. They won their final eight games and a share of the Big Ten regular season championship.
"Tragedy and adversity can either draw you apart or draw you together," Davison says. "That was one of those cases where it really brought us together. We were playing for something bigger than ourselves."
Coming Apart
But before one of the hottest teams in the nation could prove its mettle in March, COVID-19 shut down the country. The Big Ten and NCAA tournaments were canceled.
And the pandemic wasn't done wreaking havoc on the program. After sending his players home, Gard didn't see them in person for five months. The 2020–21 season eventually tipped off with strict pandemic protocols. Players had to eat meals alone in their rooms. There were no off-court team activities.
"Everything we did was anti-team," Gard says. "You agree with the protocols to keep everyone safe, but looking back, you see the erosion that it created within a team."
After starting the season ranked No. 7 in the nation, the Badgers had fallen to 9–7 in conference play by mid-February. The day after a blowout loss at home to Iowa, the team's seven senior players asked for a closed-door meeting with the coaching staff. What followed was an emotional two-hour discussion. The players aired their grievances. The word "disconnect" came up often. They told Gard that they felt he didn't care about them off the court and didn't have their backs on the court.
"I don't know if I'll ever talk to you again after this [season]," one player said.
Gard listened to the players vent without interrupting and later addressed their concerns.
"It was a very healthy meeting, and it was beneficial for all parties," Davison says. "Everyone got criticism, everyone got encouragement, everyone got coaching. And when we left that meeting, everyone was feeling good."
The Badgers responded with some of their best basketball down the stretch, and it seemed that the meeting had achieved its purpose. The only problem was that someone had secretly recorded it.
Restoring Trust
On June 23, 2021, the Wisconsin State Journal published a story with excerpts from the previously private meeting. An anonymous email account had sent the reporter an audio recording that was edited down to 37 minutes, cutting almost everything but the criticisms of Gard. The source of the recording is still unconfirmed.
"I felt hurt and betrayed," Davison says. "The locker room is supposed to be a safe place where you have tough conversations."
Gard immediately worked to restore trust in the program, reaching out to all players and recruits individually and holding a team discussion about it. And he adapted, too, with an assist from his college-age children. He knows that students today seek more frequent communication and closer relationships with parental figures.
"I had a coach tell me a long time ago, 'You'll become a better coach the day you become a parent.' He was right," Gard says.
"I'm Here for You"
When I ask Gard how he'd like to be remembered, his mind goes back to Cobb and the core values that his parents passed down to him.
"That he was a guy who gave his best every day, and he tried to help a lot of people, and he made it better for the people coming behind him. He did it the right way. Didn't take any shortcuts. Prepared people for what was going to be next. And they always knew they had somebody they can lean on.
"I tell our players all the time, 'Hey, I'm here for you. Until they shovel dirt on me, I've got your back.' " •
Preston Schmitt '14 is a senior staff writer for On Wisconsin.
Published in the Fall 2022 issue