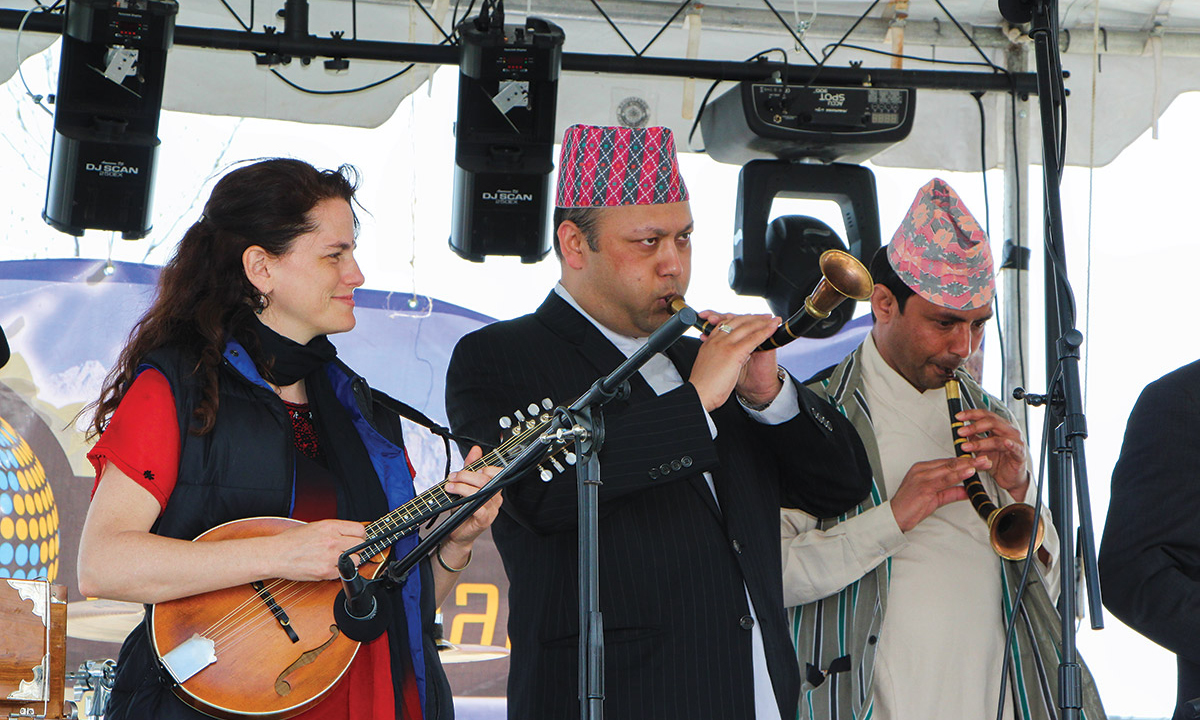 Bridging Mountains
The Appalachians and the Himalayas are on opposite sides of the globe, but with surprising connections
In 2006, musician and music teacher Tara Linhardt '94 was traveling around Nepal with her partner, Danny Knicely, hoping to renew old ties from a UW study-abroad program some 14 years earlier. While the pair were ambling along a street in Kathmandu, their instruments strapped on their backs, they encountered a young man playing a sarangi, a wooden, bowed string instrument similar to a fiddle.
They stopped to listen, enchanted. In sound and feeling, the tunes reminded them of the "high lonesome" music — songs of love and longing, joy and hardship, begging to be belted from a mountaintop — that they'd grown up with in the Appalachians, half a world away from the Himalayas.
Linhardt, still fluent in Nepali, fell into conversation with the musician and quickly agreed to a jam session with his friends. Like him, they were members of a caste called Gandharba (gan-DAR-bah), "singing messengers" of sorts, who over the centuries, long before mass media, brought stories and news from one village to another in exchange for food or money. Nowadays Gandharbas make their living mostly by playing and teaching music. In recent decades, declining appreciation of folk music among Nepalis — accompanied by an influx of contemporary music from the West — has endangered both preservation of the music and the Gandharbas' livelihood.
Linhardt and Knicely recorded the food-and-laughter-infused gathering, where the musicians swapped songs and stories. Only later, back at their hotel, did Knicely identify a melody that gave them goosebumps.
"It was 'Sally Anne'! We both heard it!" says Linhardt, referring to an old-time music standard that they knew from Virginia.
And indeed, parts of a Nepali folk tune, "Resham Firiri," sound a lot like "Sally Anne," to the point where, when she and Knicely played "Sally Anne" at the next jam session, their Nepalese friends praised them for so quickly learning their music.
"No, that's our music," Linhardt told them with a laugh — and a "Whoa!" of recognition lit the room.
It was their music — something they shared — and it was clear they had to make more of it.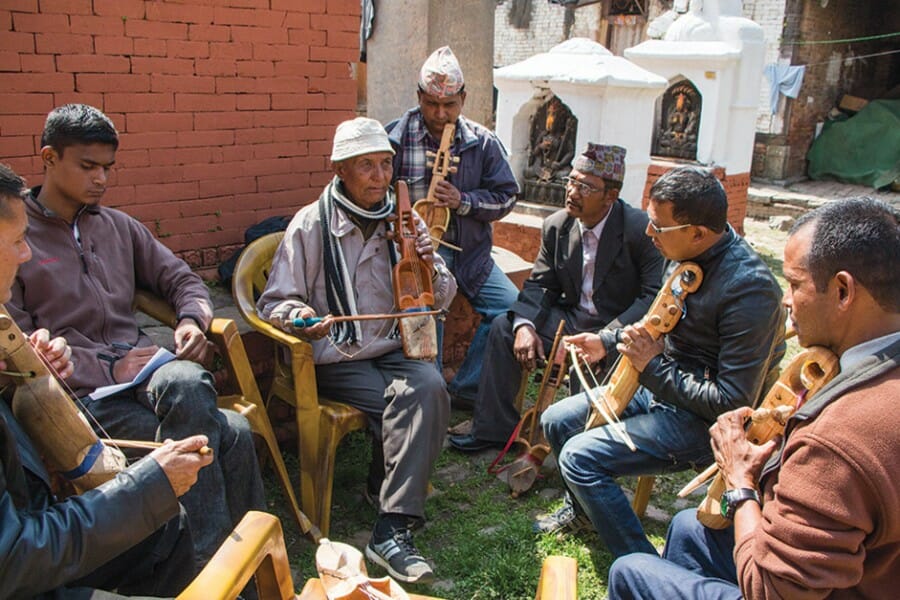 From that feeling of kinship, a program of musical and cultural exchange was born. Linhardt, Knicely, and their friend Jacob Penchansky soon founded the nonprofit Mountain Music Project to help preserve traditional songs in Nepal and around the world.
They recorded a CD of Nepali and Appalachian folk tunes performed by leading Gandharba musicians, Linhardt, Knicely, and — as a testimonial to the project's compelling mission — some of American bluegrass music's most prominent artists, including Grammy winners Tim O'Brien and Abigail Washburn, Tony Trischka, and banjo player (and former NPR newscaster) Paul Brown.
The project also spawned a one-hour documentary about connections between Himalayan and Appalachian mountain music and culture, including interviews with Gandharbas about their way of life. The award-winning film debuted in 2012 and has drawn audiences at film festivals, universities, museums, and other screenings around the United States and Asia.
Nepali and American musicians have performed together at dozens of folk festivals in the United States and abroad — including such major venues as the Smithsonian Folklife Festival — and have offered workshops centered on the music and traditions from both mountain cultures.
Perhaps most important, the project has established programs around Nepal in which Gandharbas teach children about folk music and how to play the sarangi. More than 100 youngsters have participated in these lessons, which are held at orphanages and in other settings where children typically don't have the opportunity to learn music.
Growing up in tiny Taylorstown, Virginia, Linhardt had always longed for a bigger world.
"It was really small. No one saw anybody," Linhardt recalls. "We had 20 acres of woods along the side of the mountain. Everything was slanted. It wasn't the kind of town that people walk through on sidewalks."
Her first big move was to UW–Madison, where she was hungry to learn about "anything and everything" and eventually majored in international relations. Her second big move was signing up for the College Year in Nepal program, directed by renowned sociology professor emeritus and Asian-cultures expert Joe Elder.
For Linhardt, that year was to prove "life-changing and magical," she says. She fell in love with Nepal, both with the stunning beauty of the mountains and villages and with the people, whose self-reliant spirit felt surprisingly familiar.
"Coming from rural Virginia, where people often rig things up when they don't work — they're like, 'Let's put a little duct tape on the radiator, a little WD-40' — we joke about that, but the Nepalis have a lot of that same thing," Linhardt says. "I was telling my friends, 'This place is so much like rural Virginia. These people are so much like some of the people I know at home.' "
Living with host families fostered close ties and allowed students to take part in village life. "You could explore and study whatever your interests were," Linhardt says. "Whatever your passion was, you could learn it with people who were actually doing it."
Her love of music was long-standing; she'd dabbled in guitar, banjo, mandolin, and tabla, an Indian drum. But in Nepal, she began exploring Tibetan Buddhism. These two interests came together when she discovered that playing music was, to her, a form of meditation. That recognition inspired her to commit to becoming a serious musician, with the mandolin as her instrument of choice. She went on to make a living as a performer and teacher (teaching guitar and ukulele as well as mandolin), and along the way she earned a master's degree in education from Shenandoah University.
All of these experiences, Linhardt says, ultimately found expression in the Mountain Music Project, an effort that Elder believes serves as a reflection of the study-abroad program. "Tara is identifying similarities and differences in the field of mountain folk music," he says. "Identifying cross-cultural similarities and differences is part of what a liberal education is all about."
Jim Leary, a UW professor emeritus of folklore and Scandinavian studies, says that the Mountain Music Project exemplifies a phenomenon he has long observed: folk musicians from vastly different regions and cultures finding unlikely common ground.
"I've seen many instances of musicians who couldn't even speak one another's language jamming together," Leary says. "When you find people who are artists in some kind of roots tradition, they recognize a kinship with other artists," even from across the globe. The Mountain Music Project takes that kinship and runs with it, going beyond jamming to performance, recording, and education.
This leads to another phenomenon the Mountain Music Project illuminates, Leary says: the power of music to spark cultural revitalization.
"It's been profoundly important in many parts of the world where folk music may be endangered or seen as low," Leary says. "If there are steadfast practitioners and people with sufficient vision to rally around the music as a vital force and culture, it can elevate things that go beyond music."
"I've seen many instances of musicians who couldn't even speak one another's language jamming together. When you find people who are artists in some kind of roots tradition, they recognize a kinship with other artists," even from across the globe.
Appalachians have long felt the stigma associated with "hillbilly" music and culture. Gandharbas have had to cope with a caste system, fading but still influential, that classifies them as "untouchables," the lowest of the low.
Efforts to further erode that designation are increasingly successful, and music is part of the charge. The Mountain Music Project's documentary features an interview with the late Hum Bahadur Gandharba, a revered musician whom Linhardt calls "the Woody Guthrie of Nepal." Hum Bahadur Gandharba traveled all over Nepal, singing about the injustice of the caste system and sharing his vision for cultural change.
"People used to hate me in the villages. I was constantly harassed. Caste discrimination was everywhere," he says in the film. "Over the last 12 years or so, the situation has changed. People don't hate us; in fact, they respect us now. That's good for us."
The Mountain Music Project is part of that push for respect, participants say. Noted sarangi player Shyam Nepali has performed at numerous festivals around Nepal and the United States as part of the project. He is tremendously heartened, he says, by the enthusiasm for Nepali folk music from audiences of all backgrounds, many of whom are hearing it for the first time.
Nepali points to more performance and teaching opportunities stemming from the project. "The music has inspired a new generation in Nepal," he says.
That new generation includes the very youngest players. Beverly Bronson runs House with Heart, a residence for abandoned children in the Kathmandu Valley. For some 10 years, she has participated in the Mountain Music Project's education program, in which Gandharbas give music lessons to orphans and other disadvantaged children.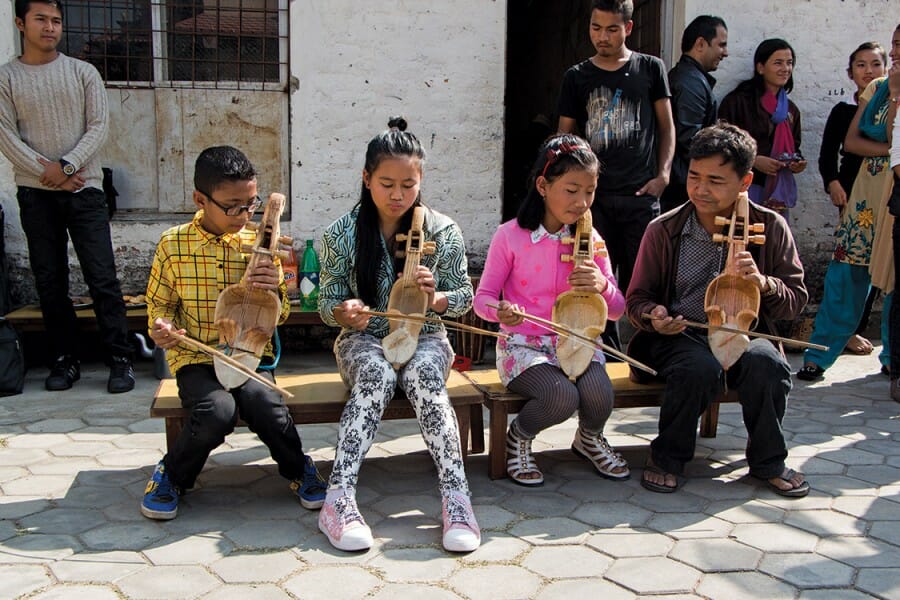 "The sarangi is a difficult instrument, but the children enjoy it," Bronson says. "Some have learned that if they stick with it, they will learn how to play."
The Mountain Music Project has established seven such programs in various parts of the country, with the goal of having them become self-sustaining. Bronson, for example, values the program highly and has found continued funding at House with Heart. The project has also received support from the Shelley and Donald Rubin Foundation, along with private donations.
Meanwhile, in Hastings-on-Hudson, New York — the place she has called home for the past three years — Linhardt pursues a life that includes teaching and playing at music camps and conventions all over the country, as well as giving private lessons both in person and online. She's received awards for her songwriting and performances and won first place for mandolin playing in a number of festival contests. In 2012, she led a successful effort to set a Guinness World Record for the largest mandolin ensemble in history when she fronted a band of 389 mandolinists in a one-time performance at a national music convention in Galax, Virginia. Three years later, in an attempt to win back the title from a Greek band, she led a group of 491 players. That attempt did not receive approval from Guinness, Linhardt says, but she describes it as a "beautiful and momentous event" nevertheless.
But the Mountain Music Project remains very much on her front burner. She's making plans with her partners in Nepal for more performances, workshops, talks, and screenings, both there and in the United States. And she continues to pursue the project's mission to preserve traditional music and strengthen cultural ties.
"It's something I can do to try to make the world a better place — bring that peace and happiness and understanding of cultures," Linhardt says. "It's amazing how much of that can really be accomplished through things like art and music."
Joan Fischer MA'95 is a folk-music fan and the former editor of Grow, the alumni magazine of the UW's College of Agricultural and Life Sciences.
Published in the Spring 2018 issue