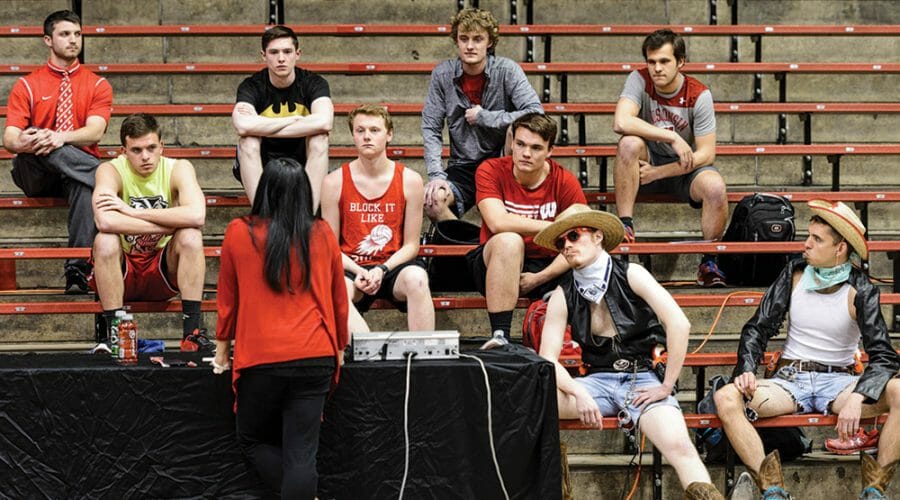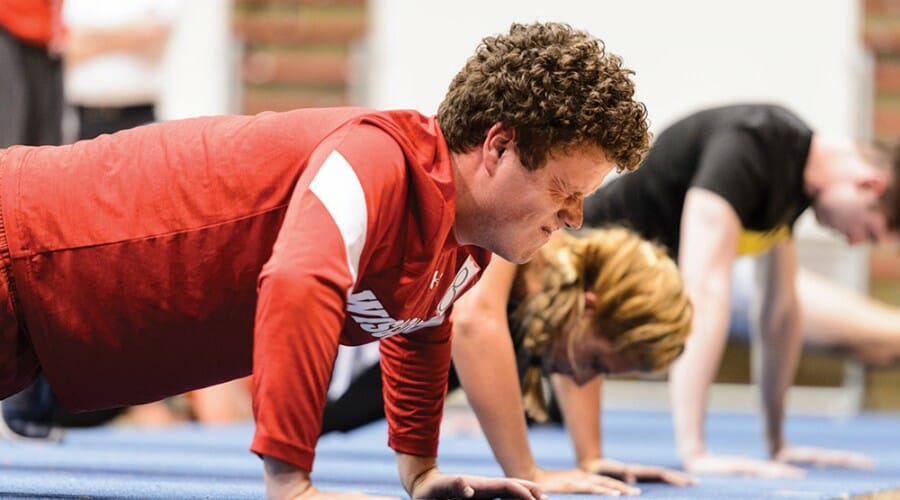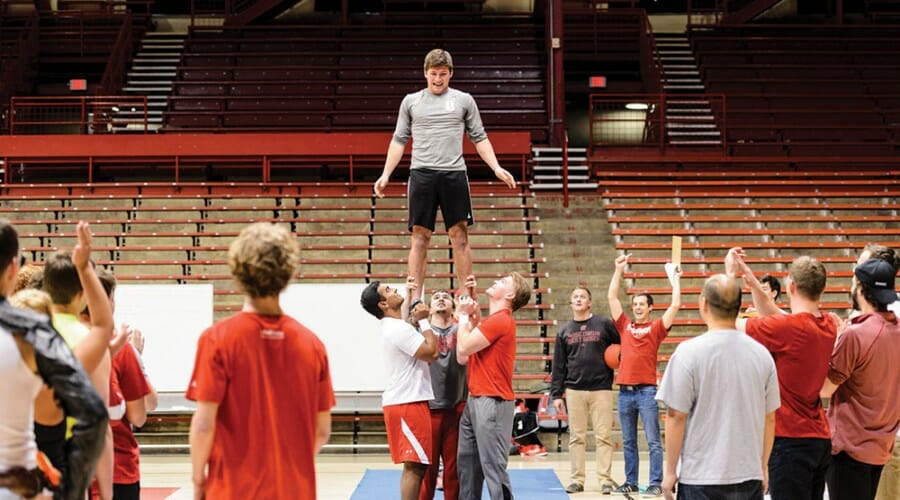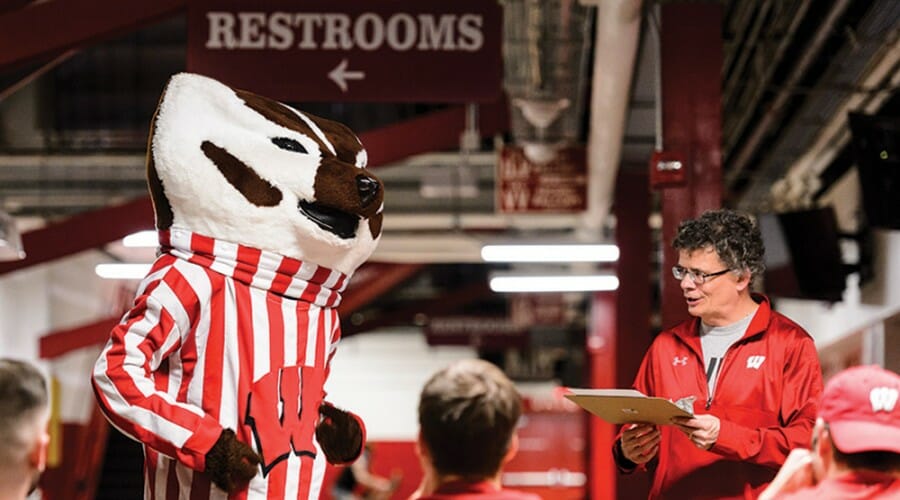 Each spring, a small group of students vies for the chance to become the most visible member of the UW Spirit Squad: Bucky Badger. A three-night audition — filled with equal parts fun and intensity — puts their creativity, humor, and strength to the test.
First there are push-ups, a skill required when Bucky counts up points after the football team scores at Camp Randall. The would-be mascots line up on a mat on the UW Field House floor, and a former Bucky counts: "Down, one, Down, two, Down, three … " The first person gives up at 27. Others make it into the 50s.
After that comes another physical feat. An aspiring Bucky must be able to balance at the top of an "elevator," a maneuver in which two squad members wedge their hands under his feet and help him rise to the top of a human pyramid.
Improvisation is key. Candidates are presented with a pile of props and must employ them in novel ways. (Don't use the broom to sweep — make it a guitar or an oar to paddle a laundry basket across the floor.)
During a dance tryout, without the costume, subtle moves won't cut it. "It's awkward. It's weird," Spirit Squad director Josette Jaucian '97 tells the candidates. "Have fun with it."
Simply putting on the outfit doesn't make someone Bucky. How students handle themselves while wearing the suit during a one-minute comedic scene, with directions from a member of a panel of judges, helps determine whether they have what it takes. Each candidate emerges from the costume hot, sweaty, and smiling. "How's it smell in there?" one student is asked when he is done. His answer isn't printable.
The second night of tryouts includes navigating an obstacle course on the ice and taking shots on goal while wearing the top half of the suit, including Bucky's heavy head. Last April, nine out of 14 students made it to the final night, when they performed a two-minute original skit, complete with homemade costumes. Keegan Gallup x'20, who made the team, presented an homage to every Big Ten mascot, including Michigan State's Sparty.
The final squad of seven Bucky Badgers includes three returning veterans — two had to try out again as is customary after their first year on the squad. They will collectively appear at more than 700 events in a year, ranging from wedding receptions to game days before a capacity crowd at Camp Randall.
Seth Van Krey x'19, a returning Bucky, doesn't hesitate when asked about the time commitment required: "It's worth it."