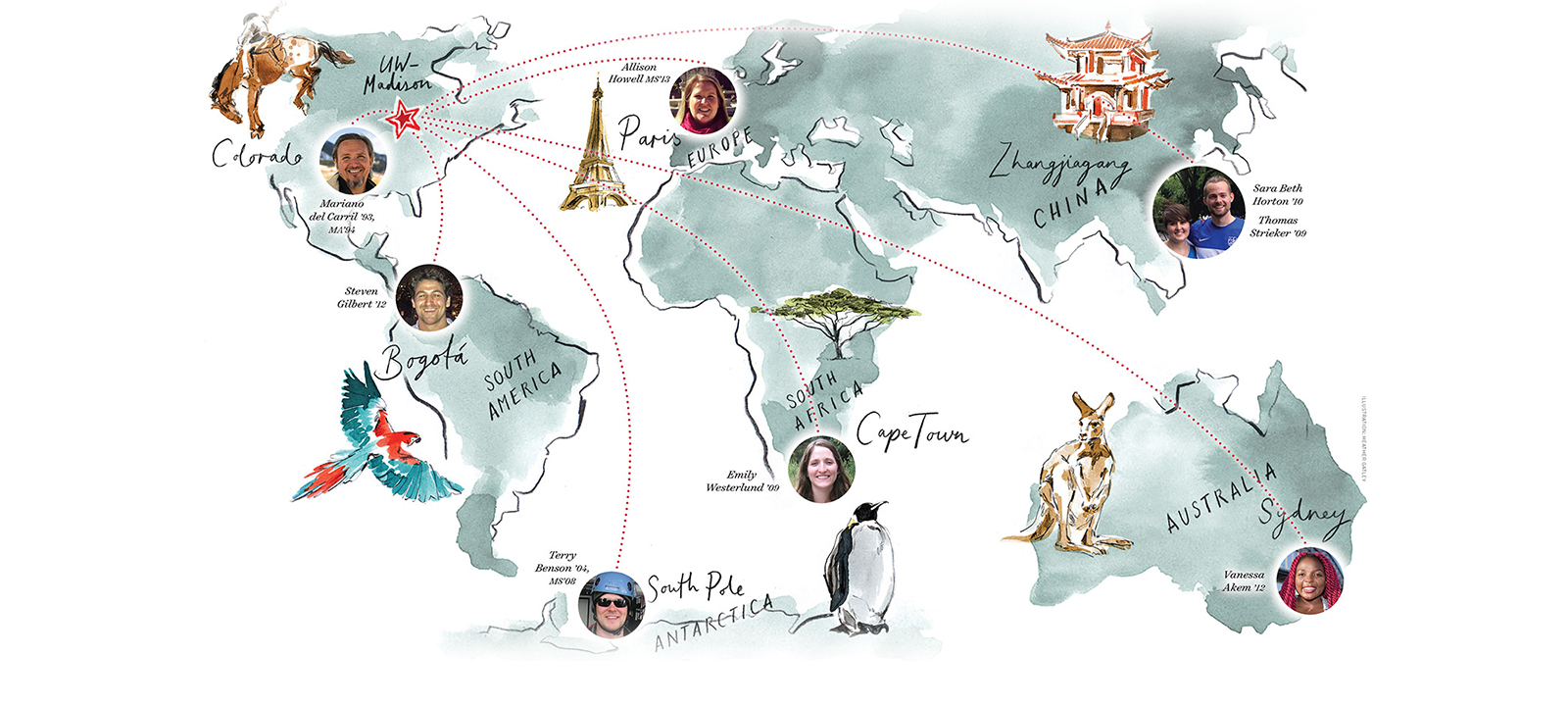 Around the World in Eight Badgers
Alumni are pursuing personal and professional adventures on every continent.
UW–Madison has been a worldwide community since its earliest days. Canadian William Stewart was among the original 20 students enrolled in the university's first term in 1849, and Madison is still home to one of the most global student bodies in the United States, with more than 6,000 international students hailing from some 127 countries.
Though scores of Badgers have traveled abroad throughout the UW's history, the last two decades have witnessed a new trend among the intrepid: the sustained, significant increase in the number of Americans who live and work in other countries for long periods of time, if not permanently.
The Wisconsin Alumni Association knows of more than 14,000 alumni who live abroad — a number that includes both U.S. and foreign nationals. South Korea and China are home to the highest populations of Badgers, with more than 1,700 alumni in each country, followed by Canada, Taiwan, Hong Kong, and India.
So are international Badgers ahead of the curve or right on trend? Statistics about American expats are difficult to come by. The highest estimate is from the U.S. State Department, which in 2016 reported almost nine million Americans living in 160 countries. Federal agencies report that expat numbers have gone up in the last decade, with some countries recording double-digit-percent increases in American residents.
Mexico is believed to be the most popular country for American expats, with more than one million living there at least part-time, according to the U.S. consulate in Mexico City. Though Europe is still the continent that draws the most Americans overall, numbers in East Asia are rapidly increasing. Americans living in that region earn more income, according to the IRS.
While there's no such thing as a "typical" expat, the following eight Badgers, representing all seven continents, offer a cross section of the American émigré experience. Many moved to pursue professional opportunities. A few chased personal dreams. Some were experienced travelers before moving. Most were not. Some moved right after college, while others went a little later. But almost all say they couldn't have managed the move abroad without encouragement from fellow alumni along the way — and they have some words of wisdom for others looking to follow in their international footsteps.
Vanessa Akem '12
Hometown: New Hope, Minnesota
New town: Sydney, Australia
Akem had a nomadic childhood that included stops in Nigeria and Syria before attending high school in Australia. But as a journalism student at UW–Madison, she wasn't sure where in the world she wanted to launch her own career. A campus visit from fellow Badger and global brand consultant Teresa Lenz Alpert '77 helped. "I was so inspired by her global achievements that it really helped make my decision easier," she says.
Akem expanded her job search to Sydney, where prospects were better thanks to the dual Australian citizenship she acquired during her high school years. She currently works for Slingshot Media as a media planner for several global brands. She also travels often in Southeast Asia and is considering a move to that region.
"There is a great network of Americans in Australia, and when I first came here, I met many people in Facebook and Meetup groups," she says, adding a word of caution to anyone thinking of joining her Down Under. "I would advise everyone to be prepared for the expense — Sydney is a beautiful city, but it is one of the most expensive cities in the world!"
Sara Beth Horton '10 and Thomas Strieker '09
Hometown: Janesville, Wisconsin
New towns: Des Plaines, Illinois, by way of Kuala Lumpur, Malaysia, and Zhangpu, Chengdu, Qinzhou, Weifang, Shaoxing, and Zhangjiagang, China
After Horton finished her degree in chemical engineering, she accepted a job at Honeywell UOP that involved inspecting and opening petrochemical refineries around the world. Strieker joined Horton on the road, and for the next two and a half years, he blogged about their experiences in China. They moved frequently during that time and lived in eight different cities. Their longest stay was in Shaoxing for nine months.
Life on the road wasn't always easy, but Horton and Strieker took advice and encouragement from classmates, coworkers, and Sarah Atis, professor emerita of Languages and Cultures of Asia. "The best insights I received were to get out of the room and explore, learn as much of the language as possible, and be patient," says Strieker, adding that embracing uncertainty is a prerequisite for a nomadic lifestyle. "The best way we coped with it was to make no plans and have no expectations. We coached our families to not expect us for any major holidays or events, which always made it a valuable surprise when we could attend such occasions."
Family ultimately brought them back to the States: Horton and Strieker welcomed baby Lyla in 2015.
Terry Benson '04, MS'08
Hometown: Duluth, Minnesota
New (part-time) town: South Pole, Antarctica
As an undergraduate hourly for the IceCube Neutrino Observatory, Benson jumped at an invitation to spend several weeks at the South Pole to help assemble the project's first drill, which bored holes more than 8,200 feet deep so that scientists could place detectors to study the movement of subatomic particles in the pristine ice.
"I was nervous. I had never traveled out of the country before," he says of that initial trip in 2004. He's now been to Antarctica eight times, with his longest stay lasting around three months. (He currently works for UW–Madison's Physical Sciences Lab, which partners with IceCube.)
"The Antarctic landscape is beautiful, transcendent. But I think it really was the team of people I got to work with that kept me going back," he says. The South Pole has developed into a lively international community of scientists. "There's a lot of [human] diversity on the continent, a lot of character, and endless good stories," he says. "Things are rather confined in Antarctica, and you get to know others really well. Cultural boundaries dissolve … people are people."
The best way to connect with the locals if you swing down for a visit? "Pick up some limes on your way through New Zealand, and share them at social events — 'freshies' are hard to come by, so you'll be the life of the party for sure."
Allison Howell MS'13
Hometown: Madison
New town: Paris, France
In 2013, Howell moved to Paris on a one-year fellowship to finish her dissertation research. Three years later, she's happily planning her wedding to a French national and working full time for an HR consulting firm that delivers corporate training programs, various types of assessments and psychometric testing, executive coaching, and head-hunting services.
French immigration bureaucracy is notoriously difficult, but Howell says the eight months of paperwork were worth it. "Living abroad will put you out of your comfort zone in such a great way," she says. "It will forever change your perspective on the world."
Her best advice for new expats? "Don't beat yourself up when things are uncomfortable or you don't feel you're adapting as quickly as you think you should. Culture shock is real and can affect you in ways you don't expect it to. So be patient with yourself.
"When I first arrived, I was so concerned about immersing myself into the culture and into the language that I did everything possible to lose my American-ness and my Wisconsin-ness. At a certain point, I realized that not only will I never be able to accomplish that, but that's also what makes me unique. For example, my terrible American accent is actually endearing to French people. Of course, it's important to acclimate into your new culture as much as possible, but embracing your old culture is just as important. Eventually, you will find a way to straddle the two cultures in a very positive way, but it takes time."
Mariano del Carril '93, MA'94
Hometown: Buenos Aires, Argentina
New town: Broomfield, Colorado
As an expat in America, del Carril was pragmatic about building his global career in agriculture. Though he'd already obtained a graduate degree in his native Argentina, he enrolled at UW–Madison "because the dairy economics program is well known around the world." He then founded Surtrading, an international company that trades cheese, butter, milk powders, whey, and other dairy products worldwide.
Del Carril, who has also lived in Kenosha, Wisconsin, suggests that moving from a small community to a large metropolis is actually more challenging than moving from a big city in one country to another in a different country. "My youngest daughter just moved from Broomfield to Madrid, Spain, and even though she spent all her life traveling, still the city and its rhythms can be challenging, and she has needed time to adjust," he says. He adds that it's important to do your homework on local expectations about day-to-day things such as appropriate clothing, smoking norms, and interactions with waiters.
For him, openness was key to navigating the adjustment to the United States. "Open your mind big time to new ideas and people," he says. Del Carril is also helping to build stronger bridges between Madison and Argentina as a Wisconsin Alumni Association contact for that country.
Steven Gilbert '12
Hometown: Interlaken, New Jersey
New town: Bogotá, Colombia
Gilbert moved to Bogotá in fall 2012 with one seemingly simple goal: to improve his Spanish. He started working remotely for various digital startups, eventually founding the Gilbert Ginsberg Company this year. He now serves as a consultant for software companies in the United States, Canada, and Europe.
"If you're thinking about moving abroad and don't have a strong reason for going to one place over another, consider: 1) choosing a country where the cost of living is low, and 2) trying to earn dollars, which means you'll probably be working remotely," he says. "This is a good strategy because you get all the benefits of life abroad and it allows you to save and get a head start on financial independence, which means you'll be in the strongest position to make the biggest impact in whatever it is you want to impact."
What does he say to Americans who still perceive Colombia as a dangerous country? "[Bogotá is] big, sprawling, fast moving, and has all the pros and cons of cities that are big, sprawling, fast moving," he says. "Maybe the biggest surprise is just that, that there really weren't many surprises. To those who still have a negative impression, I wish they knew the country is much safer than they might think. If you're comfortable living in or visiting any major city in the U.S. or Europe — all with their fair share of decent and dicey neighborhoods — then you'd be comfortable living in or visiting Bogotá."
Emily Westerlund '09
Hometown: Eau Claire, Wisconsin
New town: Cape Town, South Africa
Near the end of her undergraduate program, Westerlund was looking for a "drastic change" and decided to follow her heart back to Cape Town, where she'd studied abroad for a year and volunteered with the Adonis Musati Project (AMP), a local organization that provides support services to migrants and refugees from all over Africa. "The organization's founders are a group of concerned women from Cape Town who responded to a need that they saw, and their vision has grown over the years," she says. "It's been incredible to work with a group of such passionate and caring people in such a positive environment."
Westerlund originally planned to stay for 12 months, but six and a half years later, she's now AMP's longest-lasting employee. "Every visit to the U.S. makes me appreciate Cape Town even more — the natural beauty of the city, the diversity, the environment, the laid-back culture, and the general quality of life I experience here."
She jokes that her lack of direction as a UW student is ultimately what led her to a focused career she's passionate about. "That year I studied abroad really opened my eyes to a wider world, figuratively and literally," she says. "I was captivated by all that I was exposed to, especially in gaining an understanding of how our globalized world connects us in so many ways, whether we realize it or not."
Editor's note: The printed version of this story incorrectly listed Sara Beth Horton's employer.
Sandra Knisely '09, MA'13 is a freelance writer living in Vienna, Austria. A lifelong Wisconsinite before moving, her first phrase in German was, "Wo ist der Käse?" (Where is the cheese?)
Published in the Spring 2017 issue