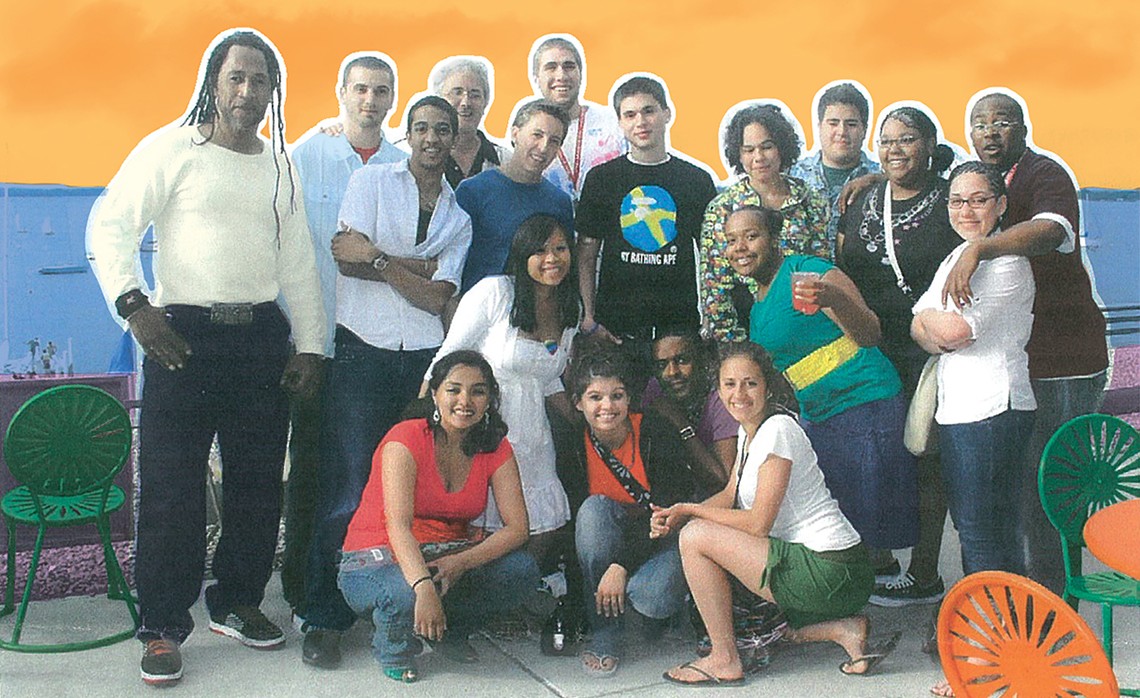 A Hip-Hop Family
It's been more than 10 years since the UW initiated its pioneering hip-hop scholarship program. How did it influence its first students, and where are they today?
First Wave's inaugural cohort
Front row (from left to right):
Cecilia León '12, Krystal Gartley '11, MSW'19, Danez Smith '12, Alida Cardós Whaley '11
Middle row:
Kimanh Truong-Muñoz '11, Lana Simpson '14
Back Row:
DJ Kool Herc*, Josh Healey '05*, Daniel Dharam '12, Willie Ney MA'93, MA'94*, Allen Arango '12, Adam Levin '12, Jair Alvarez '11, JD'14, Kelsey Van Ert '11, Ben Young '11, Blaire White '12, Sofía Snow '11, Gayle Smaller Jr. '13.
Not pictured:
Dominique Chestand '12
*not a member of the cohort
Growing up, Kimanh Truong-Muñoz '11 didn't like school much.
She was a C student living on the north side of Chicago and didn't feel particularly connected to her education. A first-generation Vietnamese American and daughter of refugees, she found solace in her notebook. Then, one day, an English teacher caught her writing poems underneath her desk.
"[The teacher] invited me to come perform at an open-mic event," she says. "It was [at the event] that I started to realize that, 'Wow, I can write these poems; I do have potential.' College became an option to me at that point because, for the first time, I saw myself as a scholar and finally felt as if I had found community with people who understood me."
And it was poetry and spoken word that brought Truong-Muñoz to the UW in 2007, after she was recruited as one of the inaugural members of UW–Madison's First Wave hip-hop scholarship program.
The four-year, full-tuition scholarship program was the first of its type in the nation. Housed within the UW's Office of Multicultural Arts Initiatives, it's given students — who specialize in areas such as spoken word, poetry, rap, graffiti, and break dancing — opportunities to hone their crafts and perform together around the world. It recruits a cohort of students that begins classes together the summer prior to freshman year and then continues through the university as a group. The program, which requires that its students are first accepted into UW–Madison, has seen nearly 100 of its members graduate with bachelor's degrees.
More than a decade since the first wave of First Wave participants arrived, they still carry a sense of community with them. It was the key to surviving — and thriving — in a campus environment that initially felt completely unfamiliar to many of them. With help from their friends and support from their program, they set off in a variety of directions — some of them in ways they never could have predicted.
The Vision That Started It All
Willie Ney MA'93, MA'94 had the idea for a hip-hop program at the UW in the mid-2000s. As First Wave's founding executive director, he saw potential for a pipeline that recruits students with creative-writing talent in the same way the university recruits athletes. Ney, who at the time was an assistant director for the UW's Latin American, Caribbean, and Iberian Studies Program, says creating such a pipeline was his "passion project" — not falling under his assigned duties — until he was eventually named the program's leader.
"Obviously the lack of diversity is a huge issue at the university, but it's beyond just the numbers of bringing in more students of color," says Ney, who retired as the program's executive director in 2017. "We're not just bringing in students who are diverse; we're bringing in students who are amazingly talented artistically, academically, and in terms of their activism."
Focused on empowering their communities, the students go on to use their UW experiences to improve lives after graduation.
"When you think about the power of that group, just the talent, the impact is so much more exponential than what you'd ever think about. You're not just recruiting one student at a time, you're bringing in a whole group," Ney adds, noting that the impact is multiplied with each new cohort. "They're doing unbelievable things, and they have a UW–Madison degree behind them — which really helps."
A Ready-Made Support System
When choosing where to go to college, Truong-Muñoz didn't want to be just another student. First Wave, she felt, offered her the same community and support that she had through poetry slam competitions in high school.
"I'm Vietnamese American and first in my family to go to college, and [UW–Madison] wouldn't have been possible if it wasn't for [the First Wave community]."
Fellow cohort member Adam Levin '12 also found the First Wave community one of the most meaningful parts of his UW experience.
"There was this huge culture shock [upon arriving on campus], and I think First Wave was really important," he says. "Whenever we were dealing with this kind of culture shock, where suddenly we are on this campus that is predominantly white, it felt like we had this ready-made support system."
Levin attended Oak Park (Illinois) and River Forest High School (which has a 46 percent minority enrollment rate, compared to the UW's nearly 16 percent, according to U.S. News & World Report and Data USA, respectively). He learned of First Wave through the school's spoken-word program, and he, like many cohort members, was recruited through First Wave's former program director, Josh Healey '05. Prior to that, Levin hadn't considered attending UW–Madison. Upon his arrival, however, he felt reassured in his decision, knowing he was part of a group with shared interests — something he wasn't sure he'd find again after high school.
While a teenager in Boston, Sofía Snow '11 hadn't given college much thought. She was a leader in strengthening her community's youth poetry presence and even earned a Massachusetts hip-hop award for spoken-word artist of the year. To her surprise, the award led to a four-page cover profile in the Boston Globe. She was 17 years old.
Snow then heard from Ney, who was looking to recruit her to First Wave's inaugural cohort. Despite some initial hesitation, Snow's mother — who immigrated to the U.S. from Venezuela for both her and her daughter's education — told Snow that if she didn't leave Boston, Snow would never have time for herself. "I was just so overcommitted in the city that it was hard for me to focus on school," Snow says.
First Wave's sense of community played a role in Snow's decision to pursue the program. "Willie said, 'There's going to be young people just like you from all over the country. … You're going to be able to meet people from different places.' That, to me, was more interesting than anything else."
Cohort member Danez Smith '12 explains that Madison was initially a difficult place to navigate. Being the only student of color in a hundred-person lecture hall and not feeling represented in the city's culture became taxing, Smith says. A Saint Paul, Minnesota, native, Smith considered leaving campus.
"I don't necessarily have the fondest memories of Madison as a place, but I have really fond memories of the people here," Smith says. "I think there are communities of color and queer folks and just good folks — regardless of identity — in the university and in the greater Madison area that really helped me, but I think Madison has a very sort of liberal dream about itself that doesn't always translate as true for a lot of people of color here."
Smith, who uses the pronoun they, decided to attend UW–Madison because of First Wave. They note that professors such as First Wave's former artistic director Chris Walker and former faculty director Amaud Johnson transformed both their life and UW experience, teaching them to see the world in a more expansive way and ask better questions of it.
For Krystal Gartley '11, MSW'19, First Wave offered a place of belonging. The cohort's members may not have felt understood by their family and friends at home, but they connected with each other over a shared love of various art forms.
Gartley was already a musician, and she learned how much she enjoyed performing poetry and spoken word during her senior year of high school. With the support of her teachers, she decided to pursue the program.
"I had a pretty tough upbringing, and writing was my way of expressing my emotions," Gartley says. "I thought that [First Wave] would be an opportunity to meet other people who shared a similar craft, and I wanted that sense of family on campus."
First Wave also helped students address some of the misunderstandings surrounding racial diversity on campus, says cohort member Jair Alvarez '11, JD'14. "[Attending] one First Wave show can change that," he says.
Having moved to the Madison area from Puerto Rico at age 11, Alvarez dreamed of going to the UW. His mother had attended, but he wasn't sure how he could afford it — his family faced financial hardship and had been homeless for three months when he was 17. "My college apps were done on my friend's computer, because I didn't have one," he says. Once recruited into the program, he knew he'd be able to attend the UW. Alvarez — a community activist while in high school at Madison West — was also grateful to have an outlet to work on his creative projects.
But being a part of the program's first cohort also came with challenges, Levin says. Cohort members sometimes felt pressure to prove that the program was worthy of support.
"I knew that there was a lot riding on how well we did in class," Levin says. "It really felt like we were a part of something that was larger than ourselves, and we were laying the groundwork for something that could be really important to the University of Wisconsin."
A Lasting Impact
With the help of her First Wave experiences, Truong-Muñoz — now an educator in California — has come full circle.
"It was when a teacher saw my potential that I actually rose to the occasion," she says. Now, after serving as a high school teacher and an assistant principal, and earning her master's degree, Truong-Muñoz directs a branch of a program that helps prepare underrepresented high school students of color for college and encourages them to pursue their passions.
Truong-Muñoz says that the program, SMASH (formerly Summer Math and Science Honors Academy), exists to "smash" barriers for underrepresented students interested in pursuing STEM careers. She utilizes First Wave's three areas of focus — arts, academics, and activism — as a framework for her work, ensuring students understand the power of their stories and voices. She also incorporates hip-hop in the program's curriculum, and, occasionally, students will see her rap or perform a poem.
"I'm constantly carrying my First Wave experience into everything I do," she says.
Similarly, Levin is a full-time teacher in Waukegan, Illinois. Prior to beginning his student teaching, he was involved in the spoken-word program he participated in as a high school student, and he also has cofounded a rap workshop in Chicago.
Meanwhile, Smith is a touring poet who has earned the Forward Prize for Best Collection and the Midwest Booksellers Choice Award, along with being a finalist for a 2017 National Book Award. As a person who travels frequently, Smith says their job necessitates carrying out the Wisconsin Idea.
"I take myself and everything I've learned [at the UW], and everything I've learned through the world, with me and really try to expand my ideas. … I try to be as open and giving in each of these spaces that I enter as possible," says Smith, who plans to release a third poetry collection next year.
Before returning to school for her master's degree in social work, Gartley cofounded and codirected an a cappella group and worked in the Madison Metropolitan School District.
"I feel that being in First Wave really gave me this level of confidence that I didn't recognize until later in life," she says. "Developing and cofounding an a cappella group was, I feel in part, stemming from that confidence that I gained while in First Wave."
Gartley is now pursuing a path to earn her doctorate in neuroscience. She plans to study the relationship between biology and psychology — specifically, the impact of trauma on the brain and body.
Alvarez, who knew he wanted to attend law school after seeing police harassment during his childhood, now leads his own practice as a business and criminal attorney in Madison. He also has served as a liaison for the Wisconsin Hispanic Lawyers Association, as vice chair of the Latino Chamber of Commerce of Dane County, and on the community advisory board for the Overture Center.
"Because of First Wave, I am not afraid of the court at all. I can walk into the court, give a speech, and get yelled at by the judge, and I'm not embarrassed — I don't get stage fright," Alvarez says.
Snow, who originally hadn't envisioned herself in college, graduated from the UW with advanced standing in her social-work degree. Following a few years as First Wave's education and outreach coordinator, she transitioned to Urban Word NYC, a youth literary arts organization in New York. There she climbed to the role of executive director, where she oversaw the organization's operations and enjoyed providing students with a space for development so they could access universities such as the UW. Snow was also part of the Bars Workshop, a theater and verse program cofounded by former First Wave creative director Rafael Casal x'10 and original Hamilton cast member Daveed Diggs.
"[First Wave] changed the trajectory of my life, and I really can't emphasize that enough, how much it's meant to me," Snow says. "First Wave taught me what it means to be in community, what it means to collaborate. I owe all of my leadership skills and love for the people, and this work, directly back to this community of folks."
Stephanie Awe '15 is a staff writer for On Wisconsin.
Published in the Winter 2019 issue