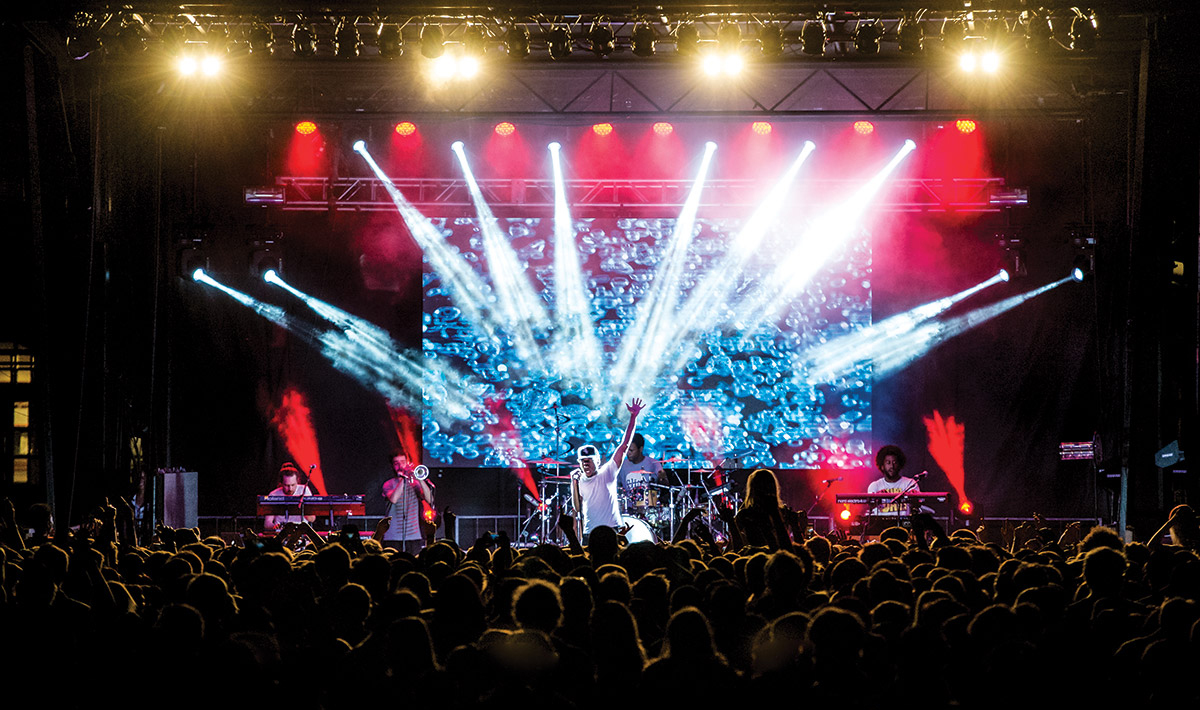 11 Legendary Concerts
Sergei Rachmaninoff
February 14, 1927
Stock Pavilion
The 6'6" piano virtuoso migrated from Russia in 1917 and extensively toured the United States before his death in 1943. He returned to Madison for a performance on November 1, 1932.
Marian Anderson
April 23, 1940
Wisconsin Union Theater
One year before her UW appearance, the opera singer was denied permission to perform in the D.A.R. Constitution Hall in Washington, D.C., because she was African American; she performed on the steps of the Lincoln Memorial instead.
Tommy Dorsey and His Orchestra
November 8, 1946
Field House
The trombonist and big band leader headlined the UW's 1946 Homecoming Weekend, playing a swing concert on Friday and a ball in the Great Hall of Memorial Union the next night.
Ella Fitzgerald
October 2, 1959
Wisconsin Union Theater
The "First Lady of Song" headlined the UW's first campus jazz festival with the Oscar Peterson Trio, on the heels of her performance at the Playboy Jazz Festival in Chicago. She returned to the UW for a November 9, 1962, Homecoming performance at the Field House.
Harry Belafonte
October 30, 1964
Field House
The singer and civil rights activist, who had delivered cash to Freedom Summer volunteers in the South just months before, electrified a crowd of 9,000 with a three-hour concert that also featured blues legends Sonny Terry and Brownie McGhee.
Duke Ellington Orchestra
July 18, 1972
Camp Randall Stadium
The jazz legend drew 6,000 fans to the stadium when tickets cost $1. It was one of four concerts his orchestra performed on campus during "Duke Ellington Week," declared by Wisconsin Governor Patrick Lucey '46.
Itzhak Perlman
October 19, 1978
Wisconsin Union Theater
Perlman, once a child prodigy, "doesn't play a violin, he works it," a reviewer wrote for the Capital Times following the then–32-year-old's concert, his fifth visit to the Union Theater in a decade. He returned for performances in 1980 and 1988.
Pink Floyd
May 20, 1988
Camp Randall Stadium
More than 45,000 fans witnessed this stop on the band's first tour since 1981. The concert laid the groundwork for more major acts — including Genesis and The Rolling Stones — to visit Camp Randall over the next nine years. Pink Floyd played the stadium again on July 3, 1994.
U2
September 13, 1992
Camp Randall Stadium
The Irish rock band's ZOO TV tour drew a sellout crowd of 62,280, accompanied by opening acts Big Audio Dynamite II and Public Enemy. The group, whose "Where the Streets Have No Name" is now a staple of Badger football game days, returned to Camp Randall on June 25, 1997.
Janelle Monáe
April 23, 2010
Memorial Union Terrace
The 2009 Grammy-nominated singer wowed campus during the annual Line Breaks Festival. She has since launched an acting career, including roles in Hidden Figures and the Oscar-winning Moonlight in 2016.
Chance the Rapper
May 2, 2015
Library Mall
The hip-hop star, who built a career on giving away his music for free, made his second appearance at Revelry, a short-lived campus music and arts festival, in 2015. (He first performed in 2013 at Union South.) In 2016, he became the first artist to win a Grammy without selling physical copies of his music.