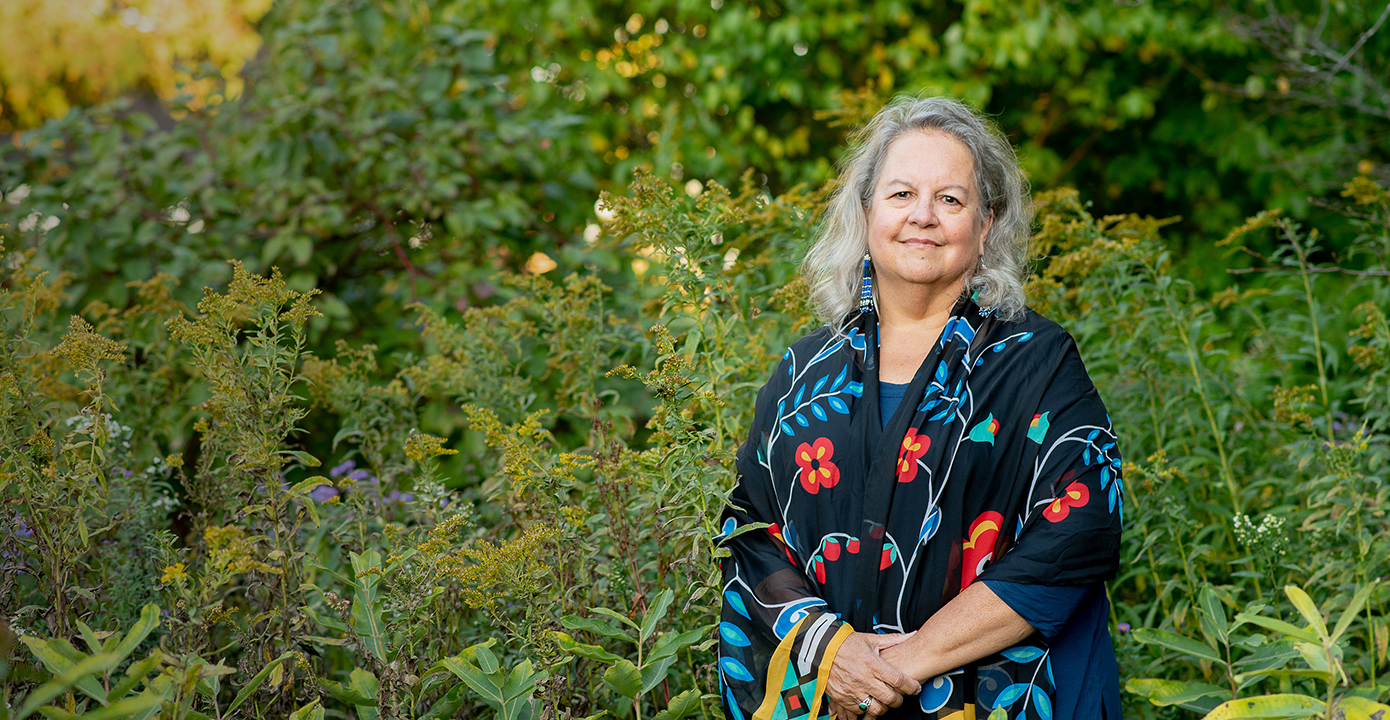 The Teachings of Plants
Robin Wall Kimmerer MS'78, PhD'83 braids Western science and Indigenous knowledge into a vision for a sustainable future.
One summer evening in the early 1980s, then–graduate student Robin Wall Kimmerer MS'78, PhD'83 stood with a friend in the Curtis Prairie at the UW Arboretum. A half century after pioneering botanist John Curtis MS'35, PhD'37 first planted seeds of native prairie species on the site of an abandoned cornfield, the grasses surrounding Kimmerer were head high and swaying in the wind.
She was awestruck. "I just kept thinking, 'This is what plant ecology can do,' " says Kimmerer, who is now a distinguished professor of environmental biology, bestselling author, recipient of a 2022 MacArthur "genius grant," and founding director of the SUNY Center for Native Peoples and the Environment. Kimmerer's most prominent book, Braiding Sweetgrass: Indigenous Wisdom, Scientific Knowledge, and the Teachings of Plants, articulates a vision for incorporating Indigenous plant knowledge and storytelling into Western science, and in the 10 years since the book was first published by an independent press, it has sold almost half a million copies worldwide.
Kimmerer describes herself, "at root," as a plant ecologist focused on the field of biocultural restoration, with the aim of healing human relationships with the land. She's an expert in plant ecology and mosses in particular, but her broader passion for human–land relationships was inspired, in no small part, by her time at the UW.
"People have a great longing to be in a right relationship with nature, and they just don't know how. We're suffering from a failure of imagination."
The summer she walked through Curtis Prairie, Kimmerer wasn't just a visitor to the Arboretum — she was also its resident security guard. During her graduate studies in plant ecology, she lived in a small house on the grounds and was responsible for making nightly checks on the visitor center and other buildings. "It was a remarkable place to live and become intimate with," she says. "The Arboretum is a place about the science of land, but it's also the story of land and appreciation for the living world. My time there was very crucial for me."
She befriended fellow prairie walker Bill Jordan PhD'71, MA'74, then the public relations coordinator for the Arboretum. In those years, Jordan and Arboretum ranger Keith Wendt '71, MS'73 were developing what would become the first scientific journal devoted entirely to the new field of ecological restoration, and in 1989 Jordan cofounded the international Society for Ecological Restoration.
"We gradually came to the realization that restoration actually has a crucial role to play in healing and ensuring the perpetuation of historic ecosystems," Jordan says. "And we realized that the restoration process itself offers a way of achieving a healthier, actually ecological, relationship between ourselves and the rest of nature."
For Kimmerer, the concept of teaching people to have a dynamic, ongoing relationship with nature resonated with her Potawatomi heritage and upbringing in upstate New York. "The way we treat land is how we treat each other. It's the idea of kinship with each other and with other species," she says. "We can extend that idea of kinship to the land itself. … Reciprocity is an ecological principle."
During one of her nightly checks around the Arboretum, Kimmerer and her then-husband found a garage door left open. While her fellow security guard investigated, she scanned a nearby bulletin board and spotted a photo of a massive American elm in Kansas, which had recently been measured at 99 feet tall and was therefore the tallest elm in the United States. It was named the Louis Vieux Elm in honor of a Potawatomi tribal elder, who also happened to be one of Kimmerer's ancestors.
"When you look back on a life, it's funny little moments that end up being truly pivotal. That was one of those moments," says Kimmerer. "I'd heard the stories of this person, which prepared the ground for me to understand the significance of seeing that photo." She traveled to Kansas to visit the tree and learned new details about her ancestors' histories. She returned several times until the tree was destroyed by lightning and vandalism in the late 1990s.
In Braiding Sweetgrass, Kimmerer writes that encountering the Louis Vieux Elm made her realize that "to walk the science path, I had stepped off the path of Indigenous knowledge. But the world has a way of guiding your steps."
Shortly after seeing the photo on the bulletin board, she was invited to a gathering of Native elders to hear them talk about plant wisdom, which sparked her lifelong pursuit of studying and promoting Indigenous and Western knowledge in tandem.
"I dream of a world guided by a lens of stories rooted in the revelations of science and framed with an Indigenous worldview — stories in which matter and spirit are both given voice," she writes.
"We can imagine ourselves as kinfolk instead of masters of the universe."
After graduation, Kimmerer taught at colleges in Kentucky while raising two young daughters. When an offer came from the SUNY College of Environmental Science and Forestry, her undergraduate alma mater, she jumped at the opportunity to move back to Syracuse. "I'm a Northern person. I need to be close to the Nation of Maples," she says, referring to the northeast/Great Lakes region of the United States, where sugar maples thrive and are integral to Indigenous culture.
In 2003 Kimmerer published her first book, Gathering Moss: A Natural and Cultural History of Mosses, which blended lyrical personal essays with groundbreaking observations about these remarkably resilient, if underappreciated, plants. "It was surprising and wonderful to me to see people's response to that book," she says. "Having seen the way that story can be a portal for people into science, I wanted to use it as a portal into Indigenous thinking, as well."
That idea eventually evolved into Braiding Sweetgrass. "I wanted to open people's awareness to another way of knowing and to say you can choose to just be a taker from the land, or you can choose to be a giver to the land," she says.
Kimmerer feels a shifting tide in terms of cultural awareness and interest in environmental issues. "People have a great longing to be in right relationship with nature, and they just don't know how," she says. "We're suffering from a failure of imagination. We think the world we live in, that's the way the world is. We need to invite people to see that's not the only way to live. We can imagine ourselves as kinfolk instead of masters of the universe. … We can give people a sense of moving toward something, an intimacy with the natural world."
Fellow conservation biologist Curt Meine MS'83, PhD'88, who wrote the first full-length biography of famed Wisconsin naturalist and UW professor Aldo Leopold, was once a student in the general ecology course Kimmerer taught at UW–Madison. The two became friends and are now collaborators at the Center for Humans and Nature, a nonprofit headquartered in Libertyville, Illinois, where Meine is a senior research fellow and Kimmerer is a regular contributor.
"Robin is a remarkable voice who came out of Wisconsin at an important moment," Meine says. "She has always had a deep appreciation of the cultural context and meaning of the natural sciences."
He remembers one weekend near the end of Kimmerer's tenure as the Arboretum security guard when she hosted a potluck. "The rule she gave us was to bring a dish made mainly from a woody plant. No leafy greens, no vegetables," Meine says. "It was a challenge to think about what exactly our food was made of, and what was available that time of year. So she was offering important botanical lessons, even then."
What did he end up making? "A Waldorf salad, with apples, walnuts, and raisins."
At the Center for Humans and Nature, Kimmerer recently coedited a five-volume book series called Kinship: Belonging in a World of Relations. Meine says the response to the series, which explores human interdependence with other living beings, exceeded the center's expectations. "Right now, everyone is looking for sources of guidance, resilience, and beauty in a world that's turned upside down," he says. "We're looking for those who can speak to our core need to respect and honor our relationships with one another and with the living world."
"It is better to be a participant in justice instead of complicit in injustice."
For Kimmerer, offering a vision for a healthier, more interconnected future is especially crucial for addressing our biggest challenge in the present: climate change. "The consensus is that we have all the science and technology we need, but we don't do anything because we're relying too much on the intellectual knowing alone," she says. "We have failed to activate our emotional responses to propel us to change — as Aldo Leopold said, we need poets who are foresters."
Out of these personal awakenings can come larger collective change. "I realize I can't topple the fossil fuel industry by myself, but I can change my own mind and how I think and then invite others to try it," she says. "The challenge, of course, is to find common ground, but a love of land and home is, I hope, what we can agree on."
Kimmerer is similarly passionate about land-justice initiatives and LandBack, a movement to empower Indigenous communities across North America. "We all have an innate sense of justice and redemption," she says. "It is better to be a participant in justice instead of complicit in injustice."
When asked how someone can take the first step toward reimagining their own personal relationship with nature, Kimmerer's advice is characteristically understated yet profound. "Go outside with humility, ready to listen," she says. "When I don't know what to do, I go to the plants. To learn from the land, you need to be in the presence of a teacher." •
Sandra Knisely Barnidge '09, MA'13 is a writer and amateur gardener in central Alabama.
Published in the Summer 2023 issue