The Golden Age of TV is Now
Badgers who work behind the scenes to create and produce must-see content reflect on how they got their start, what it's like to work in the business, and what they're binge-watching.
In the age of peak TV, more is more.
We can watch our favorite shows anywhere, anytime, and on any number of devices. And that's a boon for the people full of ideas who are always aiming to give us new material, from YouTube videos to prestige dramas.
"There are all these incredible writers to tell their stories and so many more places to tell them," says Jenny Fritz '95, comedy development executive for ABC Studios and part of the teams behind shows including Black-ish, American Housewife, and Speechless.
UW–Madison alumni are plentiful among the creative forces at broadcast networks, cable channels, and streaming services. We caught up with some of them to find out more about the past, present, and future of TV.
President and CEO, AMC Networks Inc. (AMC, SundanceTV, IFC, WeTV, and BBC America)
Known for: Killing Eve, Mad Men, Breaking Bad, and The Walking Dead
Appointment TV when you were a student?
Laugh-In
College lesson that still resonates?
Running the New Utrecht Film Society, where we showed American classics and foreign films; acting in the Broom Street Theater; and writing for a literary publication called El Quixote, edited by the Late Morris Edelstein.
First job in TV?
Working a teleprompter machine on a soap opera.
What are you binge-watching right now?
Killing Eve on BBC America.
Go-to device to watch shows?
In order of priority: TV, iPad, phone.
What do audiences want most?
Storytelling with great narrative qualities.
Most important element of a good show?
Characters and story that capture what is essential about human beings.
Vice president and executive producer, ESPN Films and Original Content
Known for: ESPN Films 30 for 30 (including O.J.: Made in America)
Appointment TV when you were a student?
I remember in the early years watching Jackass, which really shows how sophisticated my taste was back then. Later in college I watched The Sopranos and Friends. I remember thinking that I had to get to a friend's house by 8 p.m. or whatever time it was so I could see those shows.
College lesson that still resonates?
I was a political science major, and what I learned from that was that I did not want to be a lawyer and I did not want to be a politician. My dad [Bill Geist]was working for CBS Sunday Morning when I was in college. I knew that he had a really fun career and that he loved what he did. He met interesting people. I always took my communications classes really seriously because, in the back of my mind, I knew that [television] was somewhere that I might end up, and now here we are.
First job in TV?
I spent summer 2001 and a holiday month interning at Late Night with Conan O'Brien in Manhattan. There were a lot of McDonald's and Starbucks runs, but I would also sneak into the writers' room and listen to them work. I looked at those writers and could not believe that the fun that they were having was a real career.
Go-to device to watch shows?
My television. I still watch plenty of DVR, and my kids, husband, and I watch a lot of Netflix.
Currently binge-watching?
The last thing I binged was Netflix's Wild Wild Country. My husband teases me and says, "Oh, are you going to watch another dark documentary tonight?" People really love true crime right now, and I also do, but when there's just no relief from it, I have to walk away. So I like something that's entertaining and has great characters. I loved Big Little Lies.
What do ESPN audiences want?
I think in order to attract people initially, you need a big name or a big topic that will really reel people in — and then you show them that it's really high quality or that there are contextual layers to the story. I love that element of surprise. People think they know a story, and then we can completely tell it in a different way or give details that audiences never knew about.
What will TV look like in 10 years?
I think the unscripted bubble will burst. There's so much content out there that it's really hard for anything to break through anymore. Eventually the "Let's just do a ton of stuff and hope something sticks" model won't be sustainable. So on the unscripted side of things, hopefully it will be fewer but bigger, which is certainly the direction we're going in at ESPN. That, I believe, will ultimately be a more sustainable model.
Writing partners and showrunners
Known for: Once Upon a Time (ABC)
Appointment TV when you were a student?
Kitsis: For me, Northern Exposure, Beverly Hills 90210, and Seinfeld
Horowitz: L.A. Law and Star Trek: The Next Generation
College lesson that still resonates?
Horowitz: David Bordwell's class that we took together [Communication Arts 354: Film Genres]. He opened us up to so many different kinds of film.
Kitsis: That basis in film history really gave us a context for everything we've done since.
First job in TV?
Kitsis: I was an assistant to movie producer Joel Silver, who produced Lethal Weapon and The Matrix. And Adam was —
Horowitz: A post-production assistant. I helped the people who edited the film on a television series called Tales from the Crypt.
Go-to device to watch shows?
Kitsis: If we're traveling or on location, iPad is definitely a go-to. But I think we're so old-fashioned in how we watch TV. Maybe through Apple TV or an app, but we definitely both still like to sit on the couch and stare up at the TV.
Horowitz: On location, iPad. At home, Apple TV — on the TV on the wall, just like has been done for 90 years. Except for the Apple TV part.
Currently binge-watching?
Horowitz: Right now, we're in preproduction on our show Amazing Stories, for Apple and Steven Spielberg. When we're in this kind of intensity, I am mostly watching sports. But the last show I binged, my wife and I just finished Billions.
Kitsis: The Marvelous Mrs. Maisel and Killing Eve. I couldn't get enough of both of them.
Best part about being a showrunner?
Kitsis: The greatest thing is getting to wake up every day and ask the question, "Wouldn't it be cool if … ?" To have an idea and then bring it to life … being a showrunner really allows us to guide that process.
What inspires your work in fantasy, horror, and science fiction?
Horowitz: The commonality is character-based storytelling. With inter-genre storytelling, in our experience, it really only works if you are telling grounded, human-emotional stories.
Executive director, American Documentary; executive producer, POV and America ReFramed
Known for: Bing Liu's Minding the Gap
College lesson that still resonates?
My filmmaking production class, which J. J. Murphy taught, is one. We were still shooting and editing on 16 millimeter, which I learned a lot from. The thing that I still think about from that class is the importance of critique and having an environment where people can hear constructive criticism and make their films better.
First job in TV?
I did every media internship possible. I worked for the Badger Herald. I interned for Michael Feldman ['70]'s public radio show, Whad'Ya Know? I did morning camera for the ABC News affiliate, but only lasted about three months. Getting up at 3:30 in the morning and moving one of the giant studio cameras around was a trip. Eventually I got the internship at Wisconsin Public Television, which taught me how to produce.
Go-to device to watch shows?
I use a Roku at home.
Currently binge-watching?
HBO's Insecure, PBS's Victoria, and, with my kids, MasterChef Junior.
How do you select projects?
We try to really program films that immerse the audience in a story and bring them in through characters who move you and pique your interest. We try not to tell people how to feel about things.
Why are documentary series so popular?
I think it's because of what's happening with scripted series. It's been this monumental evolution in content storytelling. So I think it's a natural evolution both creatively and financially for docs to go into multipart series.
Your approach to storytelling?
POV is 31 years old this year. For many years of POV' s existence, the broadcast was the highlight of a film's release and now it's a highlight. We are really focused on broadcast, streaming, and community engagement.
Why are we seeing so many reboots?
Part of me wonders if it's because it has been a crazy couple of years, and our country is so divided and fragmented — people want what's safe, known, and comfortable.
Executive producer and manager, Thruline Entertainment
Known for: I Love You, America, with Sarah Silverman
Appointment TV when you were a student?
In our sorority house, we always watched Friends on Thursday nights. One of my roommates had the entire My So-Called Life on VHS. I fell in love with that show.
College lesson that still resonates?
One of my favorite [classes] was Scandinavian Literature: The Stories of Hans Christian Andersen. These are children's stories that had very strong political undertones. I guess we do see that in television now.
First job in TV?
I got my start at Bragman Nyman Cafarelli, a PR firm. I was an assistant for two publicists, and I straddled the talent side and the television side. I ended up becoming vice president, and I stayed there for 11 years.
Go-to device to watch shows?
At home, usually a smart TV. When I'm traveling, I'll watch on my iPad.
Currently binge-watching?
Season two of Ozark — loved season one. I love The Handmaid's Tale, The Americans, Game of Thrones. Killing Eve is next. I'm a huge Big Brother fan.
How did you react to being nominated for an Emmy?
It's a really exhilarating feeling, especially when it's a show you've poured your soul into. I cried, and I called Sarah [Silverman] first, and told her, and screamed. At this time in history, both television-wise and political-wise, I think it's a really important show, and I'm so proud of it.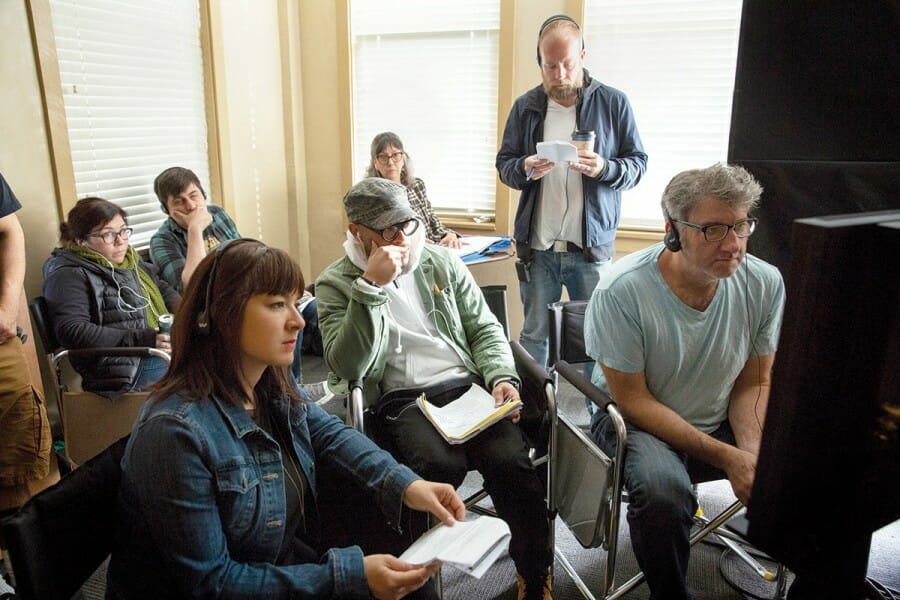 Independent producer
Known for: Netflix's Atypical
Appointment TV when you were a student?
24. I lived in Orchard Court with five other roommates, and other friends within the courtyard. We would always order Pokey Stix. I would make everybody be totally quiet and turn off the lights and not talk because you couldn't pause the TV back then.
College lesson that still resonates?
I took a film production class — you had to shoot everything and edit it, and wear many hats. I was not someone who thought of myself as a director or a writer. I ended up making documentaries. My fears about not being able to do something led to what I really love doing and finding my path as a producer out here.
First job in TV?
I was a temp receptionist at MGM [Studios]. That led to an assistant position in development at MGM.
Go-to device to watch shows?
For my personal time, I still watch on TV. We use various forms of streaming: Amazon Fire, Apple TV.
Currently binge-watching?
Season two of Ozark. A Netflix show called Terrace House. It's a Japanese reality show that has a small cult following out here. Just recently, The Marvelous Mrs. Maisel — I was a little behind on that.
Universal lesson of producing?
Working with the writers and directors and doing everything you can to help make their vision come to life in a way that is safe and responsible — creating a good environment for them to be able to do their job.
Head of unscripted programming, YouTube Originals
Appointment TV when you were a student?
A lot of comedy. Thursday night lineup of Seinfeld and Friends. Staying up to watch Mr. Show at 12 a.m. on HBO. I remember thinking, "Simpsons is funny." And Beavis and Butt-Head.
College lesson that still resonates?
In a journalism class, the creators of The Onion came in and gave us an hour of their time. They had so much passion for creating comedy that pushed the boundaries. They were so fearless in their comedy.
First job in TV?
In 2007, I made a video about Barack Obama called "I Got a Crush on Obama." At the time, I was working at a marketing agency. That video got over 50 million views in the first couple of weeks, so I quit my job to start making YouTube videos full time.
Go-to device to watch shows?
I am watching a lot of television on my phone and a lot of YouTube on my TV. I have gotten in the habit of saving my YouTube videos in "watch later" playlists, and then watching them on TV when I get home.
Currently binge-watching?
The Marvelous Mrs. Maisel. Big fan of that show. I binge-watch some of my own YouTube originals — Cobra Kai and a new series called Origin. Older shows, too, like The Leftovers. I ended up watching all three seasons with my wife in a weekend.
What are YouTube's advantages in the market?
When a show idea comes in, we can get a quick sense of how much the topic or the talent resonates on YouTube. But more important than the data is understanding whether the idea itself feels like it's something that's original and can break through an environment where there's thousands of original shows a year.
Writer and producer
Known for: Brooklyn Nine-Nine, Community
Appointment TV when you were a student?
We would watch Mr. Show, the sketch show. Before that, in high school, Late Night with David Letterman was my favorite show ever.
College lesson that still resonates?
I just loved going to college. I extended it out; I kept changing my major. I had an English degree, and I liked creative-writing classes. I got a Latin minor for absolutely no reason. I loved digging hard into a subject.
First job in TV?
I was a freelance writer with The Onion, which was in Madison at that time. I worked there for over 10 years. I was editor-in-chief, then I went over to the video department, and we had a TV show.
Go-to device to watch shows?
Apple TV, always. I watch Netflix and Hulu. I buy shows because I don't have cable. I also get subscriptions, like HBO.
Currently binge-watching?
Ozark. For some reason, we're on a Love Boat kick. I love BoJack Horseman — that's my favorite comedy. Baskets — it's so weird and so funny.
What is it like being a part of shows with devoted followings?
These aren't the shows that win Emmys, but I don't care about that as much as I care about people really caring about the show. I think it does provide some energy because you know that people love it.
President, CBS Entertainment
Appointment TV when you were a student?
We would head out to bars on Thursday nights, but it had to wait until L.A. Law was over.
College lesson that still resonates?
The introduction to the history of broadcast law and the early days of the broadcasting industry. The industry is changing before our eyes, and knowing what these laws are, and what they mean, can really help somebody navigate and understand what's going on today.
First job in TV?
I was an intern at Lorimar Television. At that time, they made shows like Dallas, Knots Landing, Full House, and Family Matters.
Go-to device to watch shows?
Everything. I still think there's nothing better than watching on a big TV, but I'll watch on my computer, my iPad, and sometimes on my iPhone. It depends, really, where you are and what the circumstances are.
Currently binge-watching?
I'm watching a lot of CBS shows, Young Sheldon being one of my personal favorites. Also, a show on YouTube called Cobra Kai, a reboot of The Karate Kid that is also really, really good.
What will TV look like in 10 years?
I think we're reaching the point where there are so many shows that curation is going to be important. Nobody can really watch all these shows. We're probably going to plateau in terms of the number of shows — at some point, the economics get a little weird. The networks are still going to be around and will still command the lion's share of the audience, because they're going to do shows with big appeal. But there will certainly be pockets of personal shows.
Why is CBS doing reboots (such as Hawaii Five-0 and Magnum P.I.)?
CBS has a very rich history of shows, many of which people consider all-time TV classics. There's material to be mined there, and there are shows that people kind of look fondly back at. With maybe 500 scripted shows coming out in any given year, anything you can do to get people to sit up and notice, or have some recognition of a show, is important. We feel like there are new stories to tell and contemporary themes that we can add to an older, beloved show.
Vice president of comedy development, ABC
Known for: Single Parents
Appointment TV when you were a student?
Friends was still on the air. That was the show that we would watch religiously, as a group, all together, always.
College lesson that still resonates?
I took a class [on poet Emily Dickinson] that stood out to me in terms of storytelling. It wasn't new media, and it wasn't television or film — I was an English major. But that sense of discovering character and getting to know the details of beautiful storytelling stuck with me.
First job in TV?
Between my junior and senior year in college, I interned at Michael Douglas's production company, Further Films. My first paying job when I came out to Los Angeles was as the receptionist at a literary agency.
Go-to device to watch shows?
There is a big part of me that still loves to come home and just put on the television. I watch big-screen TV as much as possible.
Currently binge-watching?
Honestly, oddly, a lot of cable dramas. We watched Killing Eve. We just finished The Marvelous Mrs. Maisel, which I thought was excellent.
What stands out in a successful pitch for a new show?
It has to have compelling characters. Funny is really helpful. I know that sounds like the obvious, but you do — you want a laugh, and for ABC specifically, it really needs to have some heart. The combination of comedy and heart is really important for us. That's the television I like to watch, and I think that's what we've had success doing.
How do you know whether a show is successful?
Ratings are still a discussion, but not nearly as important as they were before. Part of it is what the ratings are, but also viewer engagement across social media. There are a lot of different ways to look at things, to see how the audience is responding.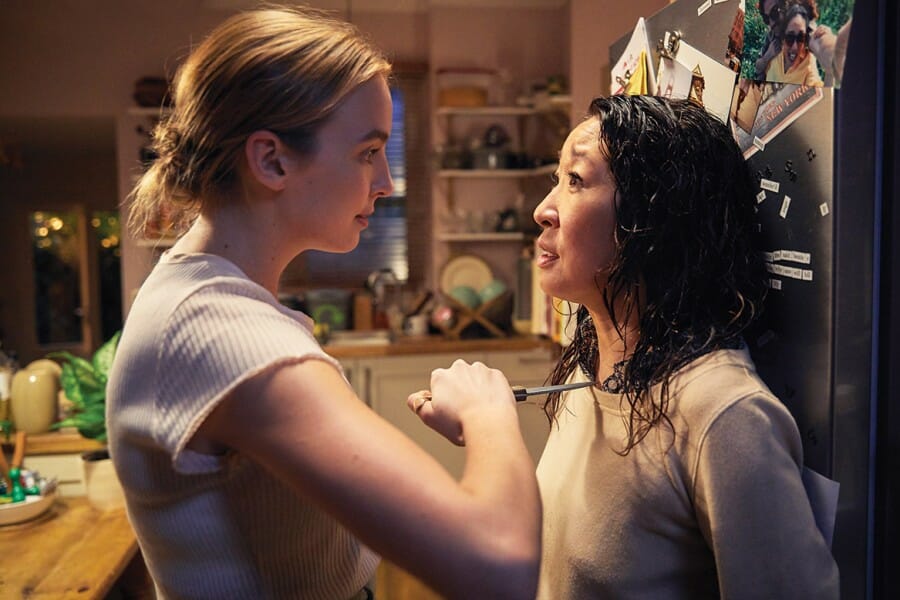 Networks to Netflix
Derek Johnson's office in Vilas Hall is home to a collection of TV Guide magazines, passed down over the years among communication arts faculty. For the students who take his class on the television industry, they may as well be in a museum. The UW associate professor, who recently edited a book on the sea changes in TV (From Networks to Netflix: A Guide to Changing Channels), is constantly revising his course to keep pace.
"I remember having to program VCRs," says Johnson. "But if I don't start with Netflix, it's increasingly difficult for the average undergraduate, who's 18 to 22 years old, to get their bearings."
Johnson works backward from there, explaining the older models of the industry upon which Netflix and other streaming media outlets are based, down to an explanation of how over-the-air broadcasting works.
"It's not a way that they're currently thinking about television," he says.
The connection between younger viewers and TV's past is a research interest for Johnson, whose next book will examine a trend he's witnessed in his own home: parents sharing old episodes of '80s and '90s programming with their children. "I share Star Trek with my daughters. My wife shares Full House. Many viewers have nostalgia for old shows, and it's a feeling that they want to share," he says.
"There's a strong trend in the industry of relying upon and enlisting an older generation to be part of that almost evangelical push to say to new viewers, 'Hey, check this out,' " Johnson continues. "We assume that these older shows that are now on Netflix appeal to the people who were watching when they were first airing. But the sense I'm getting is that the undergraduates are all watching Friends."
Jenny Price '96
Comedy development executive, ABC Studios
Appointment TV when you were a student?
My senior year, the O. J. Simpson trial began. Television capitalized on this gruesome, sordid story — every channel was showing it. We watched Friends, we watched Seinfeld. And I would be remiss if I didn't mention ER.
College lesson that still resonates?
Professor Julie D'Acci [MA'71, PhD'88] — she talked a lot about character. That has always been my North Star. You start with good characters, you define them sharply, you give them unique characteristics, and people will want to invest in whatever it is they are experiencing.
First job in TV?
I was a summer intern at Creative Artists Agency. I pushed a cart and delivered mail, I listened a lot, and I asked a lot of questions that you can get away with asking when you're in high school.
Go-to device to watch shows?
I sometimes watch cuts on my iPad and my phone, because that's part of my job, and there's an immediacy. But in terms of enjoying a show as a viewer, for me, it's still television and in my home.
Currently binge-watching?
Ozark. I don't watch more than two episodes at a time. I like to contemplate things, specifically if it's drama or thriller. I watch a lot of the ABC lineup. Off network, it's a tie between Amazon and Netflix, with HBO thrown in for whenever they actually do bring back Game of Thrones.
What do you love about your work?
I'm in television to tell great stories. The best of television should reflect what's going on in our world, socially, culturally, even sometimes politically. To see yourself, or your neighbor, or your family reflected on television is very, very comforting and important right now.
Head writer, DreamWorks Animation
Known for: Netflix's The Epic Tales of Captain Underpants
Appointment TV when you were a student?
I remember living in a seven-bedroom house with seven or eight guys. As a group, we never missed Beverly Hills 90210 and Melrose Place.
College lesson that still resonates?
[Professor] Tim Allen, Integrated Liberal Studies. In the first class, I walked in, and he had Horton Hears a Who? on four screens. He gave an hour-long lecture on the biological impact of Horton Hears a Who?.
First job in TV?
While I was at Wisconsin, I started working for The Onion as an ad rep. Then Scott Dikkers [x'87], one of the owners, pulled me aside and said, "I hear you telling jokes around here. You should be writing for us."
Go-to device to watch shows?
TV should be watched on a TV, in my opinion. I have a 65-inch, so it's hard to beat that.
Currently binge-watching?
Ozark is one of my favorites. Better Call Saul. We just started Maniac. Just finished the first season of Fargo — little late to the party. Forever on Amazon — my wife was the flight attendant at the end of the pilot. The Handmaid's Tale made me subscribe to Hulu.
What's changed about developing animation for TV?
Streaming has become such a significant venue. DreamWorks Animation made over a billion-dollar deal with Netflix to provide 12 or more series. If you look back five years ago, Netflix wasn't really even much of a factor. You had Cartoon Network, Disney, and Nickelodeon all slugging it out.
How does streaming influence your writing?
One of the mandates we had was to make our show mildly serialized. What happens on Netflix is you're watching, it ends, and then five seconds later, a new show will start. They want to create a seamless viewing experience from episode to episode. We do try to write to reward people that are watching episodes back-to-back.
Executive vice president of HBO documentary and family programming
Known for: The Jinx (2015 Emmy for best documentary or nonfiction series), The Sentence (2018)
College lesson that still resonates?
I took a TV production class that I remember vividly. For the whole semester we had to write, produce, direct, and star in a mashup episode of a show, and we did The Wonder Years. I remember it being shockingly hard to get a 10-minute piece of fake Wonder Years done. It was an amazing window into what it takes to make TV. I would also say that I took my first women's studies class in Madison. Once I took that class, I found that I never looked at the world the same way again.
First job in TV?
I worked at Wisconsin Public Television. I was a grunt. I tried a little bit of everything. I did the teleprompter and ran it backwards once, during a live [show]. I powdered Dave Iverson's nose. The job really made me realize what I was not good at.
Currently binge-watching?
Recently I watched five episodes of Succession in succession until four in the morning. The other thing my family is binge-watching is Veep, because my kid just discovered it. My son also just discovered The Office. So we've gone through every single season of that show. The other thing I really like is Better Things. It's a working moms' kind of show.
Go-to device to watch shows?
The binging on the older shows is done on a good old-fashioned television. Succession and Better Things I watch up close and personal via either a computer or an iPad on my belly.
Why are documentary series so popular?
I guess truth is having a moment, right? You just can't write some of this stuff. It's as dramatic, as exciting, as engaging and compelling as fiction. Real people are amazing.
What do you look for in a documentary?
It's not a science. Curating excellence is not something that you can learn in the class. It's something you feel. If I'm doing my job right, the films on our slate make you feel something and move you.
What will TV look like in 10 years?
Oh, I have no idea, but I can't wait to see.