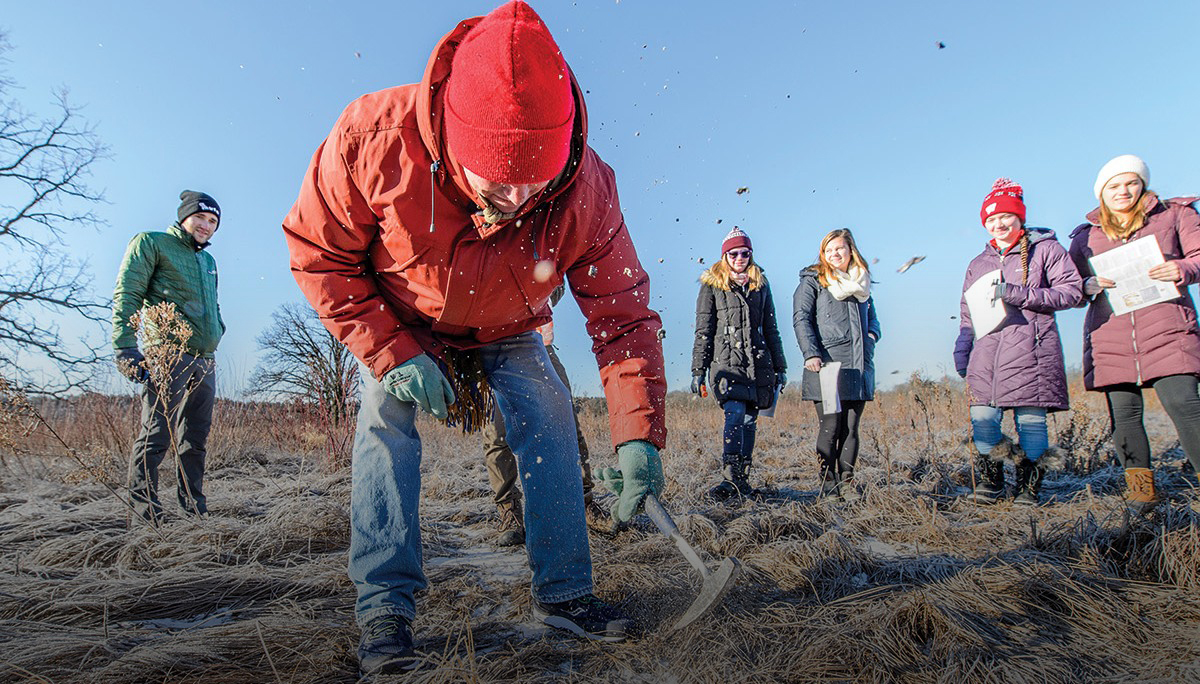 The Big Dig
The UW leads a global quest for new antibiotics.
Pulling a soil sample from frozen Wisconsin ground in January is not impossible, but it certainly isn't easy.
Armed with a steel pick, plant pathology professor Douglas Rouse sent dirt, grass, and ice flying into the sunlight at the UW Arboretum as a small group of introductory biology students noted the location and condition of the frozen soil. Thawed or frozen, wet or dry, the soil remains an essential hunting ground. Within it lies the key to suppressing what the United Nations calls "the greatest and most urgent global risk": superbugs — strains of bacteria that have grown resistant to traditional antibiotics. Superbugs could kill more people than cancer by 2050 if left unchecked, according to a 2014 report issued by the United Kingdom's government.
More than two-thirds of new antibiotics come from soil bacteria or fungi. But since a small sample contains thousands of species of bacteria — and most of the antibiotics they produce are toxic to humans — it requires significant time, labor, and persistence to isolate effective antibiotic producers and to test for new compounds.
"Antibiotic resistance is one of the main threats to global health and security, and the students have potential to discover new antibiotics to fill the void."
With the prospects of profitability lacking, pharmaceutical companies have shied away from developing new antibiotics to focus on more lucrative drugs.
Enter Tiny Earth, an initiative based at the UW's Wisconsin Institute for Discovery (WID). Rouse's biology students are just a sampling of the nearly 10,000 students across 41 states and 14 countries who are mining soil to solve the superbug problem.
"Antibiotic resistance is one of the main threats to global health and security, and the students have potential to discover new antibiotics to fill the void that currently exists," says Jo Handelsman PhD'84, director of WID and founder of the initiative.
Each semester, thousands of students around the world dig into the soil in their backyards, farm fields, stream beds, and forest floors. Just like the UW students, they learn the techniques they need to identify new species and compounds. Along with building a database of new antibiotics with medical potential, Tiny Earth is addressing another looming global crisis: a shortage of students pursuing careers in science.
"One of the best ways to learn is to engage in science actively and to do research so that the thrill of discovery drives the learning process," says Handelsman, who first developed the program in 2012 at Yale University. She saw too many first- and second-year undergraduates dropping out of the sciences and wanted to reverse the trend by offering hands-on research that pulls in techniques and ideas from disciplines such as ecology, genetics, and molecular biology. For students, it's a galvanizing introduction to laboratory science: they learn new skills while solving real problems.
The UW introductory biology students spent last spring diluting their soil samples, culturing and isolating bacteria, and profiling the genomes of anti- biotic-producing microbes. Along the way, they made hypotheses about what they might find, learned and selected techniques, and synthesized their findings, all in the hope of discovering new antibiotic compounds. While the samples await final analysis, the initiative is betting on the odds that more participation will increase the chances of unique discovery.
Nolan Lendved '13 is a communications specialist at the Wisconsin Institute for Discovery.
Published in the Fall 2018 issue