Chris Borland '13 did the unthinkable: he abruptly retired from the NFL, bringing the unseen dangers of the sport to the forefront.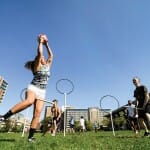 Pull out the brooms: a magical Harry Potter sport has taken on a life of its own at UW–Madison and around the world.
The former UW football star who made the Badgers a national force.