Six
Lessons
from
the
Rose
Bowl
We went to cover a football game and discovered a community.
I confess: I'm jealous of my college friends who return to Madison with pure feelings of nostalgia. Now working as a writer for the UW, I've barely left campus since I enrolled as a student in 2010.
Such proximity doesn't leave much room for reflection. The Humanities Building loses its sentimental value when you walk by it every day for a decade. When big Badger games double as work, you're numbed to the joy of victory and the devastation of defeat.
So I confess again: when photographer Bryce Richter and I got the assignment of a lifetime — covering the 2020 Rose Bowl Game in Pasadena, California — we didn't expect to care much about the outcome between the Badgers and the Oregon Ducks. And we certainly didn't expect to be moved to tears by the UW students, alumni, and fans we met along the way.
But we did, and we were.
In the final minutes of the game on New Year's Day, Bryce and I waited anxiously on the sidelines for a last-ditch miracle, preparing to capture Wisconsin's first Rose Bowl victory in exactly 20 years. That moment never came. But when the clock expired, even in the team's defeat, we had never felt prouder to be Badgers.
Here's why.
1. UW students give back — even on vacation.
"We're going to be rooting for different teams tomorrow, but today we're going to fight hunger together." UW dean of students Christina Olstad delivered that charge to more than 100 volunteers at a Los Angeles Regional Food Bank warehouse on Rose Bowl eve. Students, staff, and fans representing the UW and the University of Oregon answered the call, lining up at conveyer belts and packaging enough food for 2,240 seniors in need. Their brisk pace nearly broke the facility's record for such a project.
The warehouse was a 30-minute drive from central L.A., so Bryce and I didn't expect many — if any — students to show up and sacrifice a morning of their California vacation. But they proved us wrong. One sleep-deprived yet lively group had just arrived after a 30-hour road trip from Madison. "It's cool to put sports aside and come together for a common cause," said Molly Leyden x'23.
I unpacked boxes of vegetable soup next to 26-year-old Ingrid Filakousky. The Orange, California, resident had no connection to either university but was inspired to join the effort after learning about it online. She left the food bank a fan of both schools, and we left in awe of our service-minded students and alumni.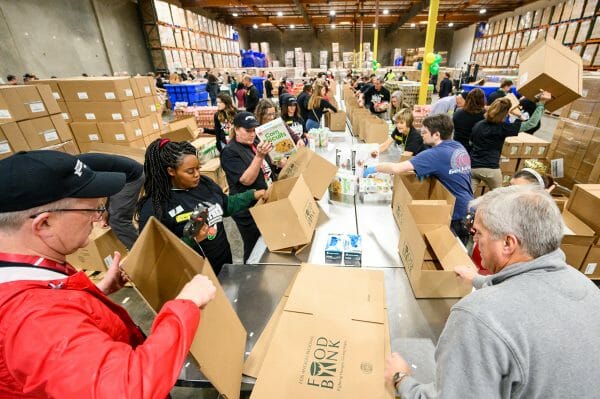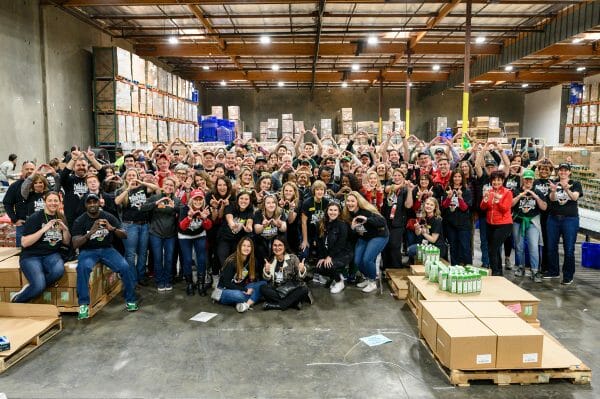 UW seniors Hannah Walker x'21, Hannah Baker x'20, and Logan Klein x'20 showed that giving back can be a whole lot of fun. "Some Oregon guys on the other end of the factory are dancing with their boxes of spaghetti, and we're doing a little dance-off with our soup," Walker said.
"We just try to embody the Wisconsin Idea — that you learn through action, not just classes," Baker added.
2. We're all in this together.
At the UW's pregame tailgate, amid the mosh pit of Badger fans (and brats and beer), Bryce spotted the contrasting colors of Megan Rollo in cardinal red and her wife, Jordan Wilde, in grass green. Despite the Seattle couple's differing allegiances, they had no real disagreements. They root for both teams outside of the head-to-head matchup.
They determined to make the 106th Rose Bowl their first because of its larger meaning. Wisconsin is where they met: Rollo attended UW–La Crosse, Wilde coached women's basketball at UW–Parkside. As self-described football fanatics, they cared a lot about the game — but even more about their time together. "It's 70 degrees on New Year's Day," Rollo said. "I don't think losing would affect my experience." She added, laughing: "If we were playing Ohio State, it would."
For other fans, the pilgrimage to Pasadena was a familiar one. Barbara Carrig '64, MS'87 was a student when the Badgers made their third Rose Bowl appearance. She thought better than to hitchhike to California with her friends in 1963, but she's attended several Rose Bowls since.
I learned that Carrig, like my sister, became a speech-language pathologist at a primary school after earning her UW degree. She recounted the story of how a former student once approached her at a Rose Bowl tailgate. She remembered that he had a lateral lisp. He told her, "You changed my life."
"It's little things like that," Carrig said. "I did it for 31 years. Your sister will be thankful that she did it, too."
4. UW fans own Pasadena.
As the oldest postseason game in college football, the Rose Bowl is called "The Granddaddy of Them All." But the College Football Playoff system, developed in 2014 to feature the nation's four best teams, has threatened that status. Semifinal games rotate among six bowls, with the Rose Bowl hosting a championship-level game just once every three years.
This was one of the off years. But that did little to discourage tens of thousands of UW fans from descending on Southern California. Since 1994, they've earned a reputation for traveling in big numbers. That was true again — little green could be seen in Wisconsin's sections, while stripes of red bled through Oregon's half of the stadium. And from Santa Monica Pier to the Hollywood Walk of Fame, we heard reports of Badgers far outnumbering Ducks.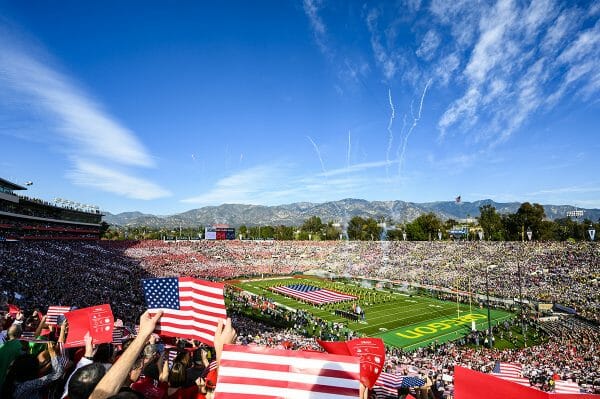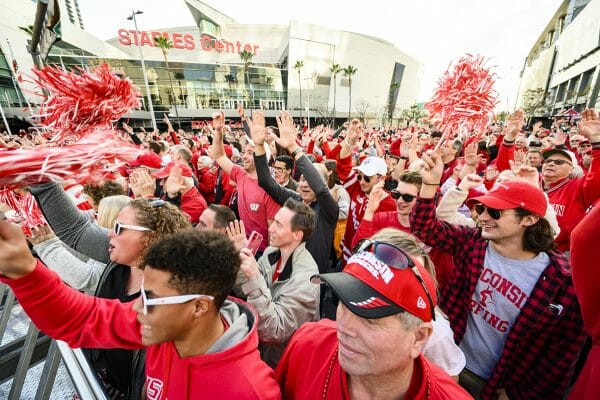 "It's been amazing," star running back Jonathan Taylor x'21 said after the game. "People ask me about Camp Randall, but it's just a stadium like any other. It's the fans that fill the stadium and take time out of their jobs and daily lives … to watch us play a game we love. They made it feel just like Camp Randall today."
5. Win or lose, the game is a thrill.
ESPN summarized the game as a "frenetic edition of this venerated bowl," and so it was. Five turnovers, seven lead changes, and a one-point differential made for a wild ride. And for the Badgers, a crushing result: a 28–27 loss to Oregon, the fourth Rose Bowl defeat by a touchdown or less this decade.
But the competitive game provided plenty of moments to cherish. After Oregon sprinted down the field on its first drive, Wisconsin answered with an electrifying kick return for a touchdown. Returner Aron Cruickshank x'22, a one-man stampede, was the Badgers' surprise standout. His 95-yard dash down the right sideline was the second-longest scoring play in Rose Bowl history, and just the third kick return for a touchdown.
Wisconsin's familiar faces, including Taylor and receiver Quintez Cephus x'20, also starred in the back-and-forth affair. But the UW's four turnovers proved to be too costly. Oregon scored 21 points out of them, including the decisive touchdown midway through the fourth quarter.
Badger fans endured a bitter blast of green and yellow confetti as the clock hit zero. But the sights (hello, purple sunset over the mountains) and scores leading up to it? They were all worth the trip.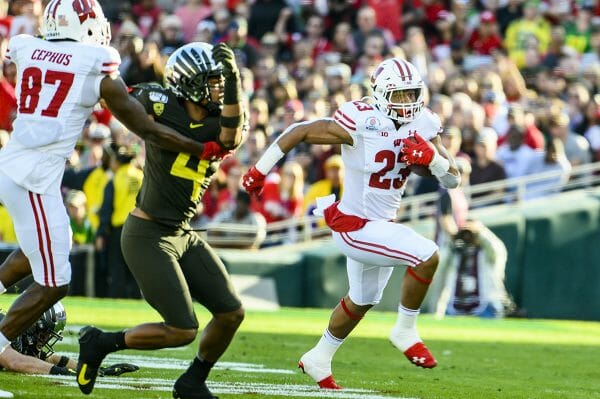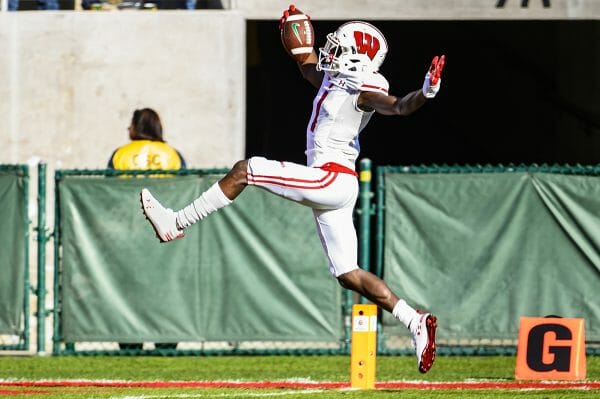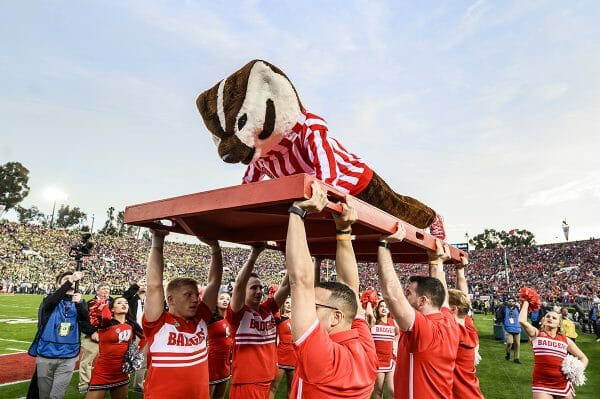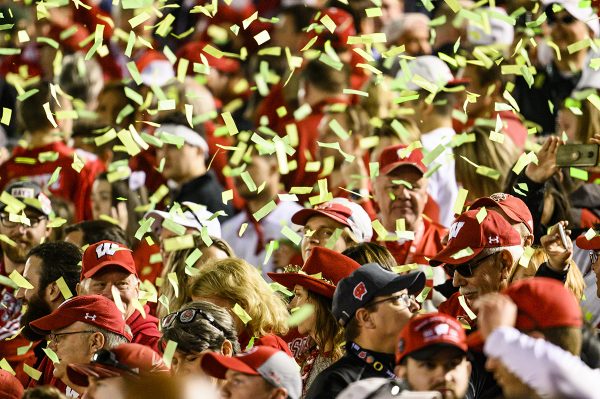 6. It's not just about football.
Our final lesson was the most important: that a trip to Pasadena transcends football. Fan after fan told us that the Rose Bowl experience isn't defined by a win or a loss. It's defined by the people: generations of family, old friends and new, scores of strangers in matching red. "It's so fun to be with a bunch of people that you're connected to — that you don't know, but you know," said band fan Leigh Price.
The aha moment for me arrived in the third quarter of the game. During a commercial break, the UW Marching Band broke into the Friends theme song. It was a subtle nod to the song's prolific writer, Allee Willis '69. The one-of-a-kind alumna and Hollywood native had died unexpectedly on Christmas Eve at 72. For band members, it was a personal loss. They had just met Willis in September, when she returned to Madison to serve as a guest conductor in Camp Randall Stadium, leading them in the same tune.
I'll be there for you
'Cause you're there for me too
There's a cardinal rule in the press box: don't cheer. So I didn't, but my eyes did well with tears. That small gesture — current students honoring a former one — confirmed that being a Badger is about much more than a football game. It's about community. It's about what connects us.
And it turns out all I had to do to rediscover my passion as a UW alumnus was to leave town for a few days.
---
Preston Schmitt '14 is a staff writer for On Wisconsin. For more Rose Bowl coverage by him and Bryce Richter, see rosebowl.wisc.edu.
Published in the Spring 2020 issue