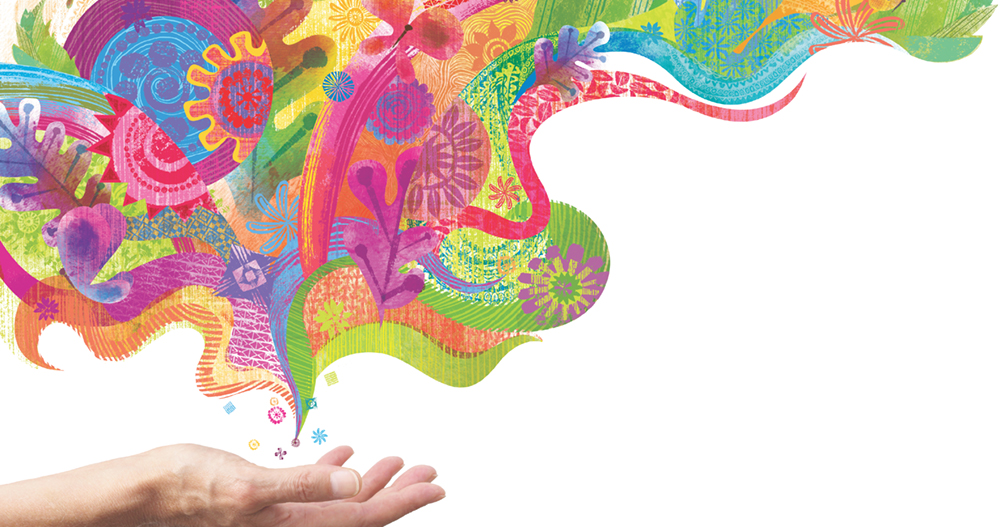 Physician, Heal Thyself
Nearly half of medical school students experience burnout.
In a nondescript classroom in the Brogden Psychology Building, David Rakel tells about fifty UW medical students to take a deep breath and slow down. Feet on the ground, eyes closed, breathe in, let it go. Focus on a time of grief and loss. Think about a person who made you feel better. Now focus on a person who, probably unwittingly, made you feel worse.
Rakel then asks, "What helped?" Hands are raised, answers are offered. "A hug." "No words, just presence." "They listened to me talk."
What didn't help? "Trying to relate their own story." "Minimizing the situation." "Trying to fix the problem, telling you what to do or think."
What's the difference, he asks, between the helpful responses and the hurtful ones? Discussion flows during The Healer's Art, a course that Rakel has led for thirteen years as an associate professor of family medicine at the UW School of Medicine and Public Health. Before saying anything, he tells his students, a physician must be present with a patient, fully engaged, and sympathetic. "Most people's intentions are good," he says. "But remember this when you have to go and tell someone their loved one has just died."
1/2 Nearly half of medical school students experience burnout. Wellness programming such as the Healer's Art course offers one option to help them cope.
11% of medical school students have had suicidal thoughts.
Medical students with burnout are more likely to have
suicidal thoughts
serious thoughts of dropping out
lower empathy
lower professionalism
a higher risk of alcohol abuse and dependence.
Physicians have more burnout than other U.S. working adults — a finding that persists after controlling for work hours.
The course, now offered at some ninety medical schools in the country, is helping to create a generation of more reflective physicians. Knowing themselves better can help physicians to understand their patients better — going beyond the symptoms to explore hopes and fears. And that, in turn, can lead to improved health and longer lives.
"Where do you carry your stress?" Rakel asks as he continues to push his students to be more aware. "In your neck? In your head? Turn toward it. Don't ignore it. Turn toward it. This is evidence-based medicine. This process improves fibromyalgia by about 35 percent. Learn from your symptoms. Don't just take an ibuprofen to mask the pain."
For Rakel, a long-term goal for the class is producing "healthier physicians, less burnout, less suicide, and stronger relationships."
The course "has shaped most of the ethics in my career," says Jensena Carlson '06, MD'10, an assistant professor of family medicine who now teaches the class with Rakel. Being exposed to these concepts as a first-year student "put names on the reasons I had been drawn to medicine in the first place … I felt like I had a place, like I belonged in medicine."
... The class "put names on the reason I had been drawn to medicine in the first place, ... I felt like I had a place, like I belonged in medicine."
— Jensena Carlson '06, MD'10
Each year, about one-third to one-fourth of the entering class signs up for the course. There have been periodic discussions about making it mandatory, but faculty have concluded that the class means more when students choose to participate in it.
As she works with patients, Carlson keeps an eye out for other physicians wearing a small gold lapel pin with a heart on it that signifies they've completed the course, knowing they will share her focus on the bigger picture. Physicians can also continue class discussions through an informal national network, allowing them to reinforce the concepts they learned in the course.
This community of practitioners is a relatively new movement, says Christina Puchalski, director of the George Washington Institute for Spirituality and Health in Washington, D.C. Although she has been teaching about spirituality in medicine since the early 1990s, she says the topic gained national momentum in only the last five years or so. The Healer's Art course is one instance of a broader movement to form more self-aware, integrated physicians and to build a community around the shared values of being in a service profession.
"A lot of patients feel very lonely," Puchalski says. "We take care of their physical needs, but do nothing for their spiritual or existential distress." Physicians who are attuned to that distress can help patients to better cope with their illnesses, she says.
The growing interest in integrated care for the whole person is also connected to the Affordable Care Act, Rakel says. Since Medicare and Medicaid are beginning to pay health care providers based on results, rather than on services rendered, the industry has had to reassess how it delivers care and how best to measure wellness rather than illness.
When Rakel was a medical student in the 1980s, he felt that something was lacking. After a full day of filling his brain with random facts, he remembers, he turned on the TV and found The Sound of Music. "I had seen it like thirteen times," he says, "but this time, when the von Trapp family got over the mountain at the end, I was crying like a blubbering idiot. I was out of balance."
Being in balance, for a doctor, still means a large main course of science and rigor, but awareness is growing that the humanities and other disciplines are an important side dish. Rakel believes that in recent decades, medical schools have improved at acknowledging self-care and holistic well-being, but that the profession as a whole still needs to do a better job of recognizing emotional intelligence. If practitioners are aware of their patients' emotions, for instance, they might notice when a patient is withdrawn or scared and alter their words and tone accordingly.
Part of wellness rests in patients becoming active participants in their health care. Along with the typical approaches of improving diet and exercise, nurturing a healthy emotional state — such as forgiving someone who hurt you — has also been shown to lengthen patients' lives.
Yet, Rakel notes, "It's harder to reimburse better health. It's not black and white; there are no widgets to count." Eventually, he says, the profession must figure out how to treat people as "bio-psycho-social-spiritual beings."
Carlson, for one, sees The Healer's Art as a critical counterpoint to the hierarchical, high-tech model of medicine that developed over the past century. Every year, hundreds of the course's graduates across the country receive MDs or move from residency into private practice. But changing the U.S. health care system is considerably slower and harder than, say, turning around an aircraft carrier.
Back in the classroom, Rakel asks students to consider, Why do you want to be healthy? If you have your health, what are the most important things that will enable you to do?
That sense of meaning and purpose in their lives is their spirituality — an idea that is clinically separate from religion. Some people find fulfillment in church or prayer, some in family, and others in nature or in a hobby. Having a purpose "is what gets people to get up and move," Rakel says. "You can't do health without that. You can do disease. Health unites; disease segregates."
Kristin Brown Lipanot MDx'18, a second-year student who took the class last year and is now a teaching assistant, says the class helped her answer a critical question: What are the things in life that keep me going when things get hard? For her — aside from helping others — the list includes family, nature, exercise, and a sense of balance in life.
"It's very easy, in a busy medical student's schedule, to not take time to reflect on what brought me to medical school, and the parts of me that are not science- and medicine-driven," she says. Those parts of the psyche are fully engaged in a class session on mystery and awe, which concentrates on "what science can't explain," she says. "Honor that, and be okay with it. Some things just happen."
That is an important lesson when a patient doesn't respond to treatment. It's easy for a physician to get frustrated in that situation, possibly even to the point of wanting to avoid the patient, Carlson says. Remembering mystery, in more prosaic terms, may help a doctor to say, "Here's what could be going on, but it's possible I'm missing something."
Medical education can be dehumanizing, says medical student Katharine Kelly MDx'17, who also is a teaching assistant in the class. The Healer's Art gives students a chance to explore their emotions and "maintain a sense of wholeness and humanity alongside our newfound clinical medical knowledge." Kelly particularly values the small-group discussions that conclude every session. When a few students and a faculty member or community physician talk in a confidential setting, "you're not trying to fix other people, but you listen and support your peers," she says. "It's a warm environment. It's really welcoming."
Away from class, as students go about their days, learning to become healers, they carry with them tangible reminders of the concepts they are learning. When they reach into the pockets of their white coats, they find a small stone — what Rakel calls "a meanings anchor" — passed out during the first class session to remind them of what gives them strength in the face of difficulty. They also find a colorful plush heart that nudges them to remember what to call upon as they greet the next patient: empathy.
David Lewellen is a writer in Glendale, Wisconsin, who often covers health and spirituality.
Published in the Summer 2016 issue