Peace in the Wake of Pain
The latest on the science of forgiveness — and why we need it now more than ever.
He's sitting in a room with glass walls in one of the tallest buildings on campus. From this spot on the Educational Sciences Building's top floor — a hidden oasis accessed by taking a rather spartan staircase behind a not-so-well-marked door — you can see the blue of Lake Mendota, the tops of trees on the Lakeshore Path, and a patchwork of brown and gray campus rooftops.
It's a place that makes the world below, and all of its problems, seem rather far away.
But on the streets and in the buildings several stories down, the bustle of campus and the unique complexities of life in today's world roll on. Several years into an exhausting global pandemic, judgment and disappointment continue to beleaguer family and friends over issues like taking a COVID test or wearing a mask. A polarizing election is over, but political conflicts still line up like dominoes. And the social media world remains inherently tumultuous.
At this moment, it seems plausible to say people are more tired and angry and at odds than at any time in recent memory.
Sitting in this glass room, back straight, hands clasped on the table in front of him, Bob Enright isn't here to say those conflicts don't matter. But he is happy to offer a way out of them.
Enright holds the Aristotelian Professorship in Forgiveness Science in the UW–Madison School of Education's highly ranked Department of Educational Psychology. He's also a five-time Nobel Peace Prize nominee, winner of the American Psychological Foundation's Gold Medal Award for Impact in Psychology, and author of the first scientific study on person-to-person forgiveness.
"When I started studying forgiveness in the social sciences, the idea was considered absurd," Enright says. "Not anymore. Why? An idea mattered, and an idea grew."
Can forgiveness help us all? Make us less depressed, less angry, more hopeful?
Enright has a simple answer: yes.
And he has years of scientific evidence to prove it.
The idea that grew
In 1985, Bob Enright was a self-described "obedient" academic.
A tenured professor in the School of Education, he focused his research on one of the most popular areas of psychology at the time: the moral development of children.
"And then I woke up one day and asked myself a very dangerous question," Enright says, pausing for dramatic effect. "It was, 'Who am I helping with my research?' "
Enright answered his own question rather brutally: no one. He wanted his work to reach outside scholarly inquiry and into people's everyday lives, and he didn't believe it was doing that.
"That was a crisis in my academic career," he says. "I threw all my research over a cliff. And I didn't have a new area to study."
The seed of the scientific study of forgiveness came not long after, during a conversation with a graduate student. Enright suggested approaching the academic question of moral development and justice from a different angle. There was consensus about the results of people behaving justly, but what about people behaving unjustly — and their victims?
"What happens to people when they're thrown to the mat of life by others being unfair?" Enright asked. "How do they get out of that?"
The resulting paper, published in 1989 by Enright and his then–graduate students Maria Santos MS'86 and Radhi Al-Mabuk PhD'90, was the first empirically based academic study focused on person-to-person forgiving, which Enright defines as the willing act of someone who has been treated unfairly to reduce negative thoughts, feelings, and behavior toward the person who wronged them. Enright notes that the forgiver also strives to offer more positive thoughts, feelings, and behavior toward the person they are forgiving, though they do not excuse the behavior, reconcile, or abandon the quest for justice. The paper examined how young people think about forgiveness and what circumstances make their forgiving more likely.
Enright remembers this time, at the outset of his study of forgiveness, as an intimidating personal crossroads.
"It was kind of like you've gone down a pathway, and the road in back of you has crumbled," he says. "We didn't really know what we were going to be facing — but it was literally my only choice."
"The huge inner pain is the motivator"
Over the past 35 years, Enright and his colleagues have worked almost exclusively with people who have been deeply traumatized and are looking for a way out of their pain. Enright says people who have suffered deeply for a long time — victims of domestic abuse, incest, and political violence, for example — are often the most likely to commit to the difficult process of forgiving the injustices done to them.
"The huge inner pain is the motivator — the possibility of the hope of a cure," he says.
A participant in one of Enright's most recent studies was four years old when his stepfather started molesting him at night and beating him with belts, shoes, and extension cords during the day.
"My stepdad would threaten to drown me and kill me if I said anything," the study participant said. "I was scared."
That study was groundbreaking. Published in 2021, it was the first to study forgiveness therapy with an incarcerated population in the United States. It offered forgiveness therapy to 24 men in a maximum-security institution, many of whom were serving life sentences for violent crimes.
Maria Gambaro '83, MS'86, PhD'02, a correctional psychologist who coauthored the study, acknowledges some may not agree with providing forgiveness therapy to people who have committed crimes. But she argues it is both appropriate and necessary.
"While we do not discount their victims' suffering, our focus in the prison is to rehabilitate inmates and help them work through and understand what led to their deep anger and resentment that resulted in criminal acting-out," Gambaro says. "If they do not learn to understand the history of their own pain and learn to view it from a different perspective, then they are likely to re-offend. This contributes to a cycle of more victims, more suffering, and more incarceration."
Gambaro and Enright's study found 26 weeks of forgiveness therapy effectively lowered participants' clinical levels of anger, anxiety, and depression. And, notably, those results remained at a follow-up evaluation six months later.
"The results of our study suggest that forgiveness therapy is a powerful treatment that can change the lives of inmates and prevent recidivism," Gambaro says.
Researchers in Spain took notice of the results and are conducting a similar intervention and study with an incarcerated population. Gambaro says she hopes many other studies will follow, fueling a large-scale change in rehabilitation policies for inmates in the United States and abroad.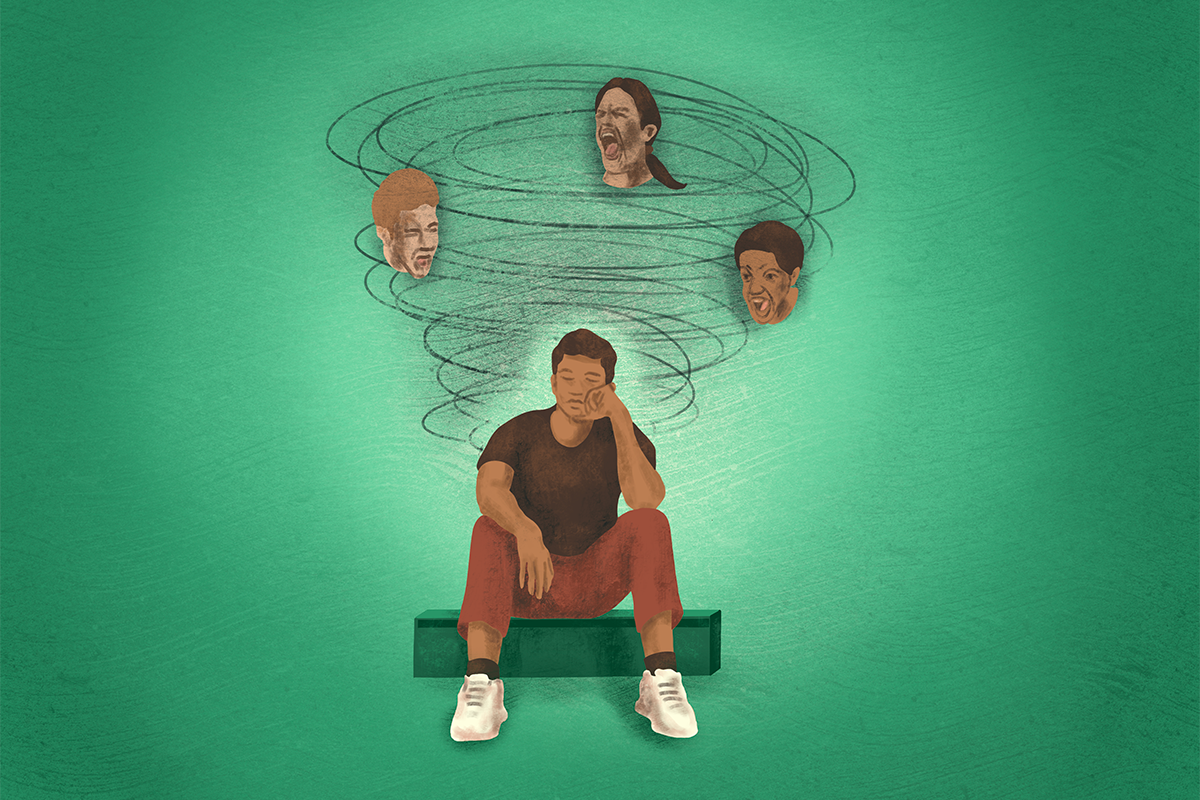 A more forgiving generation
In Belfast, Northern Ireland, Annette Shannon uses one of Enright's 14 forgiveness curricula to teach grade-school children about the concept of forgiveness. Only 24 years have passed since the Troubles in Northern Ireland, and the physical and emotional scars of the bloody, deeply polarizing conflict remain.
Shannon tells a story about the first day of the forgiveness curriculum in one of her classes.
"I had an eight-year-old say to me at the beginning of the program, 'But there are just some people you can never forgive.' You know that's not that child: you know that's coming from an adult that's in a very bad place, that's deeply hurt, that's passing that on to their child."
As the lessons continued, Shannon says she saw the concept "spark" with the students.
"It kind of unlocked something. It was great to be able to get, very quickly, to a point where you were having really important discussions about emotions and about forgiveness and about kindness and respect."
A 2022 study published in the journal Child Development offered the first broad analysis of classroom forgiveness curricula. It evaluated about 1,500 grade-school students in 10 countries who were taught forgiveness concepts.
As part of the study, researchers in an economically disadvantaged part of Milwaukee used something called the Beck Anger Inventory to evaluate anger levels in students before and after the forgiveness curriculum. A fifth-grade student told researchers he lives in a community with gang activity and had been experiencing severe bullying by a classmate. Before the forgiveness curriculum, his clinical anger level was recorded as "extremely elevated." Afterward, his anger was rated as "mild."
"We found that anger significantly decreased after such intervention," says Jiahe Wang Xu MS'18, MS'21, a doctoral student in the School of Education's Department of Educational Psychology and a lead author on the study. "Dr. Enright's work has changed many people's lives. It's very impactful."
"The results of our study suggest that forgiveness therapy is a powerful treatment that can change the lives of inmates and prevent recidivism."
Enright points out forgiveness education is not about teaching students to forgive. Instead, it focuses on instilling an understanding and appreciation of the concept of forgiveness. Enright is energized by the potential ripple effect of that understanding in communities — particularly communities that have experienced profound conflict.
"When students of forgiveness education grow up, maybe, just maybe, they'll have different views of how to solve these entrenched problems in their communities that haven't been he says. "They might be able to come up with a new vision for peace."
The path ahead
Across the country and around the world, thousands of researchers are now at work studying the effects of forgiveness and providing forgiveness therapy and education.
Suzanne Freedman MS'91, PhD'94 was one of the first graduate students to take up Enright's novel approach to moral development in psychology.
"To find a field in psychology that's new is really rare," says Freedman, who is now a professor at the University of Northern Iowa. "The idea of helping people heal from deep hurt really resonated with me."
Freedman built her career around the spark Enright lit almost 40 years ago. One of her first published papers on the topic, her dissertation, focused on forgiveness therapy for victims of incest. In the years since that study, Freedman has stayed in touch with the victims. She says they continue to experience peace year after year in the wake of deep pain.
"That's what's meaningful to me — that we're making a difference in people's lives," she says. "I just feel so fortunate that I'm still passionate about this topic. I owe that to Bob, for starting this field."
Freedman continues to provide forgiveness therapy and education to different populations, including fifth-graders and at-risk adolescents.
Applying the lessons of forgiveness outside these clinical and classroom settings could be a salve for the often-painful times we live in, Enright says. He points out that many people who haven't experienced profound trauma are still living with anger and resentment, and those emotions can create deep internal pain.
"Let's think about what forgiveness does, just at the basic level," Enright says, sitting in that glass-walled room overlooking campus. "When people forgive, they make a free-will decision to try and get rid of resentment and offer goodness." He adds that years of research have shown that seeing and accepting the humanity in others — the whole picture, good and bad — allows someone to truly forgive.
"What we are trying to see is: there is something to the person who hurt you," he says. "That's not happening in today's world."
The Aristotelian Professor in Forgiveness Science, the first of his kind, says Aristotle had the answer all along: seek the truth rather than thinking you already know it.
"When in conflict with others, seek the truth of knowing the other person on a deeper level," he says. "When that happens, resentment declines and peace can take its place." •
Laurel White is a research writer at the UW–Madison School of Education.
Published in the Summer 2023 issue