Madison, Revisited
The challenge: see, do, and eat what the UW's hometown has to offer in 36 hours.
We've been there before.
Visiting Madison to revive Badger memories, we order up the usual, frequenting the same places and reliving time-honored activities again and again.
That bowl of Berry Alvarez ice cream is calling our name at Babcock Hall. A plastic pitcher of beer awaits on the Union Terrace. The burgers, brats, and sticky-floored college bars that drew us away from textbooks, term papers, and 8:50 classes beckon.
Following that script is easy. Occasionally, though, it's fun to venture beyond our comfort zone and build fresh traditions. So, we spent 36 hours traipsing to untested venues, sampling innovative tastes, and plowing ahead with untried activities.
Along the way, we met an Iron Chef champion, admired Frank Lloyd Wright's rare Japanese art prints, soaked in a shimmering view of Madison's lakes from a brand-new roost, put on our dancing shoes, checked out a Huey helicopter, and browsed 13 types of cheese curds.
We scarfed a raft of cuisines, cruised museums, and got a little exercise.
Madison has enjoyed a rebirth as its people and tastes have morphed and diners' expectations have kicked up. It's become a foodie town, awash in creative restaurants.
"Dining has to offer an experience," says Sara Granados '10 at the Eno Vino Downtown Wine Bar and Bistro atop the AC Hotel. "Madison has a lot of restaurant options. Having good food and drinks isn't enough. You need to have the whole package."
Push away from the table, and you'll find that Madison deserves high marks as a destination. National Geographic Traveler named Madison one of America's top small cities, ranking it on such things as green spaces, coffee shops, breweries, and music venues.
We put those assessments to the test.
At noon on a Wednesday, the Good Food cart on East Main Street on the Capitol Square is running with choreographed efficiency. Workers in the cramped cart crank out signature veggie dishes, some with lean meat, and all with a low-carb profile.
The line lengthens as offices empty for the lunch hour.
The cart is the brainchild of Melanie Nelson '08, a zoology major and runner who had trouble finding healthy eating options as an undergraduate. She saved money from her bartending job and sank it into the food cart in 2010. She now has two carts — on Capitol Square and Library Mall, open weekdays 11 a.m. to 2 p.m. — plus a brick-and-mortar restaurant, the Good Food Café, on Cottage Grove Road on Madison's east side.
Working originally out of a commercial kitchen in a converted garage, Nelson built a reputation for her tasty menu. "We were fast as hell, but there was always a line," she says, noting that many of her customers are repeaters. "Attorneys would come down and I thought, 'You guys are earning $150 an hour, and you spend 20 minutes waiting in our line?' That says something to me."
At $8.50, the pad Thai salad melds spiral-cut veggies with red cabbage, onions, peanuts, greens, cilantro, and a wedge of lime — plus a choice of grilled chicken or tofu — all drizzled with a spicy peanut dressing.
Around the corner is an often-overlooked gem — the Wednesday Dane County Farmers' Market. With tables laden with beans, beets, and onions, Yeng Yang sells produce and carries on a family tradition at the corner of Wilson Street and Martin Luther King Jr. Boulevard.
His Hmong immigrant parents began growing vegetables in 1989 and have been selling at the market since 1992. "My parents did not want to accept welfare, so they began farming," Yang says. "I grew up farming most of my life."
The family operation grows vegetables in nearby Brooklyn, Wisconsin, and works both the Wednesday and Saturday markets.
"Wednesday is more of a buyers' market," says Yang, as he sells two bags of fingerling potatoes to a shopper. "We see the same people every week."
The Saturday market rings Capitol Square and commands a sea of visitors, but the Wednesday affair is more laid back. A wild rainbow of produce is heaped on the tables: broccoli, cauliflower, herbs, poblano peppers, melons, spuds.
Dairy farmer Tom Murphy's family sells 13 varieties of cheese curds, plus fresh-baked cookies and bars. Murphy Farms has also been at the market for a quarter-century.
"This market saved my family farm," says Murphy, of Soldiers Grove, Wisconsin. "We're in our sixth generation on the farm and people saved it by buying our products."
A 15-minute walk lands us at Madison Sourdough on Williamson Street. A popular breakfast and lunch spot, it has a bakery producing breads, rich French pastries, croissants, scones, macarons, and cheesecakes.
A dense, rich pistachio Breton ($5) and a chocolate-almond croissant ($3.75) make up our midday snack, along with cups of steaming coffee. Executive chef and general manager Molly Maciejewski uses traditional French techniques.
"We source many of our products locally and mill much of our own flour," she says. "It keeps more money in the local economy [and] supports farmers, and milling our own flour helps bakers, because it gives them more control."
The bakery has a friendly energy. "It's very neighborhood centered, with a family vibe, and we like that," Maciejewski says.
With only wayward crumbs remaining, it's back to downtown and the Madison Museum of Contemporary Art, which occupies the prow of the Overture Center on State Street.
The State Street gallery featured the metal sculptures of Jaume Plensa in a display titled Talking Continents. The suspended steel forms appeared to float in the gallery. Other galleries feature works in video, film, painting, prints, and fabric and are staffed by knowledgeable docents. In May, the museum welcomed Far Out: Art from the 1960s.
One can't-miss feature is the museum's store, which has a stunning array of goods from designers and studio artists — including jewelry, wood, leather, glass, and metal work as well as children's gifts, art books, and cards.
Soon, dinnertime arrives. Just off State Street, we find out whose cuisine reigns supreme.
Tory Miller began his restaurant career working in his grandparents' Racine, Wisconsin, diner — the Park Inn — and today he owns four Madison fine-dining restaurants: Estrellón, Graze, L'Etoile, and Sujeo.
His skills, honed at the French Culinary Institute in New York, have earned him the James Beard Award as the Best Chef: Midwest. Then, in January, his friends and fans gathered at Estrellón's bar on West Johnson Street to watch him defeat rarely vanquished celebrity chef Bobby Flay on the Food Network's Iron Chef Showdown.
"It's very intense," says Miller. "You're pretty much competing against the ingredient. It's wild to be on a show I grew up watching and take out somebody like Bobby Flay."
We tried Estrellón, a Spanish restaurant with elegant, creative cuisine and a warm feel. "We wanted people to feel like you were coming into our house," Miller says.
The Spanish Experience Chef's Dinner for Two ($90) includes a selection of tapas, a mixed-beet salad with smoked goat cheese and a subtle horseradish sauce, and a sweet treat of Basque cake with frozen custard and fruit compote. In between, there was a crusty bread with tomato; Tamworth ham pintxos; a tortilla with egg, potato, onion, and aoli; croquettes made with smooth Spanish manchego cheese; grilled octopus; and a paella made with bomba rice, chicken, shrimp, clams, mussels, and chorizo.
Miller locally sources ingredients. "Proximity to great food and agriculture is what keeps me here," he says. "People rave about the Rhône River valley in Europe or Napa Valley, but to me, the Driftless Region is something untouchable for growing super-delicious food prolifically."
Sated, we head off for a novel nightcap.
For some at The Brink Lounge, Wednesday night is beer night. For others, it's date night or a break from the routine. But for more than 30 souls — a mix of regulars, curious onlookers, and the experimental few — it's time for some high-energy dancing.
The lounge is part of a trio of bars and entertainment venues in what was once a secondhand store. It's also part of a neighborhood teeming with new residential, commercial, and entertainment developments at downtown Madison's eastern gateway.
Every Wednesday at 9 p.m., The Brink features Jumptown Swing Dance, a group born as a UW–Madison student organization. Eventually, Jumptown became a community-based group that holds classes and events to teach people to swing dance — especially the Lindy Hop. With a DJ playing the swing rhythms of Cab Calloway, Benny Goodman, Artie Shaw, and a variety of more contemporary swing artists, people discard their inhibitions and dance.
"It's people trying to have fun. You can have a party for two for three minutes," says Sarah Zabinski, a Jumptown instructor and a 14-year member member of the group. "We're all dorks, so silly things happen on the floor."
On day two, the dawn finds us confident we can outsmart cholesterol science. That puts us at The Curve, a Madison diner just six blocks south of campus, next to Spike-O-Matic Tattoo, at the bend in Park Street.
The Curve is owned by Bill Antonie '90, a Badger outside linebacker in the late 1980s. He's still beefy, with an easy baritone laugh that erupts after summarizing what satisfies him most: "Everybody yaps and yaps and then, all of a sudden, they get their food and they shut the hell up."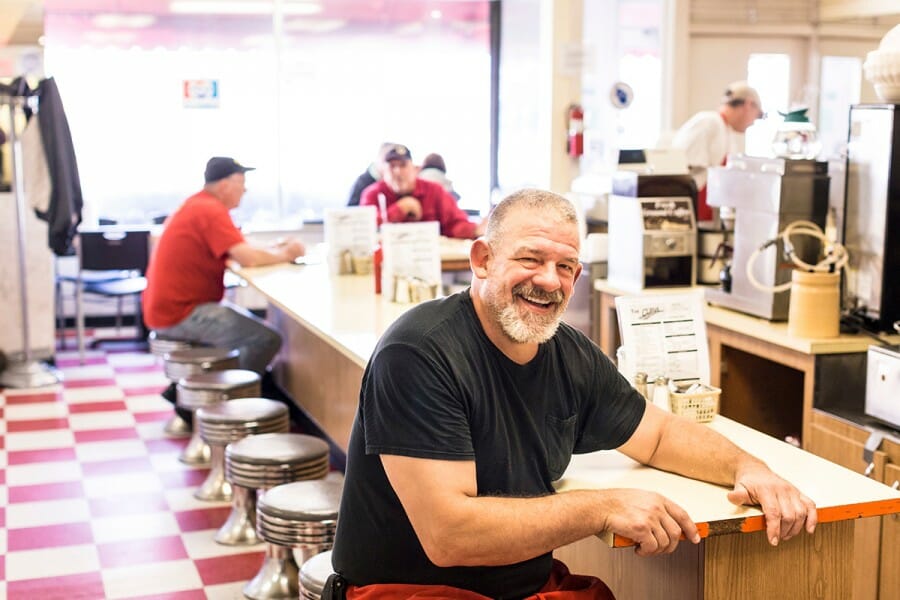 Antonie started working in his parents' Monona truck stop diner at age nine. "If I was working for the state or any other company, I'd be retired with a gold watch, but instead I'm sweeping the damn floor."
Eggs, wheat toast, and corned beef hash arrive on an oval platter, delivered by Kathy Tracy, a 26-year veteran waitress behind the U-shaped Formica counter where politicians, students, hospital workers, university administrators, and neighbors gather.
Antonie is a jack-of-all-trades, flipping eggs and bacon on the flat-top. He whips up his special-recipe corned beef hash every other Saturday (and every Badger football Saturday).
To work off the $6 breakfast, it's off to the Wisconsin Veterans Museum on the Capitol Square.
The free museum, operated by the state's Department of Veterans Affairs, is compact but jammed with fascinating artifacts and exhibits.
World War I Beyond the Trenches marks the war's centennial. It combines displays and artifacts such as trench periscopes, a German MG08 machine gun, and uniforms, and features compelling interviews with Wisconsin soldiers.
It also features exhibits on 20th-century military conflicts, including a World War II Jeep, artifacts from the battleship USS Wisconsin, and a Vietnam-era Huey helicopter.
Peckish again, it's time to seek and destroy some pizza.
This time, we turn to vibrant Monroe Street, with its wealth of shops and restaurants. Pizza Brutta is tucked behind a stone-arched façade and offers wood-fired Neapolitan pizza.
"Neapolitan pizza is simple," says co-owner Derek Lee, a professional pizza maker, or "pizzaiolo," certified by the Verace Pizza Napoletana, the association for authentic Neapolitan pizza. "There's no sugar, no extra ingredients. It's just crushed tomatoes, handmade fresh mozzarella, sea salt, olive oil, and our dough. It's an exercise in restraint."
Of course, there are other toppings, too. We chose the $12 salame funghi, featuring oregano, salami, cremini mushrooms, and saracene olives and delivered steaming after just 90 seconds in the 900-degree brick oven.
Lee's co-owner, wife Darcy Lee '96, says Pizza Brutta uses locally sourced organic products. "In Naples, they depend on a local food system. It was a way for us to marry business with helping the environment."
By now, exercise seems appropriate, so it's off to a nearby BCycle rack to use the city's convenient bikeshare program for a junket west of campus.
In 2017, renters rode 300,000 miles, burning off 11.9 million calories. With several dozen stations around Madison, you can rent one of the red bikes, outfitted with a basket and a lock. A $6 daily pass, which covers unlimited 30-minute rides, is required. Additional time goes for $3 for 30 minutes.
"Badgers and bikes are a great blend," says Morgan Ramaker '06, MBA'17, director of Madison BCycle. "It's a way to cover more ground and see Madison without parking hassles."
Headed west on the smooth-riding bikes, we begin a mini–Frank Lloyd Wright x1890 tour. First stop: the Eugene A. Gilmore House, known as the "airplane house."
Wright built the house for Gilmore, a UW law professor, in 1908 on the highest point of University Heights. Its copper-roofed wings extend from a center pavilion with a triangular balcony — which gives the home the appearance of an airplane. It remains a private residence, unavailable for tours.
Ten minutes away is the First Unitarian Meeting House. A National Historic Landmark built in 1951, it's a magnet for Wright devotees. Its design, with a soaring copper roof evoking a church steeple and a triangular auditorium, has influenced religious architecture since it was completed.
Our guide points out Wright's signature plywood furniture and Hiroshige's early-nineteenth-century prints — once part of Wright's collection — in the loggia. Wright said the simplicity of Japanese art, which he sold early in his career to supplement his income, greatly influenced his work.
After the tour, there's still time for nature. Just more than a mile away is Frautschi Point, part of the Lakeshore Nature Preserve, a lesser-known area west of Picnic Point. There's a parking lot off Lake Mendota Drive, and a short walk yields an elevated view of Lake Mendota, beneath a canopy of burr oaks, white oaks, and shagbark hickories.
A wooden staircase leads to the lake's edge at Raymer's Cove. The spot offers a view of the Middleton shore and of sandstone cliffs where Raymer's Ravine meets the lake.
With the clock ticking on our rented bikes and our 36-hour adventure, we pedal to a new vantage point.
Eno Vino Downtown Wine Bar and Bistro combines urban attitude with panoramic altitude. It offers a 10th-floor penthouse view of the state Capitol, just a block away, and Lakes Mendota and Monona.
The eclectic menu features a globally fused array of cheese boards and dishes with small-plate influences ranging from Greek to Korean to Italian. Its floor-to-ceiling windows and a ninth-floor outdoor terrace provide a vivid atmosphere.
After Eno Vino opened in 2017, social-media selfies helped drive success. "People started asking, 'Where is that view? We've never seen it before,' " says general manager Jennifer Cameron. "It was a snowball effect."
Eno Vino commands a big-city vibe and a glass wine case holding hundreds of bottles. After glasses of wine with small plates of goat cheese tortellini ($12) and lamb meatballs ($13), there was just enough time to crown our 36-hour expedition.
Just a 25-minute walk away, we settled into sunburst chairs on the Memorial Union Terrace with bowls of Berry Alvarez ice cream to catch a perfect sunset.
New adventures are great, but some habits die hard.
Dennis Chaptman is a former director of news and media relations for UW–Madison.
Published in the Summer 2018 issue