Long May They Run
The Emperors of Wyoming recorded their successful first album via email.
It started more as a joke among four friends. "We should make a record together," one of the members of The Emperors of Wyoming suggested offhandedly one day, never imagining they could become a fully functioning band. But it turns out the joke was on them.
Despite moving to different parts of the country, longtime friends Phil Davis '76, MA'81, Butch Vig '80, and brothers Pete '76 and Frank Anderson hatched an unconventional plan to create music. They used more than forty years of friendship — including playing in several well-known Madison groups during the seventies and eighties — to craft a new band and eventually produce an album via email.
This is no amateur endeavor. Vig, who co-founded Madison's Smart Studios, is a drummer for the band Garbage and produced records for them, Green Day, Nirvana, Smashing Pumpkins, and many others. He also had his own popular Madison band, Spooner. Davis and the Andersons, members of the local group Buzz Gunderson, are also experienced veterans of the Madison music scene, and Vig and Davis were in Fire Town, which recorded two albums for Atlantic Records in the late '80s.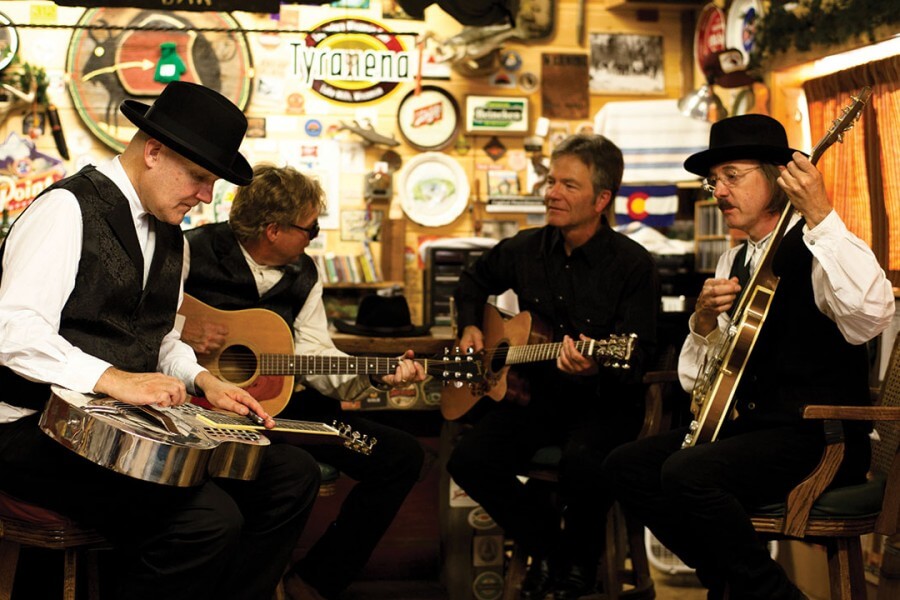 The four named their band The Emperors of Wyoming in homage to the similarly titled Neil Young song, although none of them live in Wyoming. Davis lives in Madison, Vig and Pete Anderson live in California, and Frank Anderson resides in Appleton, Wisconsin. They began work in 2009, first by recording their parts in their own studios, and then emailing each other the segments and slowly piecing together the songs. After a couple years of gradually putting together the record and then mixing it at Wonder Wonder Sound studio in Milwaukee, the album came out on European-based label Proper Records. In 2014, it was released in the United States by Liaison Music.
Davis says that sending audio files via email was a quicker, more efficient way of recording than mailing tapes back and forth.
"On tapes, the sound would shift and change, but with these digital files, they're exactly how they were when I sent them to Butch or when he sent us rhythm tracks," says Davis. "And I could send it out within a half hour so everyone could listen to it and react to it." The group also enjoyed putting songs together at a leisurely pace when they had a spare moment. "It was like a slow-motion studio," says Pete Anderson. "Someone could come up with an idea for the song the next morning."
"That was what Emperors was all about, was seeing if we could do it and how it would work," Davis says. "We could experiment with sounds and see how it would all come together. … It gave us more opportunity to try things than if we were in the same room together recording. We had no time constraints, no record-industry people offering their advice, and no real budgetary pressure."
On the album, the band flexes its country-rock influences, many of which they heard in their younger days in Madison.
"I liked the idea of writing songs in an alt-country vein and bringing the influences that all four of us grew up with, like Johnny Cash and Neil Young and The Band and Tom Petty," says Vig. "Americana is the best way to describe those artists."
"There's no way we had any idea when we were going to college that the world would change so fast that we would be making our records thirty years later on home computers."
The album came out to critical acclaim and was hailed by David Gerard on examiner.com as one of the ten albums in 2014 that mattered. The band received offers to perform on David Letterman and to play in Europe, but they didn't want to rush into it until they felt their live show was ready. They rehearsed in a barn outside Arlington, Wisconsin, that overlooks a gigantic cornfield. "You know you're in Wisconsin when you're rehearsing in a barn," Vig says.
When they did perform together at Madison's High Noon Saloon and Appleton's Mile of Music in summer 2014, things quickly fell into place.
"It was easy. It was just like another gig," says Frank Anderson.
"The hardest thing is to create that excitement when you're playing by yourself in your own studio, so it was a real joy to play with the guys again," Pete Anderson adds.
Born Badgers
Davis and the Andersons first met in the mid-seventies as undergraduates and soon found common ground playing in bands. (Davis calls Frank Anderson an honorary alum, since he used to sneak into random classes that interested him. "I think I attended classes more than some students who were enrolled," Anderson says.)
"There's something about coming from Wisconsin and going to school here," says Davis. "We were born Badgers and remain Badgers, and when we got back together, it seemed very natural. And it certainly wouldn't have happened if we hadn't all come to the university."
"Playing music was a great way to make money back then when you were a student," says Pete Anderson. "It sure beat a part-time job. It was a lot better than minimum wage."
The three friends eventually went on to create the popular Madison band Buzz Gunderson and then ended up moving to California. Davis later returned to attend graduate school in journalism at the UW, where he met Vig, who was finishing his undergraduate degree. They started playing in bands, including Fire Town, went on tour, and got airplay on MTV with three music videos.
But for a time, the four members of The Emperors of Wyoming went their separate ways. Vig pursued a career as a producer in Los Angeles. Pete Anderson started working in the wine industry in northern California. And Frank Anderson put down roots in Appleton, making films ranging from commercials to animation.
The four never envisioned how technology would make it possible for them to once again be a band. "There's no way we had any idea when we were going to college that the world would change so fast that we would be making our records thirty years later on home computers," Davis says.
These days the band is working on new material, trying to align schedules to allow for in-person recording sessions, and hoping to play more shows.
"What we realized was that we have a really good live band," Davis says.
Joshua M. Miller is a nationally and locally published freelance writer based in Wisconsin
Published in the Fall 2015 issue