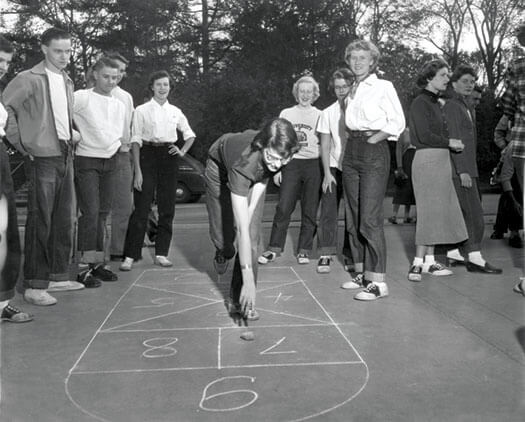 Take a hop, skip, and jump back in time, and you'll land in a period when, for Badgers, "Jump Around" meant something other than the start of a fourth quarter at Camp Randall. The golden age of campus hopscotch ran from 1927 until the early 1960s, with the male residents of Tripp Hall's Frankenburger House battling the women of Liz Waters's Unit IV in an annual contest for leaping supremacy.
The prize for winning the hopscotch tournament was an actual trophy — a silver loving cup — and winning it was a major point of pride. The residents of each house practiced through the fall to prepare for the event; the Frankenburgers did so on a hopscotch court painted in their house basement. Typically, the tournament festivities began with the men issuing a ritual challenge, marching by torchlight (okay, toilet paper torches) to Liz to deliver an inscribed invitation (written on toilet paper — evidently, resources were limited). The women of Liz IV answered with chants and jeers, and the battle was on.
The competition ran until at least 1964, but in time, its heat waned. Other houses tried to take up Franken-Liz's mantel. In 1965, for example, the men of Kahlenberg House took on the women of Cool House. But the glory days of hopscotch had faded.
Published in the Spring 2013 issue