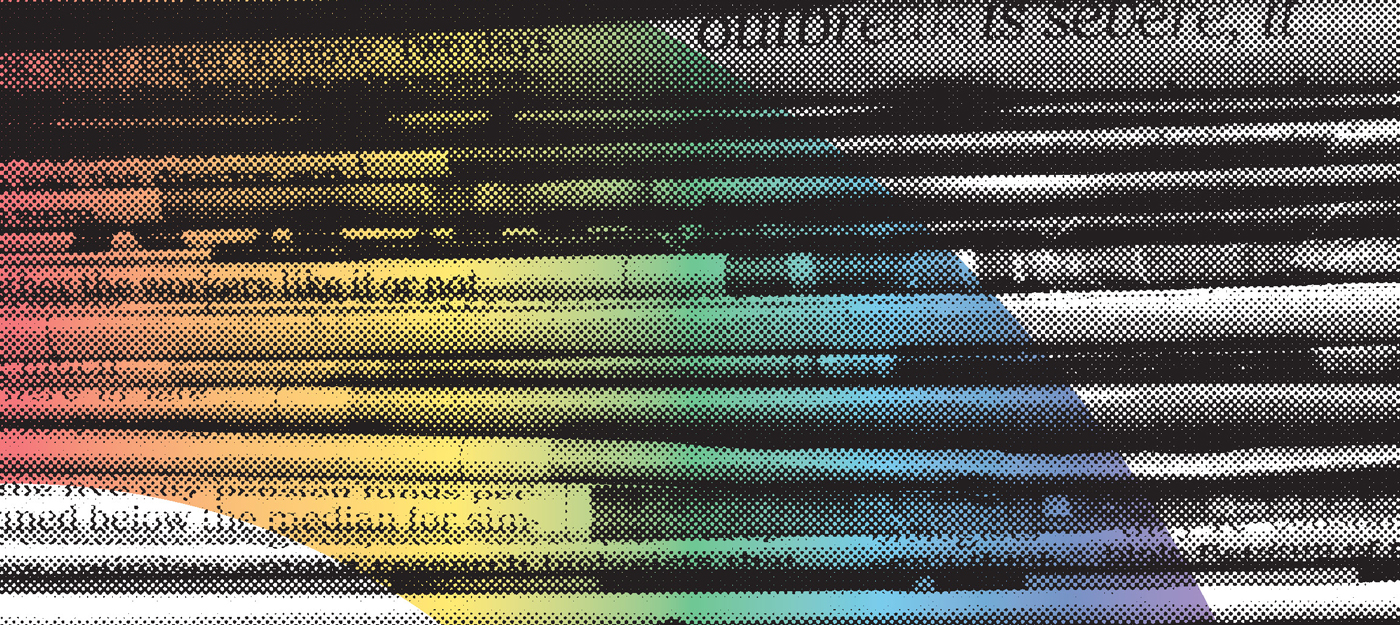 Journalism's Last Best Hope
Young reporters use new strategies to bring local news back from the brink.
By Jenny Price '96
As the death count from COVID-19 began to rise across the country last spring, Peter Coutu '18, a reporter for the Virginian-Pilot, earned a somber nickname from a reader: the Grim Reaper.
Coutu reported early on in the pandemic about potential problems stemming from the region's lack of hospital capacity, which struck the reader as being somewhat alarmist. Coutu wasn't deterred. He continued to tally new cases and share his findings with readers via a daily tracking website, even sending additional information to readers who asked for it. He also investigated the state's low rate of testing and the issues exacerbating the spread of cases in nursing homes.
"I try to run at every story like the information can be lifesaving," Coutu says.
The stakes have never been higher for media outlets to find a way to keep going. Conventional wisdom had written print journalism's obituary many times over before the pandemic, as revenues declined and outlets changed owners or shut down entirely. Experienced editors and reporters took buyouts and were not replaced. And polls showed Americans had lost trust in the news media over concerns about bias and accuracy.
But there are signs of hope for journalism, starting with a 2018 Gallup poll that found that almost 70 percent of those who have lost trust say it can be restored with accuracy, lack of bias, and transparency. In recent months, websites for local newspapers and larger media outlets like the Washington Post drew more readers following the arrival of the pandemic in the United States, according to a New York Times analysis. And an Associated Press poll last spring found that more than two-thirds of Americans trust information from the news media about the coronavirus outbreak either "a moderate amount" or "a great deal."
If trust in the news media is poised to make a comeback, it will germinate in the daily work of local journalists. Their ranks include recent UW–Madison graduates using skills they developed in the School of Journalism and Mass Communication that hold the promise of preserving their rapidly evolving profession's essential role in a democracy.
"A lot of people think this generation of 20-year-olds is a selfie-addicted, social-media-loving, vapid group of people," says Kathleen Bartzen Culver '88, MA'92, PhD'99, an associate professor and director of the UW's Center for Journalism Ethics. "That is not who shows up in my classrooms. That's not who's out in these newsrooms."
"I try to run at every story like the information can be lifesaving."
— Peter Coutu '18
LESSONS IN TRANSPARENCY
In the months after a city employee killed 12 people and wounded four others at a municipal building in Virginia Beach in May 2019, the Virginian-Pilot staff debated the value of follow-up stories. Some readers thought the newspaper was milking the incident.
Nevertheless, Coutu says he felt responsible for investigating complaints about a toxic work culture in city government. "You don't want to come across as passing the buck for who's responsible for the shooting, because obviously the shooter is," he says. "At the same time, what I've heard from experts on this subject of workplace violence is that it's key to really interrogate these things, because it can lead to more incidents in the future."
Coutu developed his approach to handling sensitive stories during his undergraduate studies at the UW, where he was a reporter for the Daily Cardinal. With help from Culver, he learned how to get on sources' wavelength and make his intentions clear. "It makes sense that some people don't want to talk to the media, and they are going to be a little bit upset if you reach out," Coutu says. "I've tried to just be as explicit as possible when communicating why I'm reaching out and what's the point of the story."
Culver says this approach — transparency — is essential to building trust with readers. "We need to do more to say why we make the choices that we make, because what seems completely normal to you inside the newsroom feels abnormal to people on the outside," she says.
WHAT JOURNALISM DOES WELL
In recent years, there's been a push for change like this across the profession. "I think there's mystery about how we go about our work. Let's just be more transparent about how we pursued the story," Washington Post editor Marty Baron noted in 2017 at an inaugural ethics summit hosted by the Poynter Institute for Media Studies.
For the last four years, Culver has done her part to transform the practice of journalism, putting on what she calls a "road show" focused on truth and trust. She delivers this talk mainly in community centers, churches, and libraries. She focuses on how the future of journalism depends on reporters being more accountable, defending the value of their work, and engaging more with audiences. She cites a Gallup poll in which 71 percent said a commitment to transparency is very important, alongside accuracy and an unbiased approach.
"I've never seen a more important time for journalism ethics, and I've never seen stronger ethical practice among the group of individuals like these [recent journalism school graduates]," she says.
Culver's public talks explore people's distrust of the news media. Frequently, she says, it arises from their assumptions about liberal or conservative bias. In response, she points to media's important role in reporting on topics like money, security, and health. Culver thinks health stories, in particular, exemplify the valuable service that local journalism provides, such as reminders about when to get the flu shot or availability of COVID-19 testing. "That's the kind of thing that journalism does well but doesn't get enough positive attention for," she says.
"Sometimes it's exhausting and heartbreaking. Other times I can see that I've made a difference, and that feels good."
— Madeline Heim '18
ACCOUNTABILITY MATTERS
In her role as a health and science reporter for the USA Today network based in Appleton, Wisconsin, Madeline Heim '18 (a former On Wisconsin intern) received positive and negative feedback in equal measure in the first few months of the coronavirus outbreak in the United States. Her reporting included stories about the state's testing capacity, how the pandemic could affect pregnant women and accommodations for people with disabilities, and advice from epidemiologists on how people could guard against exposure to the coronavirus during ongoing public protests against police violence.
"I routinely get pushback saying that I don't write about the 'positives' enough," Heim says. "I try to respond to most negative emails I get. Usually, people don't write back. But sometimes they do, and sometimes that can start a good dialogue."
Before COVID-19, Heim covered stories ranging from how farmers are dealing with climate change to whether local retailers were selling liquid nicotine — better known as "vape juice" — without federally required child-resistant caps. She also reported on the revelation that Ascension Health, which operates clinics in Wisconsin, shared the personal health records of millions of Americans with Google.
Most of the calls and emails Heim received in response to the Ascension story were positive, but one woman called to accuse her of fearmongering. The caller said a nurse at her local clinic insisted they did not share patient data. Heim took the time to explain the release happened at the national level, and that's why the nurse may not have heard
about it.
Culver is greatly encouraged by Heim's approach. "It should make us very optimistic, because the news media ultimately are accountable to the public,"
she says.
And Heim's work demonstrates the benefits a single journalist can bring to a community. "Sometimes it's exhausting and heartbreaking. Other times I can see that I've made a difference, and that feels good," Heim says.
THE STORIES NO ONE TELLS
During her six months as a digital producer for WTMJ in Milwaukee, Alexandria Mason '17 worked at a breakneck pace to mine police reports, tweets from public officials, and other sources for her stories. It was her first job after finishing her undergraduate studies at the UW and graduate school at the University of Southern California.
Mason experienced firsthand how much viewers rely on local news. She fielded between 15 and 20 calls a day, answering questions about weather-related school closings and even Green Bay Packers scores.
Last year, Mason moved on to Black Nouveau, a monthly news program on Milwaukee PBS. She uses her reporting skills to find stories about African Americans that don't usually find their way to the nightly newscasts. "Young Black people turn on the news and see a lot of people who look like them in mugshot form," says Mason, who is African American. "We don't see a lot of positive stories."
"I hope for future stories that I can continue to connect with people and show myself as a credible reporter and producer who's not trying to make a gimmick out of their experience."
— Alexandria Mason '17
As a Milwaukee native, she knew there were other narratives to show viewers. In recent months, she's covered a fellowship program for young Black men to bring more of them into early childhood education jobs and profiled Corey Pompey, the first Black director of bands at UW–Madison. She also previewed an art exhibit that paired portraits of African American and Latino men with their own words imagining their lives beyond stereotypes.
"When you're talking to more underrepresented groups about really sensitive issues, it's hard to get people to put their stories forward and just be completely open and honest," Mason says. "I hope for future stories that I can continue to connect with people and show myself as a credible reporter and producer who's not trying to make a gimmick out of their experience."
After the death of George Floyd in Minneapolis, Mason began work on a miniseries highlighting young people finding their voice in the burgeoning protest movement. When COVID-19 hit Wisconsin, she worked on stories about its impact on the community, particularly the disproportionate numbers of African Americans getting the virus.
She produced a piece on a Milwaukee church partnering with Khris Middleton of the Milwaukee Bucks and several Black-owned restaurants to feed hundreds of families in need. And she interviewed the owner of a once-bustling nail salon to show the effect of closures on Black-owned businesses.
"It's a responsibility I take very seriously," Mason says. "I think this pandemic feels a lot scarier than those of the past because there's really no escaping the information overload. Everyone has a platform and a theory and in some cases a conspiracy. So the best I can do is make sure I'm providing accurate information on whom this pandemic is impacting and who is working to help."
What do you think of local news?
Nearly 6 in 10 Americans consider their local newspaper an important symbol of civic pride or one of the most important symbols of civic pride in their community. (Knight Foundation)
76 percent of Americans across the political spectrum have "a great deal" or "a fair amount" of trust in their local television news, and 73 percent have confidence in local newspapers. This compares to 55 percent for national network news and 59 percent for national newspapers. (Poynter Media Trust Survey)
86 percent of Americans say everyone should have access to local news, even if they don't pay for it. (Knight Foundation)
1 in 5 Americans has supported local news in the past year by subscribing to, donating to, or purchasing a membership to a local news organization. (Knight Foundation)
THE KEY TO THE FUTURE
Early in the spring semester — two months before Marquette University shut down in response to the coronavirus outbreak — 22 students crowded around a conference table in an advanced reporting class. Their professor, Dave Umhoefer '83, is a veteran journalist who won a Pulitzer Prize for local news reporting at the Milwaukee Journal Sentinel. Umhoefer joined the faculty as director of the O'Brien Fellowship in Public Service Journalism in 2017.
He reminded students that the national media would descend on Wisconsin in the summer as the battleground state planned to host the Democratic National Convention. But Umhoefer didn't want his students to follow the lead of countless reporters who would have dropped into — and just as quickly dropped out of — the same barbershops and diners to extract quotes from residents. Instead, he tasked them with looking at the presidential primary through the eyes of potential voters in predominantly African American and Hispanic Milwaukee neighborhoods where turnout was high in 2008 and 2012 but shrank in 2016.
He stressed that his students could only build credibility with local residents and political organizers by going back multiple times to speak with them to understand what's motivating voters.
Umhoefer told students to be respectful and thoughtfully approach people in communities where they have no existing relationships. This is not a discussion that would have taken place in the Journal Sentinel newsroom just a few years ago, says Umhoefer, who was 23 when he began working for the newspaper. "We came out of the ivory tower, and we did what we did," he says.
The students adapted to working remotely once they scattered back to their hometowns, interviewing their newly developed sources about their preferences and enthusiasm for the November election and uncovering perspectives that might not have been shared otherwise.
"I think the mainstream media have to be better at connecting with people on their terms, not us dictating what kind of stories we think are important to them," Umhoefer says. "It takes more effort. And the idea is, you get a much deeper story and then you can come back and do another one, because you weren't there just as a one-off. You're building a reputation as somebody who cares about getting the full story and treating people with respect."
Culver agrees that local news organizations should invest time and energy into getting their reporters out into communities, but she emphasizes that readers and viewers must understand those efforts cost money, especially when outlets have been hit hard by the pandemic and some are already shuttered.
"We are following this pandemic globally, but we are living it locally. I think that's why we see both traffic and trust ticking upward in some polls," she says. "Local news outlets should be investing in practices that we know build trust. But all of us should be investing in the community news that we need now more than ever."
Jenny Price '96 is a former On Wisconsin coeditor and worked as a reporter for the Associated Press.
Published in the Fall 2020 issue