Finding a Voice, against All Odds
The UW Odyssey Project empowers nontraditional students to speak up and pursue their dreams.
Char Braxton hasn't forgotten how she felt after her high school guidance counselor told her she wasn't college material.
"I can remember those words banging off the walls and ceiling, shooting straight at my heart and ripping it open," she recalls. "I remember at graduation, everyone throwing their caps up in the air and talking about the colleges that they were going to go to. And just those words from my counselor saying, 'You're not college material,' just hurt me deeply. I was consumed with darkness; I felt hollow inside, disconnected and nonexistent, my dream shredded."
Still, Braxton didn't give up on her dream. One day, she stumbled upon a flyer at the Goodman South Madison Library, where she loved to read. It advertised just what she was seeking: a path to college.
The flyer was for the Odyssey Course, a six-credit, yearlong UW–Madison humanities class for adults facing economic barriers to higher education. Each year, it typically accepts 30 students — from teenagers to seniors — to study figures such as Frederick Douglass, Socrates, William Blake, and Emily Dickinson. By focusing on the humanities, the Odyssey Course empowers its students to find their voices and to create change in their lives and in the community.
Fifteen men at Wisconsin's Oakhill Correctional Institute completed Odyssey Behind Bars for class credit in fall 2019. In addition, several hundred men in the Fox Lake prison have completed Odyssey's enrichment programming over the past few years, and Odyssey video material has aired on the prison television channel to all 400 inmates at the Wisconsin Resource Center.
A New Pathway
The Odyssey Course is the flagship of the UW Odyssey Project, launched by Emily Auerbach '76, the project's codirector and a UW English professor. Now in its 18th year, the project has four core programs: the course; Odyssey Junior, which offers classes for the children and grandchildren of Odyssey students and alumni; Onward Odyssey, which helps alumni of the Odyssey Course continue to pursue their dreams and college degrees; and Odyssey Beyond Bars, which brings credit-bearing and noncredit UW courses to Wisconsin prisons.
Auerbach started the UW Odyssey Project after talking with Wisconsin Public Radio's Jean Feraca about the Clemente Course in the Humanities, a free class available to underserved adults nationwide. Although serving as a partial model for Odyssey, the Clemente course didn't entirely align with Auerbach's personal philosophy, and so she looked to a second model — one she knew well.
Her parents, Wanda MS'72 and Bob, attended Kentucky's Berea College, which is tuition-free and also the South's first interracial and coeducational college. Wanda grew up in Appalachia with no running water; Bob and his family had narrowly escaped Nazi Germany, and money was tight.
Auerbach knew the important role that Berea College had in lifting her parents out of poverty and clearing their paths to advanced degrees. She wanted to see the Odyssey Project mirror the college's model, equipping students with the tools to break the cycle of generational poverty. To do this, Auerbach knew that offering classes alone was not enough.
As a result, Odyssey covers all course-related costs, including tuition, textbooks, and — during the pandemic — WiFi. The project also offers free child-care and meals during the weekly course, as well as providing financial support to the 75 percent of Odyssey graduates who go on to enroll in further college coursework. Although the pandemic has forced the project to adapt its in-person format to online, current students still receive funds to pay for meals and childcare during nights when class is in session.
"At the heart of the Odyssey Project is the belief that every student who enters our program — and we've admitted over 500 students now — has gifts that are waiting to be unwrapped," Auerbach says. "They have voices that we hope to nurture, and they have dreams that can be achieved if we provide support and a pathway."
Early on, the Odyssey Project faced skepticism. Auerbach and Feraca spent three years raising money and gaining institutional support before the first Odyssey Course began in fall 2003.
"I think a lot of people have the notion that if you're living in poverty, why would you want to read Blake and Socrates? Why would you want a humanities course? It's not practical. It doesn't put food on the table right then," Auerbach says. "But, in fact, there was a hunger for a program that would be a jumpstart into college. We had almost 100 applicants for the 30 spots that first year — every year, I turn qualified applicants away."
Auerbach always memorizes each student's first and last names prior to the initial class.
"I walk into class and go around the room and say all their names," she says. "At that point, they know I see them. They know I don't want them to drop out. They know that each one is important as a voice in the symphony that is our class."
Not a Regular Class
Brian Benford '18, MSW'20, who graduated from Odyssey in 2007, remembers his first day vividly.
"Emily said, 'You know why I know all 30 of your names so clearly? Because I had to turn away a hundred people.' That really hit home that this wasn't going to be a regular class."
Benford learned of the UW Odyssey Project in 2006. At the time, he was serving as a Madison alderperson.
"I had four kids, and I felt really good about my career. I felt really honored to serve the city of Madison, to open doors of public policy to other people," he says. "But the one thing that was always missing throughout my life was that, here you live in this city where the flagship is UW–Madison … and I felt like I was an outsider."
He hadn't finished his bachelor's degree because of challenges like raising children on a low income.
"I'm preaching to my kids that to reach your full potential, educational pathways are so important — but I didn't have a degree," he says.
"There's someone that's saying, 'Oh no, we're not giving up on you,' and that's what's so important."
He thought the Odyssey Course could be an opportunity to explore going back to school, although he didn't know if returning to college would be feasible. On that first day in Odyssey, though, Benford was hooked. He noticed the diversity in the classroom and individuals who had faced tremendous obstacles. Some had been incarcerated.
"It was very humbling," he says. "Here, maybe I thought at times my life was rough, but to see these other people that were committed to being lifelong learners was amazing."
The course wasn't easy, but the support throughout was unflagging. It buoyed him as he pursued his bachelor's and master's degrees at the UW, especially when — as he neared completion of his bachelor's degree — he was diagnosed with cancer. As he began to recover, the Odyssey Project helped him get back on track by supporting him both in tangible ways, such as paying for books and courses, and in intangible ways.
"There's someone that's saying, 'Oh no, we're not giving up on you,' " Benford says, "and that's what's so important."
Char Braxton, who found the Odyssey flyer in the Goodman library, graduated from the course in 2006.
"Odyssey made me feel like a human being, that I existed on Earth and that I had a purpose," she says, adding that she could express herself in its safe environment. Although coming from different walks of life, classmates blended with each other like a pot of gumbo, she says. "No matter if we were a piece of shrimp, or a piece of chicken, or a piece of celery, we were all important."
She strongly felt the love in the classroom, especially from Auerbach.
"She is a woman that believes in you, believes that you can get an education, and you can go to college. Yes, barriers are going to happen. Storms are going to come. We all have faced different hurdles in life, but you can still accomplish your dreams," Braxton says. "There was just the fact that, no matter what was going on in your life outside of Odyssey, you knew when you came into that classroom, she had high expectations and love for you."
Speaking Out
The Odyssey Course is especially imperative at a time when its students — many of whom live at or near the federal poverty level and 95 percent of whom are people of color — are hit disproportionately hard by the pandemic.
According to the Wisconsin Department of Health Services, communities of color have been overrepresented among the state's COVID-19 cases, hospitalizations, and deaths since the start of the pandemic. The department attributes this to inequities resulting from racism and other forms of discrimination.
"Now more than ever, I feel we need the Odyssey Project," Auerbach says. "I wake up feeling driven to help our students continue to find their voices. One thing that has been clear is that graduates of the Odyssey Project have a self-confidence and a sense of their place and their rights in ways that will help to bring about change."
A self-described introvert, Josephine Lorya '12, MSW'17 graduated from the Odyssey Course in 2008 and continues to speak up today. "Professor Emily always emphasizes, 'Use your voice,' " including through voting, Lorya says. " 'Speak out against injustices; be a human, have that humanity in you.' "
"At that point, going to UW–Madison was just a dream."
Lorya was raised in Nairobi, Kenya, after fleeing war in South Sudan, where she was born into the Otuho tribe. In 1996, she came to the U.S. as a refugee. She learned of Odyssey while braiding hair at a Madison salon, where a customer overheard her talking about wanting to go back to school.
"At that point, going to UW–Madison was just a dream," says Lorya, who had been told by a high school guidance counselor that she wouldn't get into a Division 1 college. Education was something she saw as the key to success, but she lacked the resources for school.
Once in the Odyssey Course, Lorya developed skills to be inquisitive. She recalls reading Plato's allegory of the cave — which illustrates human perception, truth, and knowledge — and how much it resonated with her. It taught her to question everything and made her feel like she could "leap and pursue higher."
To Corey Saffold, who graduated from the Odyssey Course in 2006, the class's humanities focus was critical.
"You really begin to find your voice in those moments because you're inspired by [them]," he says of the times the class read Plato, Shakespeare, Thoreau, and Martin Luther King Jr. He believes everyone needs the humanities, even if one plans to become a mechanic or a nurse. "[A humanities education] gives you an appreciation for diversity, for other people, and appreciation to think differently; to think broadly."
Saffold learned how much his words mattered after Auerbach encouraged him to submit his article "Education Must Trump Prison Time" to the Wisconsin State Journal just prior to his graduation from the course in 2006. The piece, which opens with a quote from Frederick Douglass, associates the state's increasing incarceration rate of Black men with the population's high rate of high school dropouts. "Why is Wisconsin ranked number one in locking up Black men and nearly last in graduating them from high school?" Saffold wrote. "Can you see the connection? It seems as if there's a systematic plan in place for Blacks, especially Black men, to fail rather than succeed."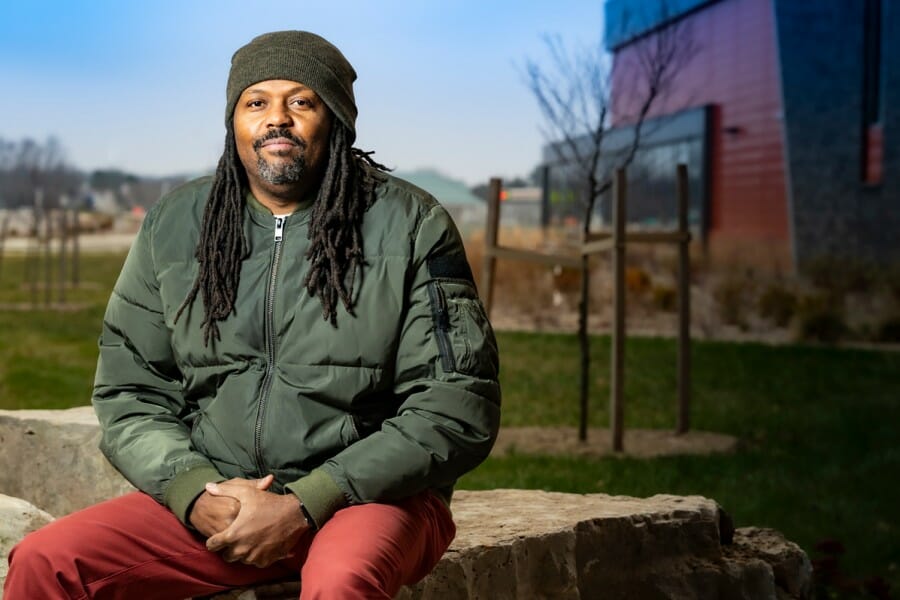 "Odyssey didn't just help me find my voice, but I physically saw what finding my voice meant and what finding my voice could do."
Many people responded to the article, including the late Wisconsin Supreme Court justice Shirley Abrahamson DJS'62.
"That let me know that I had a very significant voice; that I could gather my thoughts, put my voice into writing, and then have it be seen on a large scale," Saffold says. "Odyssey didn't just help me find my voice, but I physically saw what finding my voice meant and what finding my voice could do."
Braxton found her power in a UW–Madison English 100 class offered through Onward Odyssey, where she took the opportunity to raise the topic of sexual abuse within families. The course was taught by Assistant Professor of Continuing Studies Kevin Mullen PhD'14, who also serves as codirector of the Odyssey Project. He gave the class an assignment to write about an object. Braxton chose a cup of coffee, writing in part, "A good cup of coffee brings happiness, great taste, and smells, and flashbacks at times of an ugly incident that required my forgiveness. Coffee is part of who I am; I drink it daily, and my skin color is caramel-salted coffee brown. … That morning I was the cup of coffee that my stepfather was eyeing with flavor, arousal, and gratification."
After reading Braxton's poem, Mullen asked if she would share it with the class. "That was a big step for me, but I knew I needed to do it," Braxton says. "I was in the middle of the classroom and tears were just flowing down my eyes as I read it, but I knew that it was a part of me going forward and that I was no longer in this prison."
"Odyssey made me feel like a human being, that I existed on Earth and that I had a purpose."
By sharing her experience, Braxton not only helped heal herself, but she also helped others heal by creating space to talk about a painful subject. Now, she reads the full poem to groups in the community, such as women's groups and UW medical students. She also read a portion of the poem in an interview with StoryCorps, a partner of the American Folklife Center in the Library of Congress with a global reach.
"It's the fact that I can put a part of me into someone else's life that they can relate to. They know that they can walk forward, and they can break out of that invisible prison that either we've created for ourselves or that society has [created], and we can be okay with speaking up and confronting sexual abuse and systemic racism," Braxton says. "My voice will be heard! The Odyssey Project helped me to reinvent myself and rewrite the narrative."
Creating Change, Breaking Cycles
Graduates leave the Odyssey Course ready to ignite change in their lives, their families' lives, and the community.
Today, Lorya is a mother of four who has passed along the importance of speaking up and asking questions to her children. Her four-year-old doesn't even take her mother's word for it when hearing they're out of ketchup. Rather, she needs to check the fridge for herself, Lorya says.
Lorya has now earned her bachelor's and master's degrees, as well as U.S. citizenship, and is a social worker. She hasn't visited South Sudan since moving to the U.S. but is hoping to do so eventually, with her family and Auerbach. While there, she wants to help install the Little Free Libraries she raised money for during her UW graduate studies in an effort to promote reading and education in the community.
Meanwhile, Benford decided to give back to Odyssey by working full time as its success coach, ensuring Odyssey students get the resources they need. He believes the project epitomizes the Wisconsin Idea and notes that, as a person of color, he didn't feel welcome through most of his UW education outside of Odyssey. He'd like to see all of UW–Madison follow the project's model.
"We could end racial disparity gaps. We could do so much as a society if UW–Madison really looked at Odyssey as a model and let in nontraditional students, and it wasn't tied to money as much as it was to your abilities and your desires," he says.
In 2020, Benford ran for the Wisconsin State Senate with the goal of being a voice for the community. Although he did not win, he is proud of his and his team's people-first approach.
"Not only during the pandemic, but for decades prior, people were struggling in our community. Madison is often described as a tale of two cities, those with privilege and those without. It's a wonderful place for people with privilege, but it's a horrible, dismal place for those that are struggling," he says. "So, as I was looking around at the current candidates that were running for the particular seat, I felt — and I still feel — that I was better prepared to provide a voice for those that I serve."
Now, Benford is prepared to use his voice this spring, when he'll start a new term as a Madison alderperson. He also plans to become a licensed therapist and provide free mental-health services to marginalized populations and Odyssey students who are referred to him. Additionally, his niece Sarina will complete the Odyssey Course in spring. "I look forward to where the future will take her," he says.
Saffold, too, has seen family take part in Odyssey. His daughter Natia was in Odyssey Junior and has since graduated from the Odyssey Course, and his grandson has also participated in Odyssey Junior.
"That's the thing about Odyssey; it's generational," he says.
Saffold has spoken for the Wisconsin Humanities Council about being a Black police officer, utilizing public-speaking skills he gained through Odyssey. Today, he is the director of safety and security for the Verona Area School District, and he is pursuing his bachelor's in criminology at UW–Whitewater with plans to attend law school. He also serves on the UW System Board of Regents, where he hopes to expand the Odyssey Project across the state.
"Coming from a place where college was not talked about … to then accomplishing and getting all these degrees and then using them in your community, is truly phenomenal. It's a testament to the change that the Odyssey Project is doing in the community," Saffold says. "That's why we need more of the Odyssey Project spread throughout the state."
Since graduating from the Odyssey Course, Braxton earned a special-education program aide license from the Wisconsin Department of Public Instruction and has worked as a substitute teacher. She is now an ambassador and a part-time classroom assistant for Odyssey, serving as a tutor and mentor. She is also studying at Madison College, where she has made the dean's list each semester, with plans to transfer to UW–Madison and double-major in Chinese and creative writing. After graduating, she intends to travel to China to teach English and create a cultural exchange program with the Odyssey Project upon her return.
Braxton continues to use her voice to heal. She recently read one of her poems, written to the high school guidance counselor who said she wasn't college material, at an Odyssey fundraising event. She envisioned the counselor in the audience as she delivered the piece.
"I am taking Chinese college courses," she recited in both Chinese and English. "One day, I will travel to China and teach in Beijing! Dear Mr. Guidance Counselor: I invite you to come with me."
Stephanie Haws '15 is a staff writer for On Wisconsin.
Published in the Spring 2021 issue