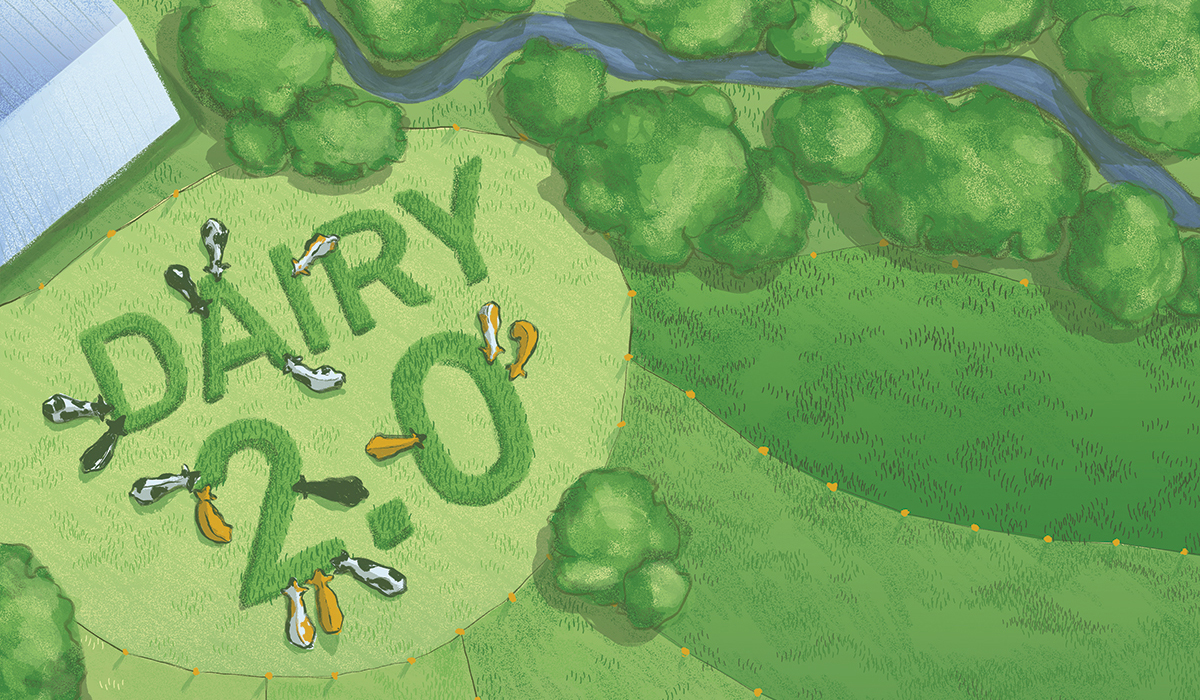 Dairy 2.0
UW–Madison innovations help farmers reinvent themselves in challenging times.
At Bert Paris's dairy farm in Belleville, Wisconsin, the morning chores are done. The cows have been milked and led —with some effort through the cold December mud —to the day's pasture. Some 80 cows munch incessantly on the grass and clover.
Paris wears an easy smile behind his red goatee. He marvels at having made a good living doing what many told him he shouldn't do —replace his corn with pasture and graze his cows. As a young farmer 30 years ago, Paris was looking for a path that resonated with him. He found it in grazing, a way of life that felt right and paid the bills, even though his peers thought it was outdated. In an era when environmental consequences are escalating, however, grazing has been attracting new interest as a sustainable method of agriculture.
Now, to help move others in this direction, Paris serves as a speaker with UW–Madison's Wisconsin School for Beginning Dairy and Livestock Farmers, which teaches pasturing to newcomers. It's a chance for Paris to lend a hand to the next generation at a time when a lot of dairy farmers are asking themselves tough questions. Should they go organic or add cheesemaking? Grow their herd? Sell the farm?
Their decisions will affect all of us, in terms of what we eat, how much we pay for it, and how agriculture will transform the planet we live on. Consumers' tastes are changing. Global markets are in flux. The industry has been buffeted by years of low milk prices, and the country faces daily farm closures. What will American dairy look like in 30 years?
Amid a serious identity crisis, UW–Madison ingenuity might point the way forward.
The Next Big Thing
The United States has lost almost half its dairy farms since 2003, shedding 3,300 in 2018 alone. During that time, the average herd size has doubled to 250 cows. And the average cow now produces a record 23,000 pounds of milk a year. There are fewer dairy farms in the country, but they're bigger and producing more milk than ever.
All that milk keeps prices low — a problem for covering costs.
"The problem with the dairy industry is that it's a classic uncoordinated supply chain," says Mark Stephenson, the director of the UW Center for Dairy Profitability. "We have 40,000 independent decision-makers in this country. And they're all making decisions about how much milk to produce every day."
When prices spiked in 2014, farmers reacted by investing in more production. The country became saturated with milk just as other problems arose. In response to tariffs imposed by the Trump administration, key export markets, including Canada, Mexico, China, and Europe, levied retaliatory tariffs on American dairy. Prices crashed. Although they started to rise at the end of 2019, the coronavirus pandemic plunged the dairy industry, like the rest of the world, into uncertainty just a few months later.
Wisconsin, which lost 10 percent of its dairy farms in 2019, serves as an example of how to deal with this emergency. In June 2018, the state and the UW System assembled the Wisconsin Dairy Task Force 2.0 to investigate the industry's long-term challenges.
One of its top recommendations was instituting a Dairy Innovation Hub to drive the research necessary for keeping Wisconsin dairy vibrant.
The hub launched last year across the UW System's three agricultural campuses: Madison, Platteville, and River Falls. The state legislature awarded it $8.8 million to start. Those funds are slated for new, permanent research positions dedicated to four priorities: stewarding land and water resources, enriching human health and nutrition, ensuring animal health and welfare, and growing farm business and communities.
The goal is to recruit scores of fresh minds focused on developing new products, improving efficiency, and discovering how dairy farmers can prepare for the next downturn. "You're not going to find the next big thing if you don't have someone looking for it," says Stephenson.
What We Don't Know
Those forthcoming discoveries have dairy farmer Shelly Mayer '88 confident about the future.
"Research plays a huge part in keeping our industry in a forward tilt toward progress," she says. "Often people are scared about what they don't know. When it comes to research, I'm excited about what we don't know."
Mayer is executive director of the Professional Dairy Producers of Wisconsin —a trade group that provides education for dairy farmers nationwide —as well as a member of the Dairy Innovation Hub's advisory council. She also milks 60 cows on 250 acres with her husband, Dwight '85, outside Milwaukee.
Like Bert Paris, Mayer is proud of having bucked conventional wisdom. When she and Dwight were graduating from UW–Madi-son during the 1980s farm crisis, their friends told them to stay away from agriculture. "A lot of kids were trying to get away from the farm," says Mayer. "And we were trying really, really hard to get rooted on the farm again."
That doesn't mean it's been easy. Like many dairy farmers, Mayer has worked off-farm to earn additional income and secure health insurance. During her career, she's seen huge changes in the nation's dairy industry. Consumers have moved away from milk and to-ward cheese. Feeding and caring for cows have grown increasingly sophisticated.
Perhaps the most consequential change is the increase in average herd size. Part of that growth is due to new technology that allows dairies to mirror the industrialization of crop farming. Most large farms were once small farms that reinvested in growing their herds, and they're still family owned.
Bigger farms, with lower costs per gallon of milk, have also weathered the price slump. During good times, they tend to have larger profit margins than smaller farms. And they hire more workers, which adds rural jobs and helps farmers plan breaks from nonstop work.
But larger dairies do face a big challenge: a lot of manure and few places to put it. The average dairy cow produces 17 gallons of manure and urine a day. That manure is valuable fertilizer for nearby farms. But the opportunities for responsible manure spreading are narrow and growing narrower thanks to changing weather patterns, heavier rains, and strict spreading regulations. In addition, there is less farmland available to spread manure than there used to be due to cities and towns expanding into rural areas. When excess nutrients from manure or fertilizer get into streams or rivers, they promote noxious algae, choking off waterways and making fishing and swimming unpleasant or even dangerous. Groundwater is at risk, too.
Almost half of Americans get their drinking water from groundwater, and 43 million rely on private wells. The U.S. Geological Survey has found that about one in seven wells exceeds federal standards for nitrate, a contaminant from commercial fertilizer, manure, and leaking septic tanks. Excessive nitrate is linked to health problems in adults and can be fatal in infants.
That's another reason for innovation. One of the Dairy Innovation Hub's four focus areas is improving water quality. Recent research from the $10 million Dairy Coordinated Agricultural Project led by UW–Madison scientists also investigated manure management as a way to reduce greenhouse gas emissions.
They found that injecting manure into the soil reduces nutrient runoff from fields. The project also recommended technology upgrades like digesters to turn manure from a liability into an energy-generating asset.
"Farmers on farms of all sizes are very mindful of our water quality, because we drink water from our own land," says Mayer. "That's why we've got to research, be creative, and come up with a whole menu of different options for manure management. Our community is very diverse, so one option is not going to work for everyone."
In addition to academic research, Mayer has faith in the ability of individual farmers to reinvent themselves. She says the younger generation is more comfortable navigating the high-tech world of today's dairy and better prepared to take advantage of reams of data on nutrition and efficiency. And there are as many problem-solvers as there are dairy farmers around the country.
"America's dairy sector is world renowned because of our diversity in dairy farmers. Big, small, and everything in between is needed to keep American dairy strong," says Mayer. "Often our most challenging times drive innovation."
Too Much Cheese
One of the biggest challenges for the innovators is Americans' cheese consumption, which has risen 25 percent since 2000. A lot of that increase is driven by demand for mozzarella-topped pizza. And fueling all that cheese are millions of acres of cropland and dairy farms, whose manure runoff threatens our waterways.
A potential fix harks back to Bert Paris and his Belleville farm: grazing. It's a modern-day innovation based on an age-old technique.
The five-year Grassland 2.0 project, which launched in 2019 with a $10 million grant from the U.S. Department of Agriculture, wants to help farmers in the Upper Midwest convert to pasturing their livestock to boost profits and improve sustainability. Nurturing diverse grasslands can provide many environmental benefits. "We want to build soil, hold on to nutrients, keep our water clean, and reduce flooding," says Randy Jackson, a UW agronomist and head of Grassland 2.0.
Paris, a partner in the project, uses the management-intensive rotational grazing system common among graziers today. Each morning, he leads his herd from their pasture into the milking parlor. While they're resting after being milked, he moves his electric fencing system to open up a fresh section of pasture. "Moving the wire takes me about five minutes," says Paris. "It's pretty simple."
His 80 cows have 12 hours to eat through one acre of pasture before they're moved. Across 135 acres, Paris has enough land to give the grass about a month to regrow before the cows come back again. The strict rotations recycle manure year-round on the farm where it's produced, reducing runoff. And by using perennial grasslands instead of annual row crops as feed, Paris and other graziers use less artificial fertilizer, which can also harm waterways.
Grazing dairies typically produce less milk per cow than conventional operations that provide corn, soy, and silage to more confined animals. But the operating costs of grazing also tend to be lower because farmers need to buy less feed or use less equipment and fuel to grow their own feed.
The upshot is that grazing can beat least as profitable as conventional dairying — sometimes twice as profitable, says Jackson. Many graziers take advantage of value-added labels like "organic" or "grass-fed," which command higher prices.
But only a minority of American farmers graze their livestock, so Grassland 2.0 is building communities of practice among would-be graziers. Partnering with the University of Minnesota and nonprofit organizations, Jackson and his team are organizing "learning hubs" for regional farmers.
The project is also researching the financial barriers to grazing. "Bankers for a long time have been pretty skeptical toward any agri-culture that wasn't conventional farming," especially systems that reduced production, says Eric Booth '04, PhD'11, a UW–Madison hydroecologist and a member of Grassland 2.0.
Not everyone is going to end up grazing their herds. Cows can only walk so far, which typically limits herd sizes, a deal breaker for some farmers. And grazing still carries a stigma as being old-fashioned.
But if Jackson and his team are successful, they could help farmers rediscover the advantages of the old system. Although grazing has been limited in recent decades, UW research is helping shine a light on the costs and benefits of this system to help more farmers consider adopting 21st-century grazing rooted in new knowledge. And that offers all of us a chance for cleaner water, less flooding, more stable climate, and improved biodiversity.
The Future of American Dairy
On her Milwaukee dairy farm, Mayer is proud of working with her family to care for her animals and put food on other people's plates. Her farm's innovation was to incorporate agricultural tourism. The family restored a barn on their property and now host weddings and other events.
It brings in extra income and lets the Mayers show how farming works as the number of farmers in the country continues to decline.
Innovations being developed today at UW–Madison will help define the future of American dairy: what products are available, how the land and animals are cared for, and how farmers make a living. Farmers like Mayer are eager to take those ideas and run with them.
"I don't think we've begun to realize our potential," she says.
Eric Hamilton is a science writer for University Communications.
Published in the Summer 2020 issue