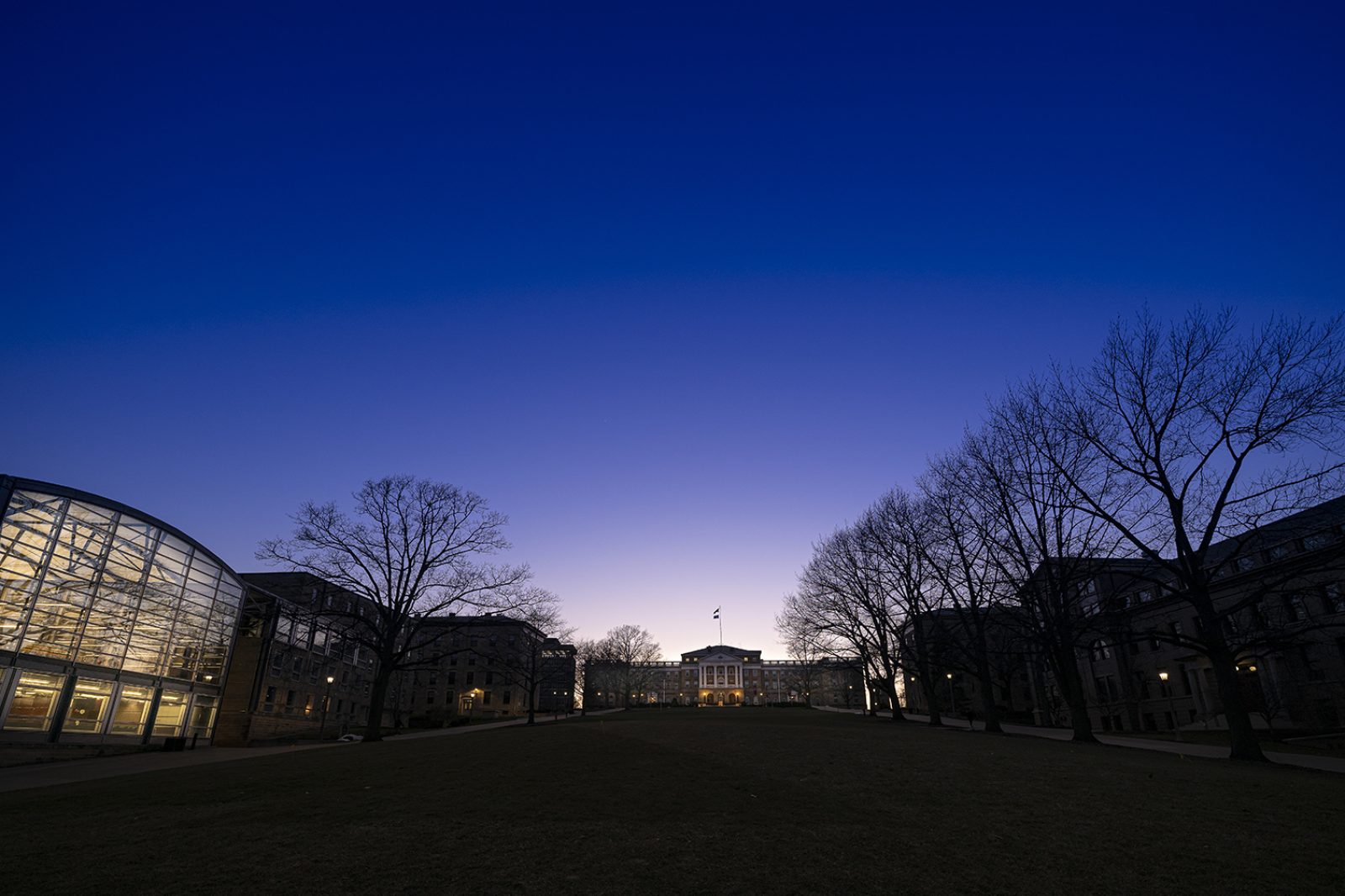 Campus
After
Dark
Nightshift workers played a significant part in your UW experience. You just didn't know it.
At UW–Madison, it takes thousands of behind-the-scenes workers to keep the world-class research university and $3.7 billion enterprise operating overnight. They clean bathrooms, lock doors, open gates, heat buildings, and support students who seemingly never sleep.
For most of these workers, a job well done at night means that in the morning no one else even notices that they were there.
Photographer Bryce Richter and I wanted to shine a light on this nightshift work, so we took a red-eye tour around campus and chatted with dozens of second- and third-shift employees. At times, their jobs can feel invisible and more than a bit isolating, so it often makes their day (or night) when students, professors, visitors, or alumni take the time to recognize their work. With this group, a simple thank-you goes a long way.
Meet just a few of the dedicated workers who make the UW–Madison experience possible.
"It's Not Like We're Just Party Poopers"
UW–Madison junior William Dettlaff x'24 is a people person. And it's a good thing, because as a house fellow — also known as a resident adviser — he's always on the job, serving the 60-some students on his Sellery Residence Hall floor.
"You always have to be there to help your residents," he says. "I'm such a helper that I say my love language is acts of service."
On this Saturday night — which always qualifies as an event in highly social Sellery Hall — Dettlaff is on rounds duty with Amanda Tung x'25. They start with a "social walk-through" around 8 p.m. to greet passersby in the hallways, snaking down from floor 11 to two, and then up through the next tower. That's followed by a round at the start of quiet hours (midnight on weekends) and another at 2 a.m.
"There are certain policies and precautions in place for the safety of residents," Dettlaff says. "It's not like we're just party poopers. We want to help them and make sure they're being safe and being smart. I don't know if I'm just lucky, but I've never found anyone who's been impaired and needed assistance."
The rounds that we join are uneventful, with just a single incident report (a crude doodle on a milk jug left in a common area). The most frequent issue, Dettlaff says, is excessive noise.
"The general rule of thumb is that if you're two doors away and can still hear it, then you interact," he says. "You knock and say, 'House fellow. Can you turn off the music?' Residents are really kind and usually are very compliant."
Technically, Dettlaff is on duty for University Housing until 8 p.m. the following night, a 24-hour shift during which he's expected to stay in or near the building. One of the house fellows always carries the afterhours phone, a battery-deficient iPhone 5 that seems like a relic to today's students. One sleep-deprived night, Dettlaff fielded seven calls from locked-out residents.
The finance and marketing major views the most important part of his job as helping freshmen with the transition to a large campus. He makes sure his residents know that he's always a text away. He plans activities for his floor and stops frequently for hallway chats with residents.
"It's a fun job for me to do," he says. "Plus, I get free food."
"How Can I Work for the College?"
Ebonie Wilson-Brown tells me about her daily bus rides through the UW campus on her way to work at a nursing home some two decades ago.
"I always thought to myself, 'How can I work for the college?' " she says.
Six years ago, she applied to be a custodian for the Division of Facilities Planning & Management. Once she was hired, her supervisor asked her where she saw herself in the future.
"I told her that I wanted her position — to be a supervisor," she says. "And I was determined."
Today, Wilson-Brown supervises Crew 216, a team of 15 custodians assigned primarily to the Discovery Building from 6 p.m. to 2:30 a.m. "It takes coffee, tea, sugar, and lots of music to get through it," she says.
Her crew touches any surface that's touched, wiping down tables and chairs, sanitizing the bathrooms, mopping the floors, polishing the elevators and windows, and keeping the research labs in order. In winter, they turn into snow-removal specialists. Wilson-Brown's favorite part of the job is when students say thank you as they pass.
"We're out there to make sure if they have finals, it's easy for them to get to their finals. We want them to be safe," she says.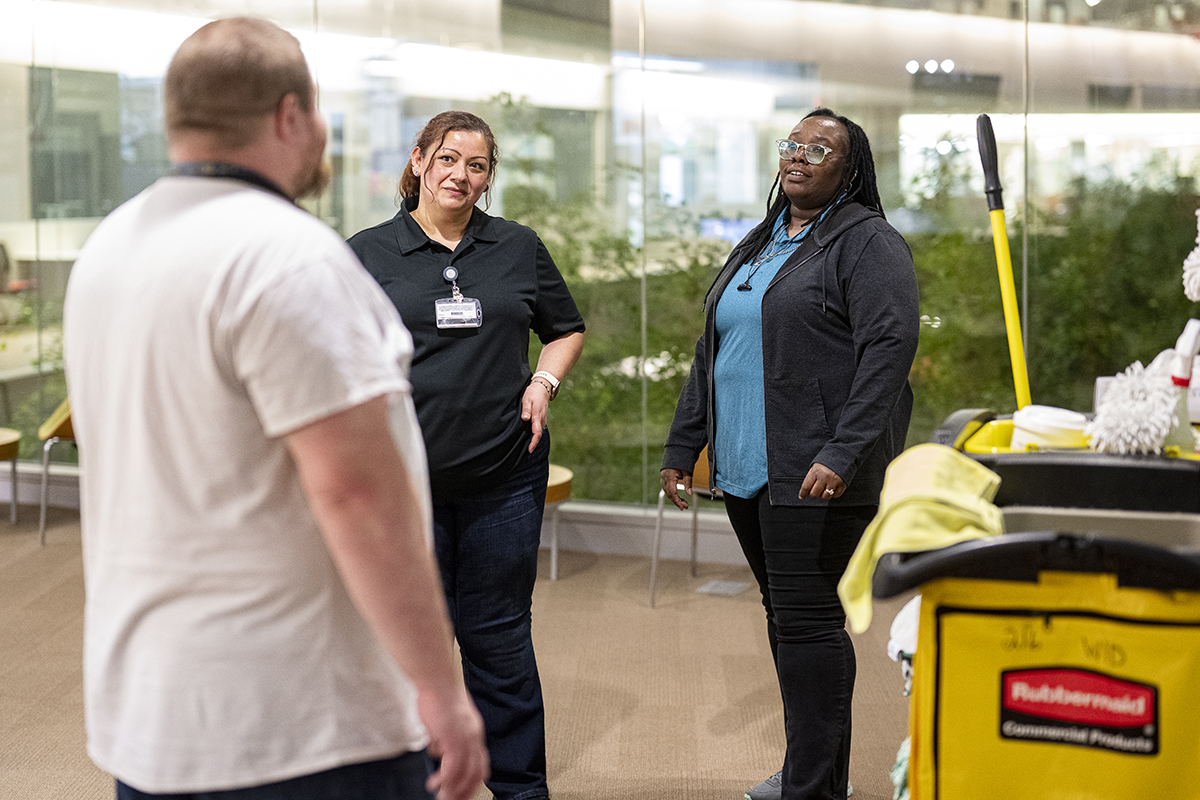 Central campus employs some 400 custodians. Each day, they combine to clean more than 10,000,000 square feet throughout nearly 150 buildings. Almost all of them work second or third shift. It's easily the most diverse work area on campus — the division offers learning resources to roughly a third of custodial employees who don't speak English as their primary language.
Martha Gonzalez, the custodial lead worker under Wilson-Brown on Crew 216, prefers the second-shift schedule because it allows her and her husband to alternate childcare for their 10-year-old son with a disability.
"This was my wish to grow up in this country and show my kids that you can be wherever you want to be," says Gonzalez, who emigrated from Argentina 20 years ago. "I'm really happy and proud, because I'm growing here."
"How's the Studying Going?"
For a college freshman, Lillian Doyle x'26 sure is a pro. Working as a cashier, she fools me more than once while making small talk with a long line of customers at the Flamingo Run convenience store in Dejope Residence Hall. I just assume most of them are her friends.
"How's the studying going?"
"Do you have a lot of exams?"
It turns out that most of the patrons are just regulars or complete strangers. Regardless, every transaction with Doyle comes with a friendly smile, an earnest greeting, and impressive efficiency.
"I like that you get a chance to talk to people," she says while simultaneously scanning items and greeting a customer. "They come after lab or a class, and they just want to talk about their day."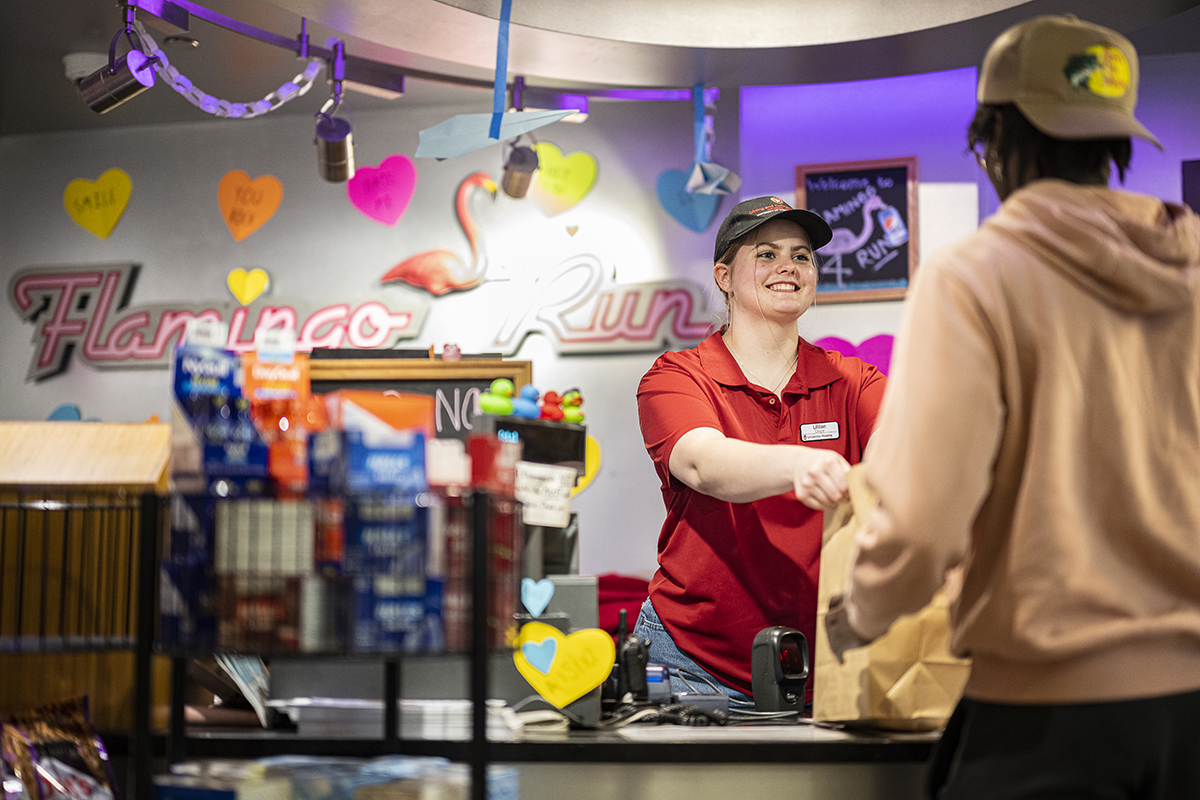 Campus has three Flamingo Run locations that look like unusually clean gas stations, stocked with snacks, drinks, packaged meals, and assorted essentials. All of them stay open until 11 every night, their customers becoming more numerous once the main University Housing dining markets close by 8:30.
Doyle goes beyond the call of duty, reminding patrons to grab silverware and even indulging a fellow student who says he's stocking up on iced tea cans to wrap around his dorm room.
And which are the most popular late-night purchases?
"A lot of energy drinks," Doyle says. "A lot of coffee."
The Last Face You See
The UW Hospital ramp is the second-busiest parking structure in Wisconsin, outpaced only by the Milwaukee airport. Matt Finch, an attendant with the Division of Facilities Planning & Management, has staffed one of its parking booths for a decade. He's the last face that many hospital patients and visitors see during their visits. That means he feels the pressure to be "polite, prompt, professional," which he recites almost dutifully.
There are three exit lanes, one that's fully automated and two that typically host booth attendants. To my surprise, Finch says that an overwhelming majority of customers opt to engage with a person.
"People tend to go to where the cashiers are," he says. "I think dealing with a human being might feel easier, and I notice that a lot of people seem to be wary of machines."
Finch will jump in to help those who trust machines but fail to read instructions. They might jam their tickets into the credit card slot or insert them upside down. In his service lane, Finch estimates that he processes as many as one customer per minute in peak times. Later at night, he may process as few as three or four in an hour (and, as a former English major at UW–Eau Claire, get some creative writing done in between).
Finch speeds through standard transactions and troubleshoots a wide range of issues caused by both human and computer error. As with everything involving money, the interactions aren't always pleasant.
"I have been called a bunch of different names and have been accused of being a robber," says Finch, laughing. "We're a convenient target. Being patient with people is a key thing in this job."
His favorite customer interaction was with a regular who always drove up to the booth prepared with a corny joke.
"They were not great jokes, but I remember her really well because I always felt a little bit happier after that," Finch says. "The people who do take the time to interact with you or even try to get you to laugh or smile make it worth working here."
"Campus Is So Different Overnight"
By muscle memory alone, Kyle Kaul can tell you the location of every exterior door on Bascom Hall.
I put him on the spot by asking how many doors there are as we circle the building. He closes his eyes briefly and counts. "Twenty-one."
Kaul is a campus security officer with the UW–Madison Police Department (UWPD). His primary duty is locking campus buildings at night. It's no small task: UWPD services more than 300 locations, manually locking as many as 2,000 doors every night. You can spot the security officers by their tan vests, bright yellow security patches, circular badges, and industrial-size key rings.
After five years of locking campus buildings, Kaul doesn't need a map or guidebook to know, for instance, which doors should be left unlocked to preserve mailroom or other limited access.
Security officers also patrol buildings, searching for unlocked or wedged-open doors and signs of water leaks or other property damage, as well as monitor campus's electronic access control system. (Not all doors, after all, are locked manually.) And in between, they'll respond to lockout calls, fire panel alerts, and security alarms.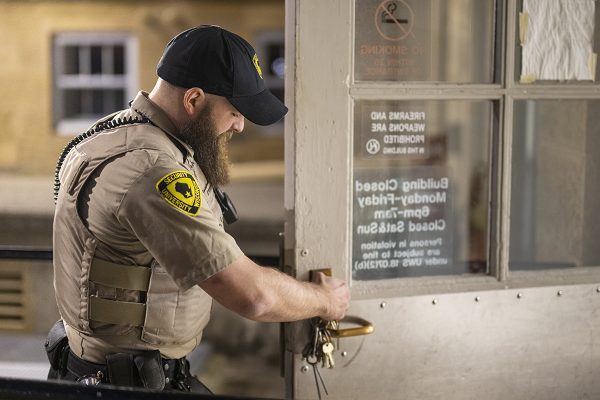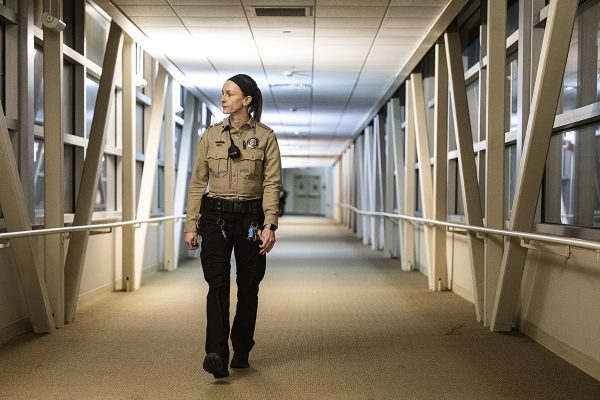 Later that same night, we meet with Megan Owen at the Health Sciences Learning Center. The building is home to UWPD's central security office, which is staffed 24/7. Owen is the sole security guard on tonight's third shift, which runs from 9 p.m. to 7 a.m.
"Campus is so different overnight when nobody is around," she says. "I like the freedom to explore."
Owen, who studied forensic investigation at UW–Platteville and hopes to work in that area, notes that the position is the perfect way to "dip your toes into the law enforcement field." Many UWPD security officers move up to police.
As for the community members they encounter along the way, Kaul says that he's had "nothing but good interactions." One time, students even invited him to sled down Bascom Hill. He dutifully declined.
"We Were Black with Tar"
Ramkumar "Solomon" Bhulai talks about the days of a coal-powered campus with a surprisingly nostalgic tone.
"It kept your brain more active," says the senior operator at the Charter Street Heating and Cooling Plant. "Because almost everything is automated now. Everything is on a computer."
To his younger colleagues, Bhulai is a true heating and cooling artisan. He's worked in power plants his whole life, starting in his native Guyana and for the past 16 years at UW–Madison.
"Usually I tell the guys, 'You have it nice now. You don't know what I passed through,' " he says, laughing. "We'd come out of the furnace room, and you could barely see our eyes. We were black with tar."
But even Bhulai will acknowledge that the cleaner natural gas on which UW–Madison's boilers now run is much better for the workers, the campus, and the planet. (The Division of Facilities Planning & Management plant has won national awards for its innovations in sustainability.)
The Charter Street location is one of three facilities that generate high-pressured steam, chilled water, electricity, and compressed air to heat and cool all university buildings.
This 24/7 operation is the beating heart of campus, with the five-person operating crews alternating 12-hour shifts (the overnighter ending at 6 a.m.). They spend most of their time in the control room, scanning a wall of computer panels, as well as doing manual rounds to check the condition of the five modern boilers, the largest chillers of their kind in the world, and the water running to and from them.
Every few months, there are surprises, like when extreme cold interrupts the supply of natural gas. The backup source for the boilers is fuel oil, preserved in a single tank holding 840,000 gallons. That transition is largely a manual one, as operator Ethan Carlson found out the hard way during his first year on the job.
"We have to put on special equipment and actually insert the fuel oil guns [to produce boiler combustion]," Carlson says. "Solomon told me, 'Ethan, we're going to get through this.' He walked me through the process, and we got through it without problems."
For Bhulai, teaching is just part of the job — one that's given back to him as much he's given to it.
"I built a brand-new house. I drive a nice vehicle. My family's okay," he says. "I'm living a middle-class life with this job."
"Thank You for Being Open"
Nick Brockley isn't your standard library worker. With professional experiences ranging from correctional officer to auto shop manager, Brockley serves as the overnight supervisor at College Library — the only academic building that stays open all night during the week.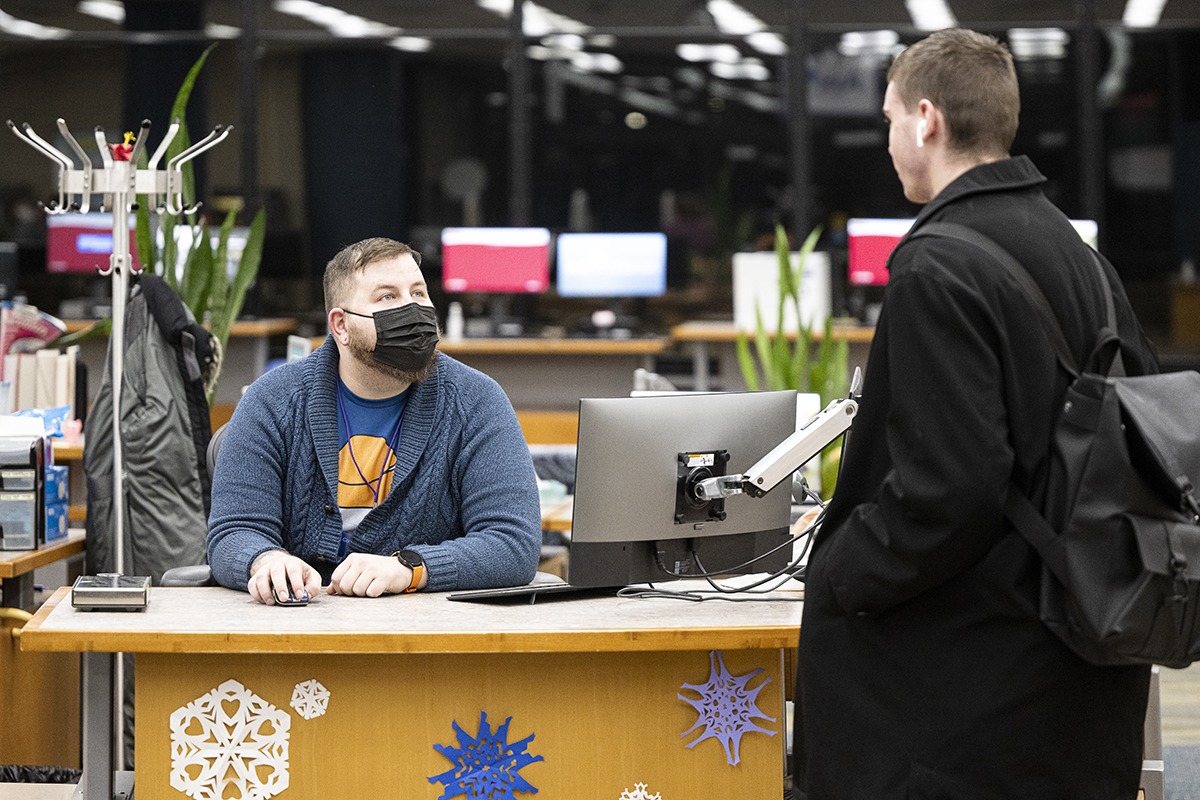 He starts his shift at the front circulation desk at 10 p.m. Even though he has school during the day at Madison College, the hours suit him.
"Waking up with a cup of joe just isn't my type of thing," Brockley says. "And I don't know if you've ever been to a grocery store at 8 a.m. when everyone else is working, but it's phenomenal."
Brockley's primary duty is security, making sure students can study safely and without disruption throughout the night. He's joined by several student workers who handle the bulk of library reference requests. They all get asked frequently about the vending machines and bathrooms, how to track down a book, and how to deal with someone who is being disruptive in the quiet sections.
"Overnight, we can have anywhere from 30 people up to 1,300 people in this library," Brockley says. "It all depends how close we are to midterms and finals."
Around 3 a.m., he can typically count on the same trio of students to start packing up their belongings after a long study session.
"I always know exactly when they leave," he says, "because they make sure to stop at the desk every single time and say, 'Thank you for being open.' And that just makes my day."
"We Have to Be Here"
Guadalupe Jensen is a passionate advocate for nightshift workers. In addition to her role as building services assistant supervisor for University Housing, she serves in the University Staff Congress in a peer-elected position and on the Second and Third Shift Issues Committee.
"I can be the voice of others," she says. "It's important to have someone who can listen to their concerns, bring those issues to Congress, and see if we can fix them."
The most common concern for her constituents is compensation. Last year, UW–Madison increased its minimum wage for university staff from $15 to $17, helping more than 600 of the university's lowest-paid employees.
"I think [UW leaders] have been trying," Jensen says.
Another area of concern for these shared governance bodies is the nationwide labor shortage, which has made it particularly difficult to fill overnight positions on campus. Current employees can feel the squeeze and may have to pick up extra shifts.
Jensen adds that overnight workers carry an additional burden: being the only people around. For her team at University Housing, that means not only carrying out normal custodial duties, but also responding to any issue a resident might report, from building maintenance to information technology.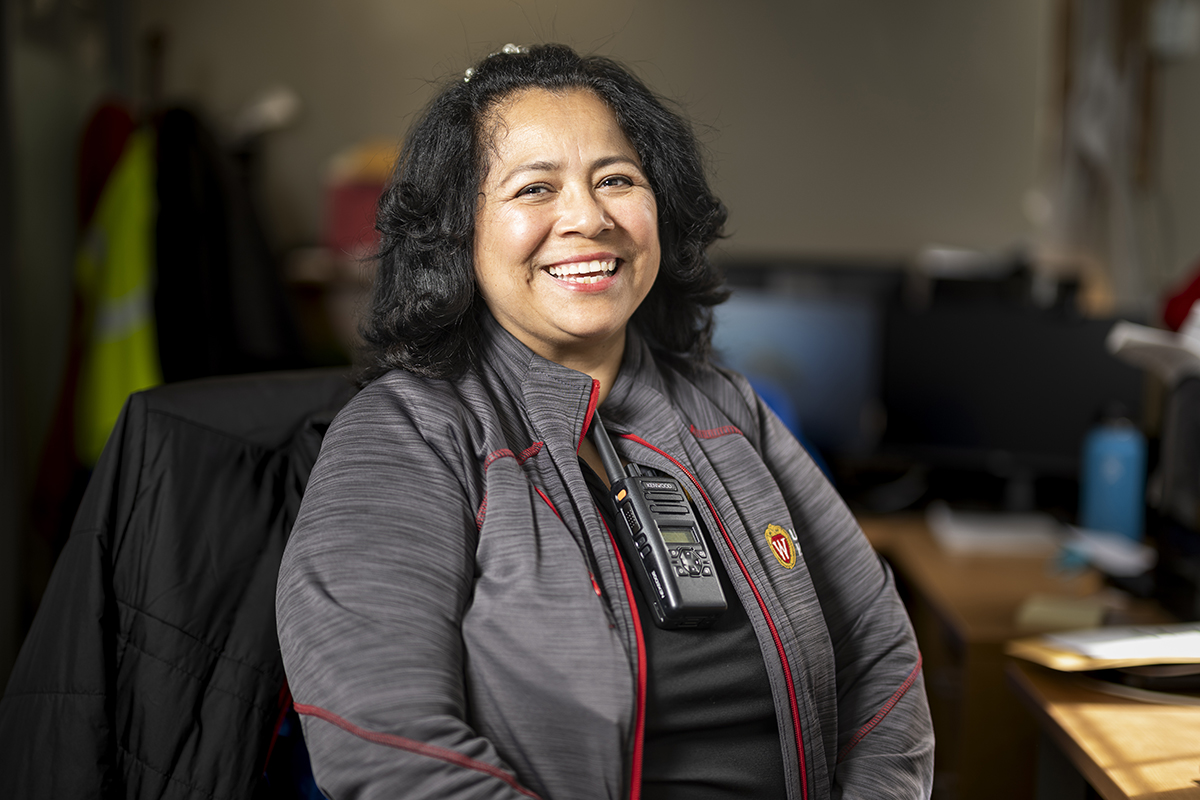 "We are there for the residents — no matter what — because they need us," Jensen says.
The importance of these positions was underscored at the start of the COVID-19 pandemic, when the word essential took on new meaning. Remote-work arrangements rarely applied to nighttime workers.
But during that time, Jensen appreciated the UW's safety protocols, massive testing operation, and other efforts to keep its workers both safe and employed.
"They were really taking care of us," Jensen says. "No one I know lost their job because of the pandemic."
Like everyone, she had concerns about her health and safety. But she showed up to work. It served as the one constant in an otherwise uncertain time.
"I was here, every day," Jensen says. "We have to be here."
---
Preston Schmitt '14 is a senior staff writer for On Wisconsin.