Bet on It
If you think that Anders Holm is everywhere these days, you're right. A combination of hard work and a few lucky breaks has put the writer-actor in the spotlight.
Anders Holm '03 was in New Orleans when he got a call from his manager about a job opportunity. The following day, sitting in his hotel room, Holm auditioned for The Intern via Skype. Hours later, he was on a flight to New York City to meet with the movie's director, Nancy Meyers, and its stars, Anne Hathaway and Robert De Niro.
And that, as Holm puts it, "was that." He nailed the audition and landed the job.
Garnering a starring role opposite megastars in a Warner Brothers romantic comedy is just the latest career triumph for Holm, who grew up in Evanston, Illinois. Since moving to Los Angeles twelve years ago, he's made a name for himself in a town known for its cutthroat mentality.
Holm's real-life Cinderella story began five years ago when Comedy Central greenlit Workaholics, a series the thirty-four-year-old co-created, produced, and wrote with Blake Anderson, Adam Devine, and Kyle Newacheck. The single-camera comedy centers around three slackers (played by Holm, Anderson, and Devine) who "work" at a telemarketing company during the day and party at night. The underachieving trio proved an instant hit with viewers.
The show and its go-getter stars also caught the attention of Hollywood.
Since the 2011 debut of Workaholics, Holm landed a recurring part in Mindy Kaling's television series The Mindy Project, as well as a slew of highly coveted small roles in major Hollywood films, including Inherent Vice, The Interview, and Top Five. And while Holm is best known for his improv and absurd comedy, he earned unexpected praise at 2015's Sundance Film Festival for his dramatic acting chops in Unexpected, an independent film about an unlikely friendship.
The writer-actor closed out 2015 on a high note both personally and professionally.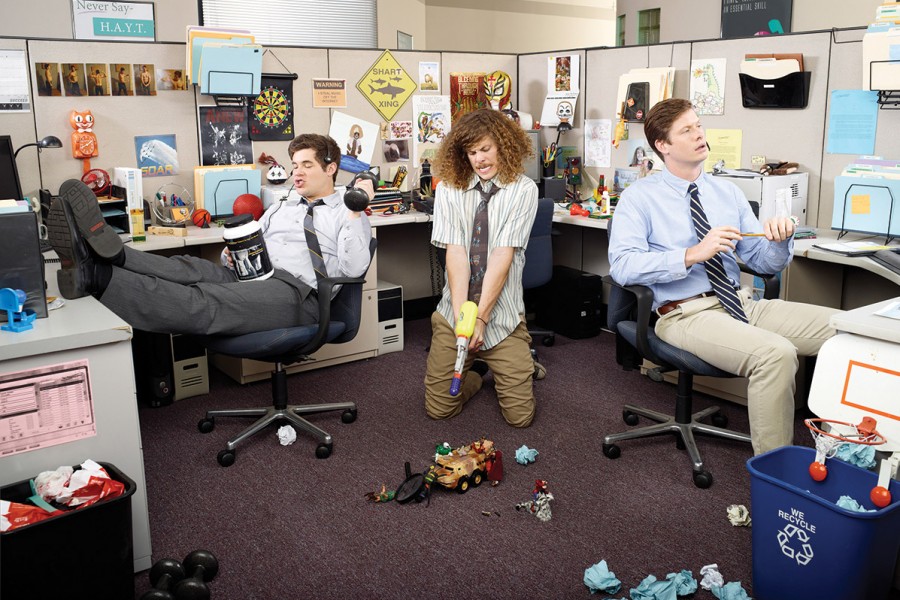 In December, Holm and his college-sweetheart-turned-wife, Emma Nesper '04, celebrated their son's second birthday. That was preceded by The Intern's splashy Manhattan premiere; news that Comedy Central extended Workaholics for a sixth and seventh season; winning yet another noteworthy role in a Hollywood romantic comedy, How to Be Single, starring Rebel Wilson and Dakota Johnson; and being chosen to write a screenplay for a project that he's developing with Seth Rogen.
But Holm is quick to point out that while his rise in the entertainment industry came quickly, it certainly didn't happen overnight. His big breaks in both television and film required the Roman philosopher Seneca's recipe for luck — loads of preparation paired with opportunity.
Holm's preparation began during his college years at UW–Madison, where he was a member of the varsity swim team and majored in history. In between the 50-meter freestyle, homework, and hanging out with friends at the Essen Haus, Holm wrote screenplays. A lot of screenplays.
"I'd go out on Thursdays and Fridays, and then stay in on the weekends to write," he says. "None of the scripts I wrote in college were that good, but at that point, it didn't matter. I was just trying to just write as much as I could."
The effort paid off. One year after graduation and nine months after moving to Los Angeles, Holm landed an internship at power producer Barry Josephson's Josephson Entertainment. That led to a meeting with Bones creator Hart Hanson, who, after looking at some of Holm's screenplays, hired him as a writer's assistant.
It was while working on Bones that the actor had a revelation.
"When I moved to LA, I wanted to be a writer and write movies," Holm explains. "What I didn't know then is that you write the movie, you sell the screenplay, and usually it's out of your control. It could be rewritten or changed significantly. So it's no longer yours. You just hope for the best. But in television, the writers hold a lot of creative control. If you create a TV show as a writer, then you are in control. You're the auteur. So I quickly learned that my ego was better suited for TV."
During this time, Holm also learned that he didn't exactly enjoy being an assistant. "I'm just not very good at getting lunches," he says. "Dealing with somebody who can't handle that their favorite soup isn't available is frustrating. But I never got too down about it, because when I moved to Hollywood, I was naïve and confident enough to [tell myself], 'You're going to be making money in this town for your writing.' The problem was I never knew how it was going to come to me. So I got by with the help of my then-girlfriend, now-wife [Nesper], and doing the classic charge-everything-to-the-Visa. I told myself that I'd pay it off when I 'made it.' It definitely wasn't the safest bet, but I decided to bet on myself."
While Holm never planned on becoming an actor, he soon found out that as a comedy writer, the quickest way to prove to people that his words were funny was to perform his own material. In 2005, right before starting a job as an assistant on HBO's Real Time with Bill Maher, Holm met his soon-to-be Workaholics co-stars Devine and Anderson while performing at the renowned sketch-comedy group Second City LA. In 2006, the trio, along with Kyle Newacheck, formed Mail Order Comedy — a group devoted to writing material, performing at various venues, and filming their own skits, which they uploaded to YouTube.
When I was shooting The Intern, I would look at Anne Hathaway and Robert De Niro and think, 'I come from the land of fart jokes.
Cut to 2011. After viewing their online content, an executive at Comedy Central approached the group to make a pilot. While Holm considers that call a highlight in his career, he doesn't regard it as his "I made it" moment. That came a few months later, when Comedy Central ordered a second season of Workaholics before season one had even aired.
"It's such a timing thing that comes into play with Hollywood," Holm admits. "There is no ladder in the business of entertainment. You can't just put in hard work and work your way up. Out here, it's more like you can do no work and get a big break in two weeks, or you can work hard for ten years and never catch a break. So it's kind of a crapshoot."
While betting on himself paid off for Holm, he still experiences moments of insecurity about his career. "When I was shooting The Intern, I would look at Anne Hathaway and Robert De Niro and think, 'I come from the land of fart jokes.' So I started to think to myself, 'All right. Who really thinks I should be here?' But then, by day two [of shooting], it wasn't as wild as I thought it might be. And listen, it's amateur to not think you should be there. You have to show up and do your job and have the confidence."
Addie Morfoot's work has appeared in Variety, the Wall Street Journal, Marie Claire, and the Los Angeles Times, and she is completing her first novel.
Published in the Spring 2016 issue