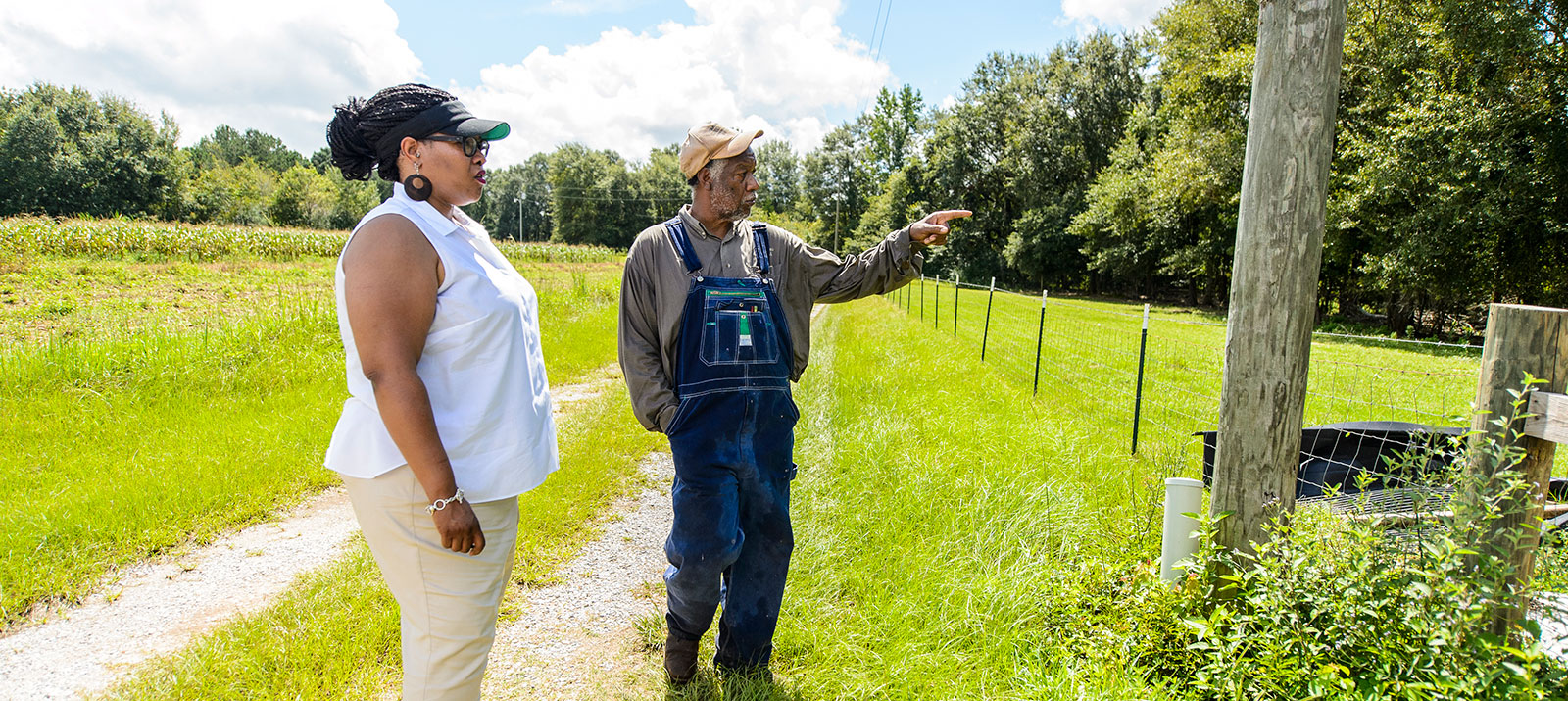 A Taste of Freedom
A UW professor unearths a missing chapter in the history of civil rights
Their salvation would be pickles.
That was the decision of a group of farmers in Sumter County, Alabama, who were struggling financially. But when they tried to purchase cucumber seeds from a local merchant, the seller refused.
The growers eventually obtained seeds, but at harvest, the area's two pickle companies refused to buy produce from them: they were African Americans.
"The local companies did not want them as competition," explains assistant professor Monica White, "because they had previously been able to exploit them for their labor as sharecroppers."
White became UW–Madison's first professor of environmental justice in 2012, a joint appointment with the Department of Community and Environmental Sociology and the Nelson Institute for Environmental Studies. She uncovered this story while studying how Southern black farmers organized against oppression in the late 1960s and early '70s. Her work is bringing focus to a missing and essential piece of the civil rights narrative: the role of agriculture.
Employment for tenant farmers and sharecroppers — who rented land and homes in exchange for a portion of their harvest — dropped sharply during this period due to increased mechanization, a federal conservation initiative that paid landowners to take farmland out of production, and a decline in the cotton industry.
At the same time, despite passage of the Voting Rights Act of 1965, voter registration and education efforts by African Americans drew retaliation from white politicians, landowners, law enforcement, and business owners. Those who attempted to vote were fired from their jobs and evicted from their farmland and homes. Some were cut off from resources they needed to survive.
Starvation became a political weapon.
The Fight to Grow Food
In 1967, when the Office of Economic Opportunity (a federal agency administering antipoverty efforts) established a medical center in Mound Bayou, Mississippi, food deprivation and malnutrition were the most commonly diagnosed conditions. The center's pharmacy stocked as much food as it did medicine, because sharecroppers could only purchase food and farm equipment from merchants sanctioned by their employers.
"The local merchants stopped selling seeds, fertilizer, milk. … They stopped providing those resources that people needed in order to survive," White says. "People were forced to try to find some other way."
As millions of African Americans moved north in the late 1960s in search of better lives and opportunities — part of the Great Migration — others remained on Southern soil, found strength in numbers, and formed agricultural cooperatives.
For these holdouts, the land became a way to resist repressive conditions by fighting for the right to grow food. The cooperatives focused on community development and offered services ranging from food, housing, and employment to education, childcare, and health care, helping black farmers and rural communities survive economically.
By pooling resources and buying power, these farmers used the cooperatives to participate in the food system as producers. Bulk farm-supply purchasing and loan programs helped to break their dependence on hostile local suppliers. And market programs that consolidated produce and eliminated middlemen allowed growers to negotiate better prices for their goods. Sharing resources — from tillers to tractors to fence-making supplies — also helped farmers reduce costs.
For the Sumter County growers who struggled to buy seeds and sell their cucumbers at rates that weren't exploitative, joining the Southwest Alabama Farmers' Cooperative Association paved the way for selling their crops to the area's two pickle companies at a fair price.
Thousands of families across 10 Alabama counties belonged to the cooperative, but its success created enemies. Representatives of the pickle companies, along with state elected officials, chartered a plane to Washington, DC, to demand that the Office of Economic Opportunity stop funding the cooperative. Their argument: paying black farmers fairly was causing too much competition. The government denied their plea.
Rust Belt Remedies
For White, this path into the past began in today's urban gardens. Before she moved to Madison, she lived in Detroit, where she began studying the creative approaches communities of color and grassroots organizations have adopted in response to similar issues of hunger and food inaccessibility.
"Today a lot of folks in Detroit, Milwaukee, Chicago, and all points in between are identifying ways to increase access to healthy food, but also to use food as a mechanism of community building and transformation," she says.
As U.S. auto production lagged in the early 2000s and jobs vanished from the Motor City, White watched her hometown become financially devastated. With 40 percent of Detroit's population living below the poverty line and many lacking access to fresh food, residents were left to rebuild and reimagine not only their livelihoods, but also their communities.
Urban agriculture surged. Abandoned lots became lush sites of food production and sprouted healthy alternatives to convenience-store fare. Urban farms provided not only nutrition, but also space for recreation, public art, cooking demonstrations, health screenings, intergenerational relationships, and environmental tourism.
But as this movement for food security gained momentum and media coverage, White saw something absent from the conversation: the black and brown faces of people growing food in the city. She wanted to hear the stories of people who looked like her dad, grandma, or sister.
She set out to unearth these narratives, gathering and sharing the deep-rooted, personal reasons black Detroiters decided to grow their own food. "Some people grow tomatoes because there's nothing like a homegrown tomato; other people grow tomatoes because they feel like that's a taste of freedom," White says.
White saw something absent from the conversation: the black and brown faces of people growing food in the city.
One day, as White listened to local food activists discuss organizing a community food cooperative, she realized there must have been other times in the past when African Americans had embraced agriculture and community-based food systems for self-sufficiency and empowerment — and resistance.
Agency through Agriculture
For four years, White has traveled the South, scouring libraries and archives for historical documents and speeches, and querying farmers and civil rights activists about their experiences with the black cooperative movement.
"It's important as researchers that we try to immerse ourselves in the story," says White. "If you're going to do archival research, you have to feel what it was like and walk in the footsteps."
Her work builds on research and relationships developed with Southern farmers by Jess Gilbert, a UW professor emeritus of community and environmental sociology who has documented African American land loss.
From large organizations such as the Colored Farmers Alliance in the late 1880s, which represented 1.2 million members across every Southern state, to local co-ops, such as the North Bolivar County Farm Cooperative, a regional movement in Mississippi to lift unemployed farmers from poverty, these cooperatives helped farmers share skills, strategies, and supplies; purchase land and maintain ownership; shift from cash crops to food crops; and gain economic autonomy. Many agricultural collectives continue today, providing resources and technical assistance and advocating for public policies that benefit member farmers and rural communities.
"Thinking about what food does for a person's or a community's ability to make decisions for themselves is profound to me," White says. "As much as we talk about agriculture as a strategy of oppression — and there are lots of examples historically where agriculture has been oppressive — there are also these stories of agriculture as liberatory."
White fills in that missing narrative with her forthcoming book, Freedom Farmers: Agricultural Resistance and the Black Freedom Movement, which shares the historical contributions of these cooperatives and of African American agriculturalists across more than four centuries.
A Pig and a Garden
Among the most inspiring visionaries White uncovered in her historical review was civil rights activist Fannie Lou Hamer.
Born in 1917 as the 20th child of sharecroppers, Hamer worked on a Mississippi plantation from the age of six. During a surgery in her early adulthood, she was sterilized without her consent. After leading a group of African Americans to register to vote in 1962, she was fired and evicted.
"When they kicked me off the plantation, they set me free," Hamer said later. "Now I can work for my people."
Hamer was known primarily for her efforts to advance African American representation and access to electoral politics. But she was also concerned about the struggle of evicted farm workers and food access being used as an instrument of oppression. In 1967, she launched Freedom Farms Cooperative in Sunflower County, Mississippi — a bold experiment to link land, food, and freedom.
Offering low-cost access to fertile soil and clean, safe housing, Freedom Farms provided an antipoverty strategy for displaced, unemployed farmworkers — an opportunity to stay in the South and live off the land.
One of Hamer's first efforts was to establish a "pig bank" — a 1960s equivalent of a microlending operation. Beginning with a herd of 50 pigs, the bank distributed pregnant sows to Freedom Farms families. When a pig delivered her litter, two piglets were returned to the bank. And thus the cycle continued.
Gardens, catfish ponds, and cattle herds, all collectively maintained, also nourished a healthy community. And cash crops such as cotton, wheat, and soybeans helped pay the mortgage on the land. Hamer's frequent refrain was, "As long as I have a pig and a garden, no one can tell me what to do."
More than an agricultural venture, Freedom Farms also provided jobs, social services, low-income housing, educational programs, occupational retraining, a business incubator, a commercial kitchen, and sewing cooperatives. At its height, the venture supported 650 families on 680 acres.
During the 1970s, Hamer delivered two speeches on the UW campus about the challenges facing African Americans, the first in Memorial Union's Great Hall in 1971, where she proclaimed, "Nobody at the University of Wisconsin, and no other place in this country, is free until I'm free in the South."
In the end, a lack of resources led to Freedom Farms' demise, and operations ceased in 1975. But what the organization accomplished in a racially hostile environment shows the power of community resilience and collective agency, White says.
The self-sufficient nature of Freedom Farms and other cooperatives, combined with members' land ownership, freed them from the exploitative economic relationship between landowner and farmworker. It also provided a foundation for political power. Members participated in political-education campaigns, informing residents of their right to vote. They became more involved in local and regional politics, encouraged farmworkers to run for office, and pushed back against oppressive practices.
Black farmers and landowners "put their lives on the line" for activists in the South, White says. They provided social networks for organizers to tap into, along with housing, feeding, and freeing Freedom Summer volunteers who traveled to Mississippi to assist with voter registration and education.
"Once folks got arrested, they didn't want your word. They wanted you to put your land up to get activists out of jail, and black farmers were the ones who did that," White says. "Freedom Summer could not have been successful had there not been folks there to welcome them, organize, and help."
As underserved, food-insecure communities today struggle with some of the same inequities surrounding poverty and hunger that 1960s farmworkers faced, White believes Freedom Farms and other agricultural cooperatives provide an important historical model for postindustrial American cities. "If we think about a place like Detroit, the automobile industry changed, jobs left, resources left, services left, and people asked, 'So now what do we do?' "
As the contemporary urban-agriculture movement brings food security and resilience to a growing number of communities, White sees the same drive for self-determination and empowerment through the land that gave rise to Southern black agricultural cooperatives.
"We see in these cooperatives a way to engage agriculture as a cornerstone for building community that was important then, and it's important now," she says.
Meghan Lepisto '03, MS'04 is communications manager for UW–Madison's Nelson Institute for Environmental Studies.
Published in the Winter 2016 issue