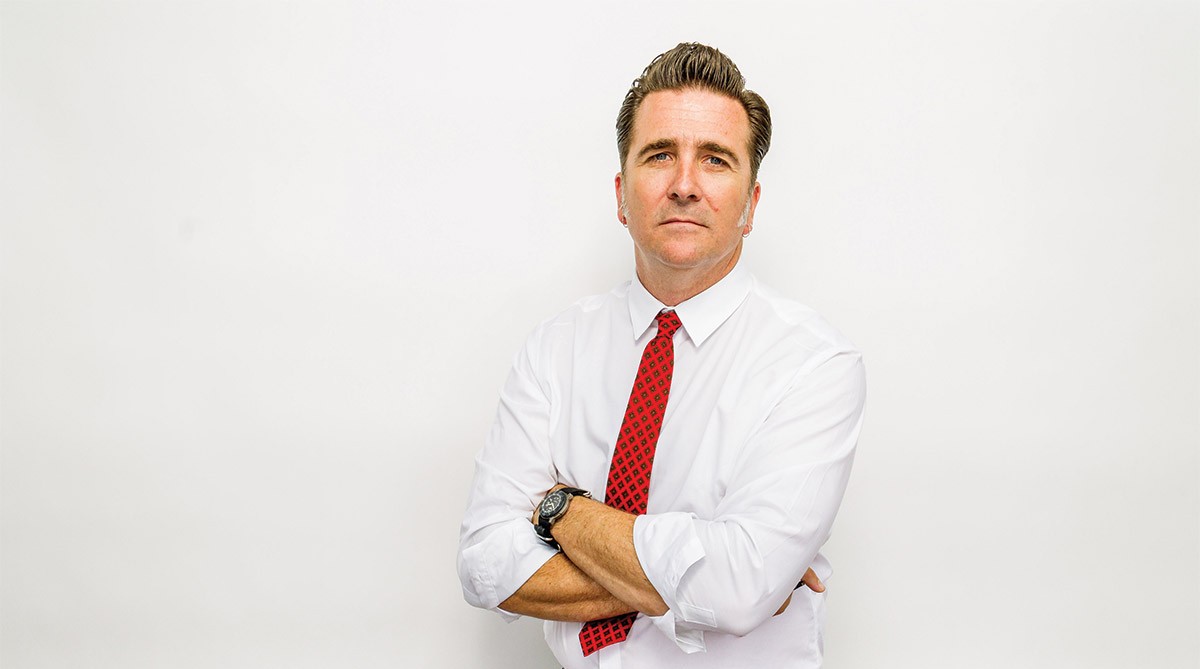 A Search for Simple Life
Driven by a desire to get a real job, Adam Steltzner became a leader in NASA's search for life on Mars.
When he was deciding on a profession, Adam Steltzner PhD'99 just wanted to live a simple life: be a bit mundane, do the nine-to-five, collect a paycheck, maybe wear a tie. That's why, though he discovered in his 20s a talent for physics, he passed up pure science for engineering.
"Engineering is physics that you do," he says. "There are many physicists driving cabs, driving Ubers. But there aren't as many engineers driving, because engineers get jobs."
That desire for a regular job has led Steltzner to NASA, where he's a leader in the effort to seek out simple life-forms on other planets. As the top engineer on the Mars 2020 project, he's preparing to send into space the first project that will not only explore the red planet, but if all goes right, will pick up samples, ship them back home, and put them in the hands of Earthlings for thorough analysis.
"We know that Mars was habitable," Steltzner says. "Back in the epoch when microbial life was starting to bloom here on Earth, the conditions were ripe to support life on Mars. And so the holy grail would be to find that, in fact, ancient Mars had supported microbial life — to find evidence of that in the rock record, to find microfossils and show them to the world."
It may sound odd to characterize a career spent designing rocket ships as mundane work, but you have to understand context: growing up, Steltzner had very few role models for what a day job should look like.
"My father didn't work much," he says. "There was some inheritance that allowed him to coast along for a bit. My parents read, and they traveled, but they didn't build anything."
Steltzner calls his parents artists, though they didn't use the word to describe themselves. He also calls them dilettantes, people who were creative but who didn't put serious effort into their endeavors. They never pushed him to see the practicalities of life. NASA was certainly never an ambition.
"I remember distinctly Neil Armstrong [walking on the moon] when I was six years old," he says. "That was a big deal in my family — it was a big deal in everybody's family. But I never had the picture of myself as academically inclined or a math and physics person."
Steltzner grew up in the San Francisco area, where he got involved in the new-wave music scene. His first attempt at higher education was at Boston's Berklee College of Music, where he studied jazz but dropped out. He returned to California, played in bands, and scraped out a living working at an organic market: he coasted.
Then, while watching the progress of the constellation Orion across the sky one night, he discovered that he was actually interested in science. He soon enrolled in his local community college, the College of Marin.
"I took an astronomy course to find out why the stars were moving," he says. "And of course they weren't; the earth was spinning on its axis. But I hadn't learned this in high school. And I fell in love with this idea that the universe was governed by just a few laws. There's like six, eight laws, like eight ideas. You can exploit these very basic, fundamental truths of the universe and develop about a dozen equations or governing laws that describe all of the behavior of the world around us. That is amazing."
From physics at the College of Marin, he went on to study engineering at the University of California–Davis and then applied mechanics at Cal Tech. Engineering gave him things that his parents never did: purpose, focus, and attention to persnickety detail. It gave him the pleasures of tedium.
Name, Please
Mars 2020 is an ambitious mission, but Steltzner admits that its name is far from inspiring. But then he accepts no blame or credit for that: NASA's spaceships are named not by the agency and its staff, but by kids.
"We have open competitions among schoolchildren to name our space vehicles," he says. "They give a name and write a small essay about it. The boys always suggest names like Dreadnought Laser Death and Black Scorpion and Ninja-Bot. The young ladies always suggest much more meaningful and significant names. Spirit, Opportunity, Sojourner — they were all named by [teenage] girls."
According to Steltzner, the rover for NASA's Mars 2020 mission will receive its name in late 2018 or early 2019.
Still, academia's demands were high, and a year into his doctoral program at Cal Tech, Steltzner found himself burning out. Shortly after completing his master's, he quit and took a job at NASA's Jet Propulsion Laboratory (JPL), where he could work in the kind of physics that didn't kill people. "This was the late 1980s, early 1990s, the Reagan Star Wars epoch," he says. "I didn't want to make weapons, and Jet Propulsion doesn't make weapons, so I pushed myself into a job at the Jet Propulsion Laboratory."
He took part in the Cassini space probe project, which launched in 1997 and flew by Venus and Jupiter before orbiting Saturn. Though expected to run until 2008, Cassini continued delivering data back to Earth until September 2017, when it finally burned up in Saturn's atmosphere.
Meanwhile, Steltzner was emerging from his own burnout. With funding from JPL, he enrolled in UW–Madison's engineering mechanics doctoral program and studied under Daniel Kammer '76, MS'77, PhD'83. And he continued to focus on the minutiae of engineering work. His dissertation, "Input Force Estimation, Inverse Structural Systems, and the Inverse Structural Filter," looked at how the U.S. space shuttles and Russia's Mir space station damaged each other during docking. When he received his degree, he returned to JPL and to NASA, where he was eventually brought into the informal community of engineers and scientists who were working on Mars exploration.
"I'm a phenomenally curious person, always curious about what's over the horizon," he says. "I am filled and made happy by vistas — broad, beautiful vistas of places that I have never seen and that I am about to explore."
He helped create each of NASA's Martian rovers: Sojourner, Spirit, Opportunity, and Curiosity. Mars 2020 will be NASA's most ambitious effort since putting Armstrong on the moon.
"This is annoying to me," Steltzner says, "but it's certainly true that there are a tremendous amount of very mundane things that you have to get right to make this mission work."
Patience
Mars 2020 is just the first mission of three:
Mars 2020 will put a rover on the Martian surface. It will spend a Martian year — about 687 Earth days — collecting samples from areas where scientists think traces of life might be found. Each sample will be a bit of rock that weighs around 15 grams, and the rover will gather between 20 and 30 of them in its hypersterile containers and cache them in a tube near a second landing site.
In the second mission, NASA will send a smaller rover and a Mars Ascent Vehicle (MAV) to pick up the tube. The MAV is a small rocket — about six feet tall — which should be big enough to put the tube into orbit.
The third mission is a larger spaceship, and it will travel from Earth to orbit around Mars, snag the orbiting tube, and then return to Earth.
If every step of the operation is successful, it will put samples in scientists' hands as early as 2030 — 10 years after Mars 2020's launch and 18 years after the plan was first concepted. "Mars exploration," says Steltzner, "is not for the impatient."
Again, Mars exploration may not sound mundane, but context is important: the Mars 2020 mission was born not just out of ambition, but out of a desire to be what engineers might characterize as efficient and others might just call cheap. It began as an attempt to recycle elements of the Curiosity program after that mission launched into space in 2012.
"We had these spare parts," Steltzner says. "We started to sketch out what we might do, what kind of discount we might be able to achieve. By leveraging spare parts and the design expertise, how could we get back to Mars?"
Between 2012 and 2015, the plan for Mars 2020 took a backseat to Curiosity's launch, landing, and mission, which has increased the number and quality of images that we have of the surface of Mars. Well into 2018, Curiosity continued to send back images and data. But it will never leave the Martian surface.
By aiming to bring bits of Mars home, the 2020 mission will present all the challenges of Curiosity, plus add new ones, many of which require perseverance more than spectacular breakthroughs. One of the chief concerns, Steltzner notes, is protecting the integrity of collected samples. Should anything from Earth get into the sample — a microbe or virus or organic molecule — it would contaminate the findings. Scientists wouldn't know whether they'd found evidence of life from Mars or life they had taken to Mars. Steltzner and the NASA team have been working to create what he describes as "hypersterilized containers," vessels designed to be free of any possible contamination by anything from Earth and preserved during passage through the Martian atmosphere, deep space, and reentry into Earth's atmosphere.
"The hardware elements are cleaner than anything, really, on the surface of the earth," he says. "We've had to invent techniques that [can clean objects more thoroughly] than anything has ever been cleaned. It's a lot to get right."
And it's a lot to do on a firm schedule. Due to the difference in orbit between Mars and Earth, missions can only launch once every 26 months. NASA's target window is the summer of 2020, with the rover landing in February 2021. It will mean a lot of long days in the office, in the lab, and in construction for someone whose early life didn't emphasize the value of tedium.
"I'm kind of striving against my parents' ethos," he says. "They didn't do the mundane, day-to-day, go-to-work thing. I wanted to make something real. … Engineering has all the beauty of physics, and it's a real job."
John Allen is associate publisher of On Wisconsin.
Published in the Winter 2018 issue